Lack of maintenance and public awareness adds to the dismal state of e-toilets across Bangalore City.
By Shalu Chowrasia
Public is avoiding using e-toilets installed by Bruhat Bengaluru Mahanagara Palike (BBMP) because of lack of maintenance and proper hygiene. Passers-by prefer open urination over using an e-toilet.
Ashish Kumar, a local of KR Puram said that people often misuse e-toilets, "I haven't seen many clean e-toilets around. I prefer to use regular public toilets. Also, I find the space very limited so I avoid using it."
Over the past six years, BBMP has purchased over 160 e-toilets from Eram Scientifics. Each unit of general model e-toilet costs around Rs 4 lakh.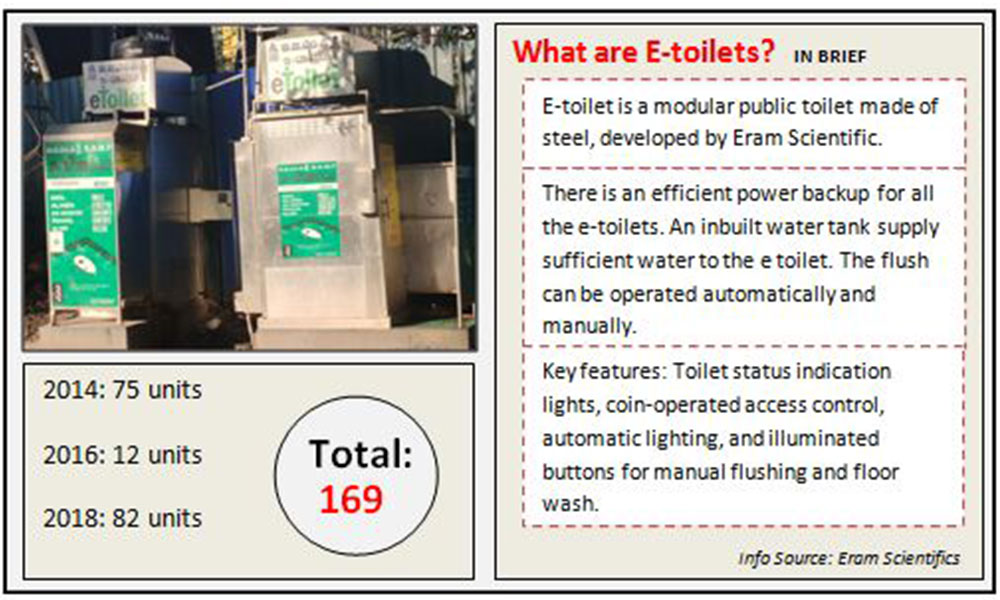 Karnataka representative of Eram Scientific Solutions, the developer of e-toilets, SreeKumar G told The Softcopy that BBMP had purchased 75 units of general model e-toilets in 2014, 12 units in 2016 and 82 units in 2018, which come with a warranty period of two years. Eram Scientifics had been maintaining these toilets since then under the warranty period.
He said that in September 2019, Eram Scientifics wrote a letter to the BBMP that they will be discontinuing the maintenance of the 75 units which were installed in 2014 as the warranty period was over.
"BBMP has not signed the annual maintenance contract plan with the company and the 75 units are not being maintained by us right now," said SreeKumar. The maintenance cost starts from Rs 3,500 per month.
The Softcopy did a survey of three e-toilets. One near Brigade road junction, one in Basavanagudi and one near BBMP head office area. E-toilets in Basavanagudi and near BBMP head office were out of order. The light indication was green, but the unit was not accepting coins and the door remained locked.
The one near Brigade road was stinking as bus conductors and passers-by were peeing outside the e-toilet. A local vendor near the area, Anjit told the Softcopy that the toilet was functioning properly for the first two months then people started misusing it. "People make it dirty and it stinks," he added.
Mr. SreeKumar further said that Bangalore Metropolitan Transport Corporation (BMTC) bus drivers and conductors make the E-toilets dirty by peeing outside. "I have complained several times, but there is no response," he added.
Assistant Executive Engineer of BBMP, Mr. Suresh said "Problem is that nobody is using those toilets. We are maintaining them in co-ordination with the E-ram Scientifics, 12 units have been shifted somewhere else. Some might not be in working condition, we are working on them."
Ritika Thomas, a student, talking on public toilet hygiene said that every public toilet should at least be in a usable condition. "It should not be there just for the sake of it. They should be maintained and the authority should make sure that no one is misusing it," she said.
Controller of Sulabh International Social Service Organisation Bangalore, Shri Malage Vishwanatha said, "People often avoid using e-toilets because they are scared they might get locked inside. People take time to adjust to new technology. Though it is expensive keeping a guard outside the e-toilets, it might be an alternative, to begin with."