Bengaluru's unplanned growth has hit playgrounds and open spaces hard. Authorities prefer to carve parks out of playgrounds rather than upgrading them. Lack of grounds in schools adds to the problem.
By Manasvi Gupta
Authorities are turning open spaces into fancy parks but not into playgrounds. A 2017 survey by Janaagraha Centre for Citizenship & Democracy estimated that 2.72% area of the city is available as open space/recreational grounds. Of the 709 sq.km area, only 19.31 sq.km is open space in the city. With 8.4 million population, this estimates to 2.2 sq.km of open space per person, which is significantly less than the area recommended by Urban and Regional Development Plan Formulation and Implementation (URDPFI) guidelines.
Various areas in the city lack proper or inaccessible playgrounds, including Anubhavnagar, Hosahalli, Vijaynagar, Banashankari, Attiguppe, Anjanapura Layout and Visvesvaraya Layout.
Fifteen-year old, Anushka, of Sector 2, HSR Layout grumbled over the fact that most playgrounds are far from her home so she has to make do with playing in small grounds and parks built in individual housing societies.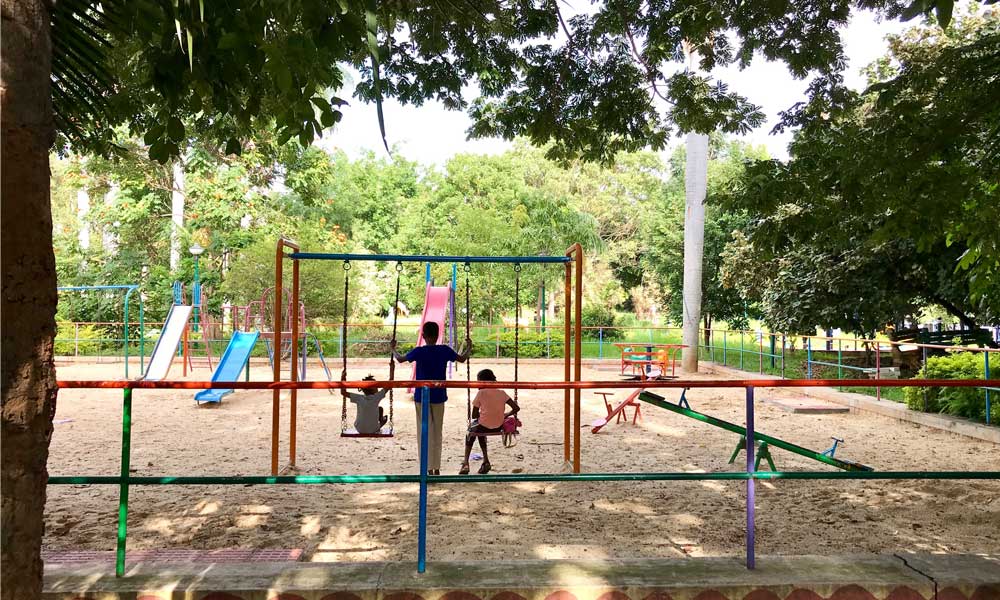 Instances of grounds being converted into parks were observed in BTM Layout a few years back. Also, a playground in JP Nagar was converted into a temple. The Deputy Director of Department of Youth Empowerment and Sports, M.C. Ramesh said, "It has been made mandatory for new layouts to build playgrounds, but the lack of space and increasing population density has made it difficult".
Under URDPFI guidelines issued by the Ministry Of Urban Development, space needs to be reserved for playgrounds in all localities being developed. Also, one per cent of the sports development funds must be kept aside for the creation and maintenance of sports infrastructure.
"All complaints fall on deaf ears of the BBMP," said a student, Supriya of Vijaynagar. She added, "College and school grounds are used for playing till afternoon. But after returning home we have no place to play. Parents don't allow playing on the streets." Mr. Ramesh added, "Schools with no playgrounds is the major issue".
Mohammad Ali, Superintendent of Horticulture Department (West) BBMP said, "People complain of noise from playgrounds in front of their houses, but still want the grounds nearby, for their children. This is a problem of the whole city. Nothing can be done about it. But the parks are well maintained for walking and exercising." He added, "Parks are maintained regularly. Around Rs. 2 lakh are approved for the maintenance of an individual park per year".
Ranjan Kumar, Architect (Urban Designing) said, "The authorities politically snatch away the open spaces to convert them into temples or other commercial projects, which is forbidden under the Master Plans".
Chased away from playing on the streets, the children are left with only sports complexes to turn to. Those too come with a set of restrictions on timings and rules to follow, unlike the open playgrounds. Sai, a park maintainer in Vijaynagar said, "Park remains open from 5 a.m to 4 p.m, and people usually come here for walking". He showed the children's area of the park which was under construction since the last two years.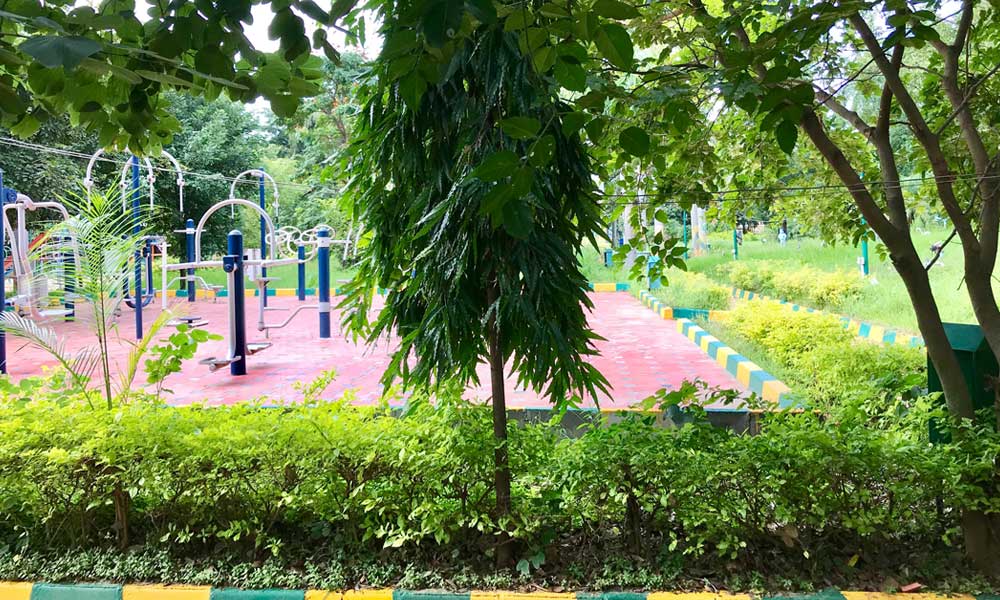 Vandit, a resident of HSR Layout complained of inaccessible playgrounds in the area. He said, "My younger brother is fond of football and volleyball but many grounds in the area are time bound and inaccessible for good part of the day. There are also full time open playgrounds but most of the time they are pre-occupied with events and marathons, so general public is not allowed".
Parents have mixed responses pertaining to the problem. A resident of Anubhavnagar said "On voter's demands, a playground is proposed to be converted into a park. More than half of the area is already seized, without even thinking about the children". Srinivas, from Jayanagar said, "Park here is well maintained but there is scarcity of benches. The swings and gym equipments installed are particularly for the children and not usable by others. Often adults sit on a swing and it breaks down. We have to take up the responsibility of fixing it, rather than the authorities".
The Karnataka Parks, Play-fields and Open Space (Preservation and Regulations Act) 1985, prohibits construction of any building or structure likely to affect the utility of the park, play-field or open space. It enables the taking down of illegal structures that come up in the open spaces and parks. People who build these structures can face imprisonment for up to six months or a fine or both.
Mr. Kumar added, "Although there are regulations and acts for the same, but the governing bodies pay no heed to it and hazardously occupy all the spaces. There is a need for stricter bylaws or the city will soon be deprived of open grounds".
The lack of playgrounds has given a chance to the business of rented sports complexes to flourish. Various sports academies in Electronics City, Marathahalli, Hegganahalli and Kanakapura Road offer facilities for around Rs. 1,800-2,000 per hour on the weekends. Mohit, from Marathahalli said, "Sports clubs have taken over the indigenous grounds which is disheartening. Although they are quite professional with all rented equipments, yet I miss playing cricket with my friends in the dusty fields".
Sports Authority of Karnataka has the power to establish playgrounds, parks and sports training centers. The National Playing Fields Association of India (NPFAI) under the Ministry of Youth Affairs and Sports focuses on protecting the existing playgrounds and promoting new ones, apart from forming the guidelines. However Mr. Ramesh said, "The guidelines have currently not been implemented. To maintain and preserve open spaces, various departments need to work in co-ordination with each other. The public too, is responsible for following the rules and making the authorities' work easier".
In many old areas, the deplorable condition of playgrounds had encouraged the authorities to use them for commercial purposes as sports and other activities were no longer possible. However, like the HAL Sports Club, fortunately the grounds maintained by public sector are still accessible to the general public.