Roads in Raghuvanahalli area are left un-asphalted causing sludge accumulation on rainy days, residents express frustration.
By Yamini Chincholi
The roads in Chennamma Gardens, BCMC layout and the double road connecting Kanakpura main road to Bannerghatta main road all remain un-asphalted for the last two years.
Lack of coordination between the Bruhat Bengaluru Mahanagara Palike (BBMP) and the Bangalore Water Supply and Sewerage Board (BWSSB) has resulted in poor civic amenities for the residents of Raghuvanahalli.
The roads of Chennamma Gardens have been dug four times in a year and a half, for two telecom companies, underground drainage (UGD) and Kaveri water. It has been over three months since the BWSSB has laid pipes for Kaveri water and drainage. The BBMP workers have leveled the roads three weeks ago, but tar has not been laid anywhere from Chennamma Gardens to the double road.
Mr. Kumaraswamy, assistant to Mr. Arya Srinivas, Corporator of Hemmingepura ward said, "Tar can be laid only after BWSSB installs Inspection Chambers (ICs) which are used to give individual connections. As we are experiencing daily rains, laying tar now would be a waste."
Residents of BCMC layout don't know when tar will be laid. Jyothi Hegde, a resident of an apartment block in BCMC layout said, "Our apartment has subscribed to Kaveri water connection, but ICs haven't been installed and tar has not been laid. We fear accidents on rainy days. Even with four-wheelers, the roads are too skiddy. Elderly people and children cannot go outside to walk or play. No reply is given to any of our association's questions. We've approached the Corporator but our questions are evaded. Work may be in progress but they are taking ages."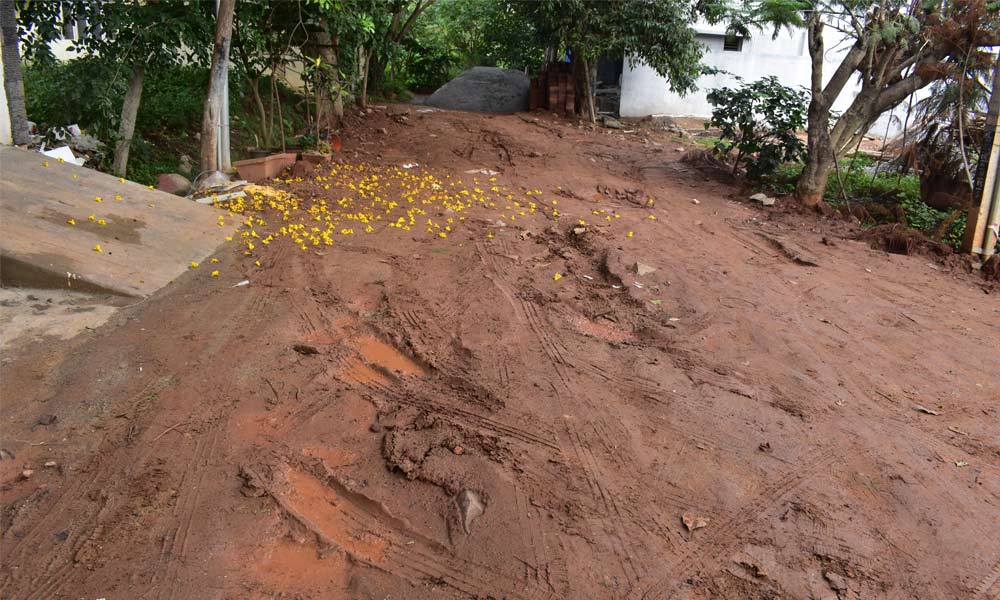 BWSSB is waiting for residents to subscribe to Kaveri water connection, say officials. Mr. Chandrashekhar of the Bommanahalli Zone, BWSSB said, "Work is in progress near Bhavi park of BCMC layout as the residents (there) have asked for individual connections. ICs will be installed in the rest of BCMC Layout and Chennamma Gardens shortly."
Four two-wheelers and two cars were parked near the gate of Chennamma Gardens on August 30. "Residents choose to walk the rest of the way home because of the sludge," the security guard Ram said.
The Chennamma Gardens residents complain that it is difficult to walk on rainy days and autos also refuse to drop them inside the layout.
"We don't have clarity about the issue. The plumbers (for Kaveri water connection) ask us about pipe length, breadth and size to give individual connections. We don't remember because our houses were constructed way back. We were told by the corporator last month that all houses should conform to the rainwater harvesting rule so that the UGD can be used to its full capacity. Many of us are waiting for others to make the first move." Nagarathna A.V. of Chennamma Gardens said.
Raghuvanahalli inhabitants haven't had asphalted roads for nearly two years because BBMP's tar-laying, BWSSB's inspection chambers and Kaveri connections, and the residents' subscriptions all need to go hand in hand. Experts say there is a lack of planning. "In urban planning, we call it "future proof", which is to plan in advance with provision for future expansion without digging. The crux of the problem is planning. This blame-game between BBMP and BWSSB always happens. The fundamental roots of planning cover any changes you might want to make in the future," said Mr. Anil Bhaskaran from Idea Centre Architect.