Companies offering Bike Taxi services continue to wage a never-ending war with Karnataka Transport Department by offering services despite the government restricting their operations.
By Nikita Arora
Bike taxis in Bangalore continue to operate despite the government's ban on their services in the city. The imposition placed in April has failed to affect the companies as they continue to allow their customers to use a bike taxi.
The government had curbed the operation of the companies by imposing restrictions as well as by charging fines worth Rs. 15 lakh for running bike taxis in Bangalore. Nagashetty, Superintendent at Karnataka State Transport said, "We've restricted their operation and have cancelled their licenses as well. Two-wheeler taxi is not permitted in the city because the issue is not just with the last-mile connectivity but also the safety of women and children is at stake in these bike taxis. Plus, congestion will be a major issue if we allow this."
The bike taxi companies fall under the purview of Rent a Motorcycle Scheme, 1997, as stated by Karnataka Transport Department under which the 'license is liable to be cancelled or suspended'.  However, 'if the holder of the license agrees to pay the fine that may be imposed by the licensing authority', the suspension of license can be revoked.
Most users of bike taxis find them quite useful and convenient as they save time. Abhishek Sehgal, who uses bike taxi everyday to reach his office said, "They are cheaper as compared to cabs and saves time too. On the congested roads, I would rather take a bike and reach my destination quicker."
There are other companies too, which function on a similar business model. An employee of one such company says, "I believe that bike taxis are definitely user-friendly. Every ride has insurance and customers are provided with helmets and other safety gear too. Also, we have this option where you can register only if you are 18. You can say that everyone above 18 is our customer."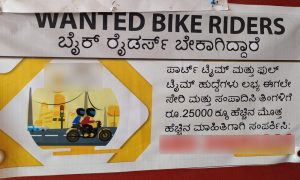 The affected ones from this imposition are not just the customers and the companies but also the riders. Ravi, who rides a bike taxi for a company said, "I use my own vehicle and earn good money which otherwise I wouldn't be able to. Despite the government restricting the operations, we continue to offer rides. But there is constant fear that one fine day government would seize our bikes and we will be unemployed again."
There are other companies too, which connects people commuting in similar places and offer them pooling services. Amit Kourav, Director of Sales and Marketing at a company which provide bike pooling for customers said, "The purpose is not profit making, but cost sharing and to reduce traffic and pollution. The vehicle owner is not going to pick and drop someone at their location rather he is anyway travelling to his location and helping others by offering ride to people travelling on the same route."
Keerthana, an advocate, says, "The government despite having all the rights to shut down the bike taxis must think about the repercussions of it. It is not only the company which is affected but also its employees and the people who use those services.. At the same time, it is also imperative for the companies to take permissions from the government before starting anything. Only then will both of them benefit."