Central government's decision to nearly give away sanitary pads at Re. 1 is a radical revision, but only if they are available at the Jan Aushadhi Stores.
By Jagriti Parakh
Right after the central government slashed the price by 60 per cent of the biodegradable sanitary pads, branded Suvidha, nearly 60 per cent Jan Aushadhi Kendras in Bengaluru have run out of stock of these pads.
Of the 84 Pradhan Mantri Bhartiya Jan Aushadhi Pariyojana (PMBJP) Kendras in Bengaluru (Urban and Rural), only 38 Kendras have adequate stock of Suvidha pads.
Neeranjana, a single mother of four, living near Yelahanka, said, "Last week, I went to buy sanitary napkins for my daughters from the nearest Jan Aushadhi Kendra. I had saved Rs. 20 for buying those sanitary napkins. Earlier I could only buy eight pads using that amount, but now I could get 20. I asked for five packets and they gave me just one, saying that they were out of stock." Each packet contains four pads.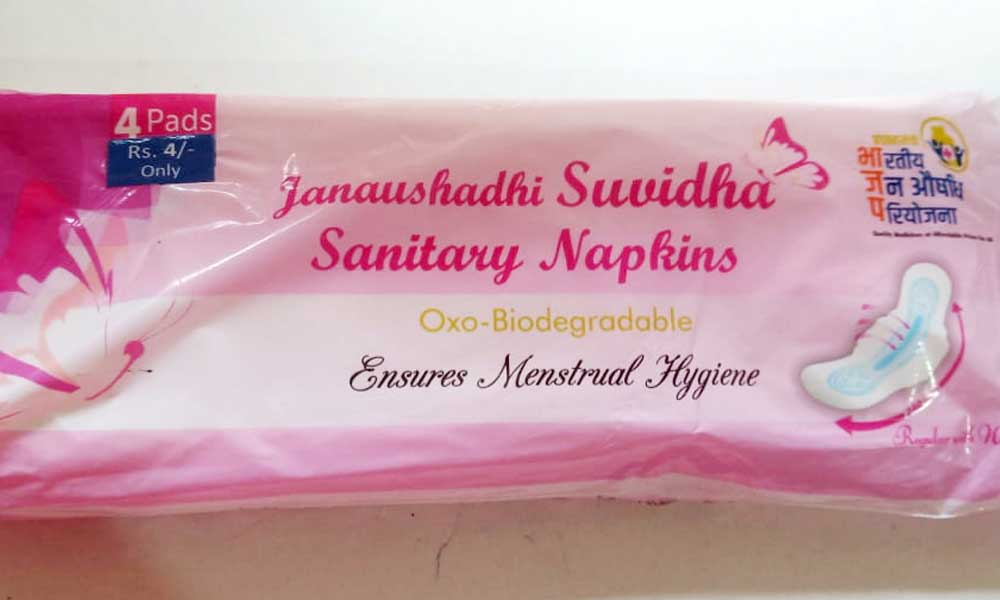 There are many women, like Neeranjana, who either switch to cotton or cloth napkins due to unavailability of cheaper sanitary napkins or travel long distances to find the Jan Aushadhi Kendras with adequate stock of Suvidha pads.
Despite being cheaper, Suvidha pads do not reach the homes of the poor, marginalized women of India.
Lohith Kumar, PMBJP Kendra owner, said, "On an average, we sell roughly 150 packs per day. Currently, we have around 7,500 packs in store. Some dealers exhaust the stock by selling in bulk to the first-comers, which leads to a shortage for others who really need it. To ensure that the benefit of the scheme reaches to maximum number of people, we only sell maximum of five packs to a customer at a time."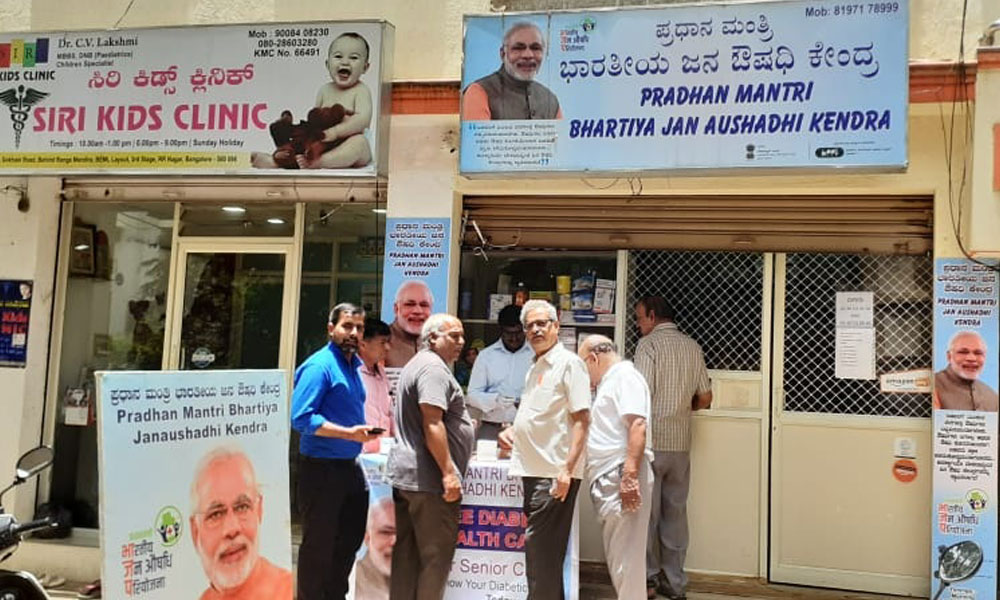 Many outlets complained of lack of supply of Suvidha pads.
Kamal Raj, another PMBJP Kendra owner at Rajaji Nagar, said, "We only have some packets of the old stock which was priced at Rs. 10 per packet. We are still waiting to receive the new stock."
Some PMBJP store owners run out of stock because of selling sanitary napkins in bulk as soon as the stock is replenished.
Tanuja, a saleswoman at a PMBJP Kendra, said, "We had received a small lot of Suvidha pads earlier this month, but we are out of stock now because we sold around 300 packets to an NGO working for menstrual hygiene. They bought it to distribute among poor women."
As part of the countrywide campaign for ensuring availability of generic medicines at affordable prices to all, "Jan Aushadhi Kendras" were introduced by the Department of Pharmaceuticals in 2008 as a direct market intervention strategy.
'Suvidha' scheme was introduced in March 2018, on the occasion of International Women's Day, to ensure 'Swachhta, Swasthya and Suvidha' for the underprivileged women of India and these pads were available at all Jan Aushadhi Kendras in the country on May 28, 2018 – World Menstrual Hygiene Day.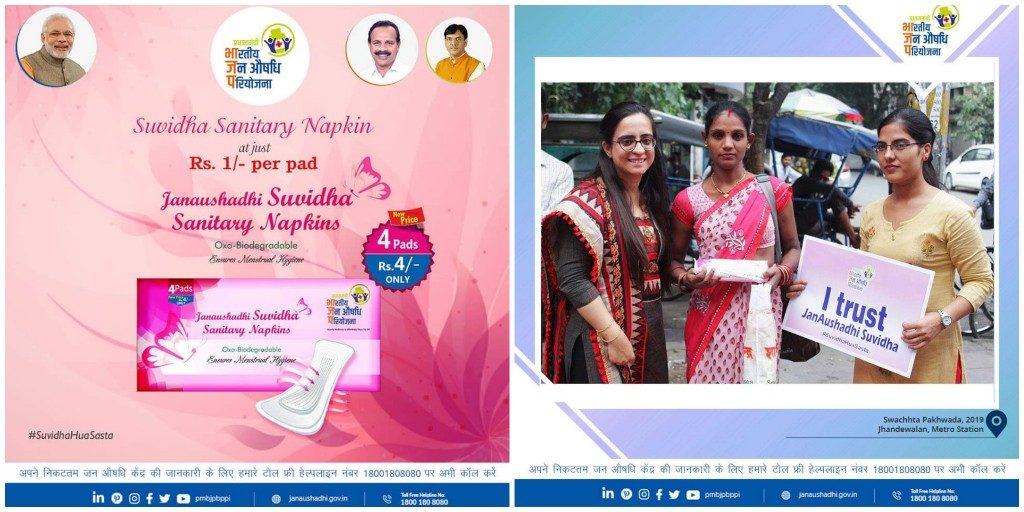 Until August, Suvidha pads were being sold at Rs. 2.5 per piece. During a recent public event for announcing the change in price and launching the 'Sugam' App, Union Minister for Chemicals and Fertilizers, D.V. Sadananda Gowda, said that the Bhartiya Janta Party (BJP) has delivered the promise made in the party's manifesto for 2019 general elections, to provide affordable sanitary napkins to women in India.
Mansukh Mandaviya, Minister of State for Chemicals and Fertilizers, said in an interview to Press Trust of India, "Currently, the manufacturers are supplying the sanitary napkins at their cost of production. So, we will provide subsidy to bring down the retail price. With reduction in prices, we expect the sales to jump over two times. We are focusing on quality, affordability and accessibility."
While the BJP government has successfully delivered its promise of making sanitary napkins affordable, its accessibility is still in question.
R. Sujatha, who has worked with grass root organizations, government, and multilateral agencies for more than two decades on issues relating to gender, health, hygiene, and sanitation, said, "Having a period is a hefty cost. An average sanitary pad costs around Rs. 8. By slashing the price of Suvidha pads to just Rs. 1 per pad, government has definitely made it affordable, but to make it accessible they must figure a way out – like limiting the maximum units sold to one customer at a time."
Some women believe that access to cheaper sanitary napkins also increases personal savings.
Supriya, a young domestic helper, said, "I earn around Rs. 8,000 a month. Before my employer told me about Suvidha, I used to spend almost Rs. 600 every month for buying pads for myself and my sisters. My mother insisted that we use cloth napkins instead. After switching to Suvidha pads, I only spend Rs. 30. I am saving on a monthly basis."
While we are still grappling with the issue of supply and distribution, access to cheap sanitary napkins can change the face of menstrual hygiene in the country.