Bannerghatta Biological Park has allotted parking space and defined parking fees, but visitors are usually over charged.
Sanchari Ghatak
Rohit Tomar, who came to the Bannerghatta Biological Park (BBP) with his friend on an August Sunday, was charged with a Rs. 30 for parking his two-wheeler instead of the Rs. 23.60 bill (inclusive of GST) that the Zoo Authority of Karnataka has officially stipulated. The parking fees chart is visible right at the entrance of the BBP. "I was completely unaware of this extortion going here until you people enquired about my parking bill. I would definitely ask for a refund if possible," Rohit told The SoftCopy.
The Bannerghatta Biological Park, maintained by the Zoo Authority of Karnataka, has allotted a parking space of roughly two hectares with defined parking fees for different types of vehicles.  However, the private contractor is overcharging the visitors by Rs 6 to Rs 12 per vehicle.
Two-wheelers and autos are supposed to be charged Rs. 23.60, but are instead charged Rs. 30. Similarly, cars and jeeps are supposed to be charged Rs. 47.20, but are instead pay Rs. 60.
Ritu Dimri, who was on a weekend trip to BBP with her family told The Softcopy, "The ticket collectors are charging us even before we reach the actual entrance – where this parking fee board is put up."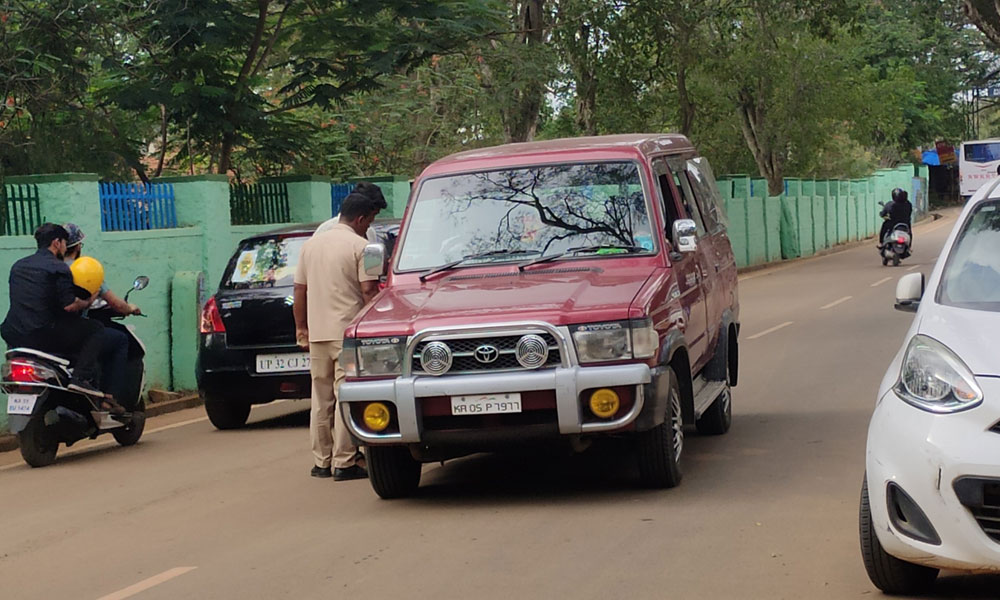 Jagdish, a private ticket collector said, "We are charging as per our boss's instructions." Their boss, they said, is the contractor who has been tendered by the Zoo Authority of Karnataka to look after the parking lot and the parking tickets.
The ticket collectors are also allowing the visitors to randomly park their vehicles outside of the parking lot that is allotted by the BBP, thereby creating a traffic chaos right at the entrance of the BBP. Visitors can also park their vehicles elsewhere for free, but they don't know that.
"Our resort has been allowing visitors to park their vehicles at the hotel premises at absolutely no cost in order to attract visitors to the Water Park inside the resort. However, the public have already paid for their parking bills, even way ahead of the BBP entrance by the time they reach our premises," Raju Basappa, the manager of Park Hotel and Resorts added.
Prof. M.N Srihari, advisor to Government of Karnataka in Traffic, Transport and Infrastructure said, "Over-charging the visitors is an absolutely illegal thing to do. They cannot charge the visitors outside of what is mentioned in the parking chart that is put up by the authorities at the entrance of the BBP. The visitors should immediately file complaints to the Forest Department or to the Zoo Authority of Karnataka regarding the same."
According to Section 383 of IPC, the miscreants could be punished with imprisonment of either description for a term which may extend to three years, or with fine, or with both, as this counts as extortion of money according to the Indian law.