The Indian Premier League in the country started with a bang, and with that, Bengaluru also saw a 20 percent increase in the gambling cases in the city.
By Manasi Pawar
Bengaluru, April 9, 2019
Cricket gambling is on the rise. K.N. Kumar, Assistant Commissioner of Police said, "Gambling cases are increasing because people don't want to work hard, and they want to earn easily. People get addicted to gambling. For investing in gambling, they start stealing. It starts at home. Especially in India during the IPL season, gambling cases go up."
In 2017, the gambling cases reported in Bangalore Police Station were 297, this year it is 381. The legality of gambling in India is an age-old debate. It is legal in India to gamble at age 21.
[media-credit id=39 align="aligncenter" width="545″]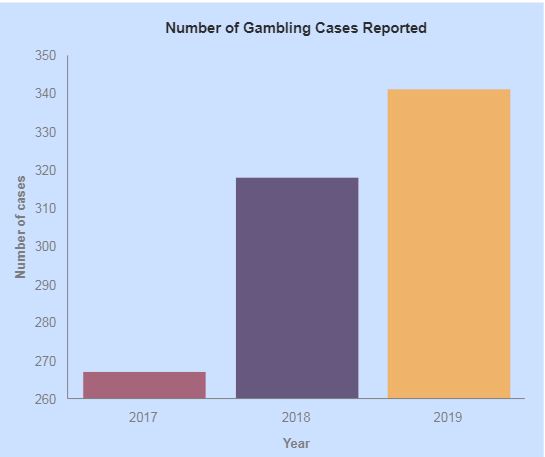 [/media-credit]
Nikhil Nayak, 27-year-old, was a gambling addict five years ago. He said, "I used to gamble in cricket. I was a keen follower of cricket and most of my predictions used to be right, so I thought that I could earn money out of it."
Nikhil was in rehab for one year due to his gambling addiction. He came out just fine. He mentioned, "It became an addiction when I started winning. I could earn so much money just by predicting one match. But when I started losing, it took a toll on me."
Priyanka Nikam, a psychologist, said, "It is like any other addiction. But it is also serious because people have lost so much in gambling. Not just sports, but also in cards.
The Indian constitution has granted individual states to put different laws related to gambling. In Karnataka, it comes under the Karnataka Police Act 1963, under the law, gambling is punished with rigorous imprisonment for a term which may extend to six months or with a fine of up to 500 rupees, or with both.
The State of Karnataka was involved in the landmark case MJ Shivani v. State of Karnataka (1995) where the Supreme Court found that rummy, a game of cards, was not gambling, but rather a game of skill.