Even though India has progressed to the 21st century, cases of honor killings are still prevalent.
The nation has achieved milestones in various fields. But, certain social norms and rules have held the nation back. One such rule made by society is the disallowance of marriage between two people who belong to different caste and religion.
Honor killing is still prevalent in the nation with a large number of cases being reported from various parts of the country. As per data from the National Crime Record Bureau of 2016, the total number of reported cases were of 71.
[media-credit id=42 align="alignleft" width="300″]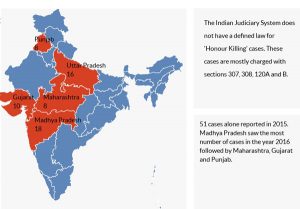 [/media-credit]
Recently, in the month of November 2018, the city of Bengaluru witnessed a case of honor killing. A man was killed by his brother-in-law because the man's sister married the victim who belonged to a different caste.
Another famous case that shook the nation took place in the city of Kolkata, West Bengal. The Rizwanur murder case where Rizwanur, a Muslim man married to the daughter of industrialist Ashok Todi, was found dead on railways tracks.
The Softcopy newspaper spoke to a woman from Sonipat, a town in the state of Haryana who said, "Honour killing is one curse that our society is still exposed to. Even after colossal awareness being spread, it still exists in many parts of the country. Many sitcoms and Bollywood movies have taken a strong step to unveil the reality to the masses and create awareness about it. Hope it all ends soon."
While talking to the Softcopy newspaper, Brinda Adige, an activist, said, "Honor Killing is a human rights violation and this is not being addressed in the manner it should be by the government. It is worried about the social sanctions that seem to be already in place and disturbing them would affect their vote."
Talking about how to eradicate this evil, she added, "Honor killing is directly and deeply related to caste discrimination. Though we have the constitution and the law that it is abolished, even today the police will not register a case under the SC/ST act. They are willing to register it as rape, sexual assault, molestation, and murder even, but not under SC/ST. The state agencies do not want to use the system in place to punish offenders.
She further added that punishing them is important because that means justice, equality, and liberty are protected. It is important for us to educate people that caste discrimination is a crime, and will be addressed by the laws of the land in an appropriate manner set by the constitution. This message has to go clearly if we want to abolish honor killings.