The police are looking into the case and will hold responsible the engineers and officials involved.
The officials who were responsible for the maintenance work being done in Rajkumar Park without proper safety measures will have to pay compensation to the boy's family if they are proven guilty.
On February 24, Uday Kumar, a seven-year-old boy was electrocuted and died when he stepped on a live wire. This incident occurred in Rajkumar Park constructed by the BBMP in HRBR Layout, Banaswadi.
He was playing in the park with his brother Abhinesan and unknowingly stepped on a live wire which was dug out by the BBMP for some underground work. Abhinesan couldn't rescue him since he was also injured, so he shouted for help. Gangappa K, who was present there during the incident, took the boy to a nearby hospital named 'Specialist Hospital', but the boy was declared dead.
The boy's father and mother, Nagaraj and Gowramma, filed a complaint at the Banaswadi police station. The police have filed an FIR (First Information Report) against BBMP officers as well as the Bangalore Electricity Supply Company (BESCOM) officers for the death caused by negligence.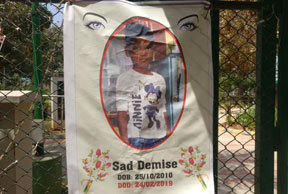 Lokesh Babu, executive engineer, east division of BESCOM said, " We tried to register a complaint in the police station but the police didn't let us as the boy's parents had already filed the case. the first to accuse is the BBMP, then the BDA; BESCOM can't be held responsible for park lights"
The BBMP Council has already decided to offer a compensation amount of Rs. 10 lakhs to the boy's family. The police are looking into the case and the engineers, BBMP and BESCOM officials involved in this will be held responsible.
"BBMP will pay the remuneration amount if they are proven guilty. The investigation is still underway," said writer Ramadevi of Banaswadi police station.