Diverse species have been identified after vigorous efforts by ActionAid India and NTTDATA Services
By Saloni Arora                                                                                                                
Bengaluru, Jan. 17, 2019: According to a recent survey conducted by ActionAid India, a non-governmental organization, 367 trees, 42 birds species, and 26 butterfly species were identified in the area around Doddakallasandra Lake, Bengaluru. Progressive measures were taken by ActionAid India and NTTDATA Services together to improve the biodiversity around the lake.
Raghavendra from ActionAid India said, "Generally, in nature, there is a cycle of dependency on each other for sustenance. Similar cycle in birds, animals, trees, and insects is greatly disturbed in urban spaces due to various factors. Thus we, as a team, decided to put efforts to improve the bio-diversity of the Doddakallasandra Lake, and as well as we intend to protect water commons, the local water bodies like lakes and streams."
Doddakallasandra Lake is situated in the south of Bengaluru. "12 years ago, the lake was in good shape. The sign of pollution in the lake started appearing with the growing industries and residential complexes around the area", commented Ravi, a resident.
[media-credit id=34 align="alignleft" width="222″]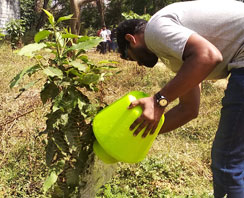 [/media-credit]
"Bengaluru had once 3,000 lakes, but more recently by 1960, only 280 lakes were counted. Today we have 34 rejuvenated lakes and the rest is dying, some are used by government agencies, some are encroached. Since we neglected our local bodies, we now pump water from 140 KM's daily, and they provide 50-60 percent of the city needs and the rest is mined from ground water. We can't be depending on Cauvery water alone for long, and if we don't recharge ground water we will be left with no water one day", informed Raghavendra.
Doddakallasandra Lake in Bengaluru was in the news recently, with hundreds of fish surfaced on the lake. Residents near the lake blame the continuous discharge of untreated sewage and chemicals released into the lake. They believe the water quality of the lake has gone down substantially since then. The large lake was home to a lot of birds flying across, but the lake was completely neglected. The way to the lake is narrow and stinks due to open sewage around.
No action was taken by the civic authorities, despite bringing the incident into the notice. Few local residents along with the corporators took the charge.
India is a signatory to Convention on Biological Diversity, an international environmental agreement of 1992. According to the Ministry of Environment and Forests, after 10 years of the signature on the agreement, India enacted an umbrella legislation called the Biological Diversity Act 2002, aimed at conservation of biological resources and associated knowledge, as well as facilitating access to lakes in a sustainable manner.
In Karnataka, there is Karnataka Biodiversity Board, which aims to foster the institutional setup for documentation, sustainable use, and development of the rich biodiversity of the state.
'With the aim to improve the biodiversity of the area around the lake both Action Aid India and NTTDATA Services took a step forward, and over 150 tree saplings were planted last year. Tree guards were placed around the saplings to protect it from cattle at the lake. Volunteers from NTTDATA Service in association with Action Aid India also participated in a cleaning drive. Action Aid India believes trees contribute in enhancing the biodiversity around the lake environment.
An awareness program named 'Janajagruti', has been conducted to spread information among the local people on conservation and protection of biodiversity. Raghavendra informed that he and his team are also planning to improve the water quality of the area with the support of the BBMP, BWSSB , KSPCB, as oxygen content in lake water is too low for any aquatic forms of living. In addition to that they plan to plant more diverse trees thinking the birds needs, and educate children and students on bio diversity, taking the lake as example. They have also approached the Karnataka State Pollution Board to test the water. Meanwhile, they have access the last water quality test report done in 2017 that is unsatisfactory. The water quality in the lake conforms to E category, which is equal to water useful for industrial cooling solutions. 
"ActionAid India is committed to protect, conserve the biodiversity. A biodiversity management committee (BMC) is supposed to be constituted at Ward Level by BBMP, where we will register the biodiversity of Doddakallasandra lake. A detailed report on biodiversity in Doddakallasandra will also be submitted to BBMP. Its high time we start seeing what lives around us and how can we save them from extinction and learn to live together", confirms Raghavendra.
"Every organism has an ecological value which can destroy the ecosystem, if not taken care of. Even if one organism in the food chain is harmed or disturbed, there are chances of the whole ecosystem's balance to tamper. To just improve one lake's bio diversity, financial costs, labour, and volunteers are required in huge number, whereas we can balance wisely if we take precautionary measures", suggested by P. Shivani, PhD. environment student, Gitam University, Visakhapatnam.
Akshay Heblikar, CEO of Eco Watch commented, "It should be our top most priority to restore, revive, and protect the biodiversity of the urban spaces. The lack of attention given by authorities to such areas in the urban spaces is due to the lack of skilled labour, it should include experts to look after such issues".
"As human develops land for industries, agriculture, and other need, the whole ecosystem is changed. Lakes, rain forests are a few examples with high biodiversity, and are often being destroyed by humans. The rate of extinction is on the rise, as each time the land is lost, species of that particular area may be lost as well."
"Communities depend on the biodiversity for their survival, each organism is linked to one another, and it is a web of life. If the biodiversity is not taken care of, millions of people will face a time where there will be shortage of food and fresh water", says Radhika Mehtani, an environment educator.