Corporators in Bengaluru feel that their role is not clearly defined.
A report by Janaagraha, a Bangalore-based non-profit organisation states that councilors are "highly disempowered" as local governments are yet to be recognised as a unit of governance in India. It shows that 11 councillors out of the 13 surveyed feel that they are not paid adequately.
Manjunath Raju has been working as a corporator for the last ten years. He said, "The money paid should be increased by 100 percent. I have even fought for this in the council." Unlike the MPs (Members of Parliament) and MLAs (Members of the Legislative Assembly), city councilors are not constitutionally empowered to fix their own salaries and allowances.
Councilors are paid a honorarium by the state government of Rs.7,500 and a vehicle allowance of Rs.1000, as per a Bruhat Bengaluru Mahanagara Palike (BBMP) issued notice. They are also paid Rs.400 for attending city council meetings, but currently the council hall at the Bruhat Bengaluru Mahanagara Palike (BBMP) building is under construction. Since it has been under work, all the rooms in the city council building are closed and have been out of reach from the corporators of all wards.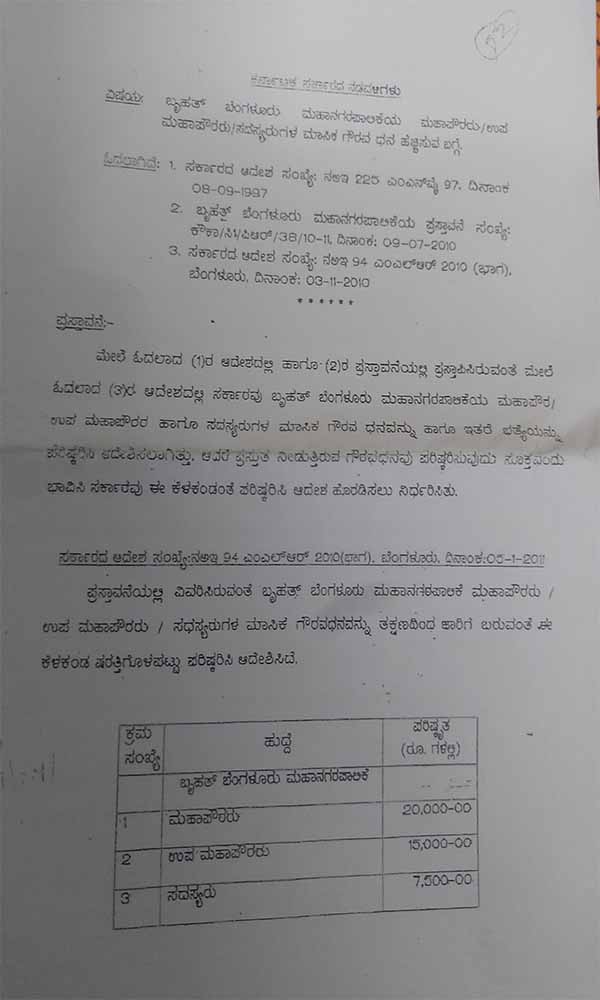 The Janaagraha report also shows that 12 out of 13 councilors interviewed felt that their role is not clearly defined. Archana K R, volunteer at a non-profit organisation Reap Benefit that advocates for conducting council elections, said, "There is no proper defined role for a corporator and many citizens are unaware about the role of a corporator so they complain directly to the MLA. This creates a lot of confusion,"
However, Raju says otherwise. "It is clearly defined. But, many corporators that win seats because of their money power do not have any vision. Due to this, MLAs have now started acting like corporators."
His role as a corporator is to solve the issues of the people in his ward, Malleshwaram. Frequent problems include sanitation, water, footpaths, street lights and katha. Corporators are the main link between the citizens and the government he said.
Many councilors also did not know how to raise funds for their ward. The report quoted Parveen Bhanu, a former councillor from Ballari saying, "I did not have any idea of what sources I could tap into for funding projects in my ward. Due to my sheer determination to get things done in my ward, I used to reach out to all and any stakeholder to avail funds. I used to get funds collected from MLA, MP, SC and ST Fund and get work done." According to the report only Bengaluru city government is empowered to collect all key taxes such as property, entertainment, advertisement and professional taxes. Other civic bodies in other cities and towns are not allowed to do so. And, "only Bengaluru has been devolved with all eighteen functions under the twelfth schedule of the Constitution, by law. Only nine functions are devolved to other municipal corporations, and six functions to municipalities," the report said. The twelfth schedule specifies the powers, authority and responsibilities of municipalities.
Currently, the BBMP council elections have been delayed by two years. Officials from the election department said that it is due to the delimitation of wards and reservation. A delimitation commission was set up to create more wards, from 198 to 243. The official also said the council elections will happen after the MLA elections. "It has been two years and a lot of wards have been suffering because of it. In many places, ward committee meetings are also not happening due to this. The funny thing is local government elections are not happening but preparations for MLA elections arehappening," said Archana.