Convention held on issues faced by accountants.
By Ajay Ramanathan and Hansy Sanctis
Bengaluru, Nov. 23, 2018: The President of the Federation of Karnataka Chamber of Commerce and Industries (FKCCI), Sudhakar S Shetty, announced a Memorandum of Understanding (MoU) with the Institute of Cost Accounting (ICAI) in Bengaluru today.
The Regional CMA Convention 2018 is organized by the Southern Indian Regional Council (SIRC) of The Institute of Cost Accountants of India (ICAI) in association with the Bengaluru Chapter of Cost Accountant. Speaking today at an event themed Business Growth through Proactive Thinking and Strategic Leadership, Shetty said – "Bengaluru currently stands at the third position as far as startups are concerned. However, there is still an issue with unemployment. There a proper infrastructure for MSMEs (Medium and Small Scale Enterprises) in Bengaluru. They ought to be updated. The government ought to work with the ICAI, he mentioned. "There must be a Memorandum of Understanding (MoU)" he added.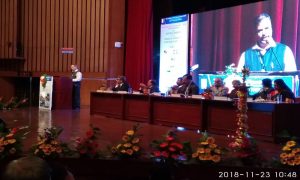 Held at the Indian Institute of Science, the President was speaking at the Regional CMA (Cost Management Accountants) Convention. The convention will conduct workshops, hold seminars and other interactive learning sessions on Cost Management. It will also talk about the issues that professional accountants deal with.
Dr. PVS Jagan Mohan Rao, Central Council Member of CMA, commented on the issue saying: "The statutory powers of the National Financial Reporting Authority (NFRA) do not invalidate the statutory powers of ICAI but is in addition of the latter.  Some issues will be present between these authorities, but as per the legislation, whatever powers we have, we will continue to have, and whatever powers they have they will continue as well. In any case, anytime, no one is ultimate."
Speaking to The Softcopy, Anegundi YH, member of SIRC explained: "The MoU entails conducting seminars for MSME traders". There is no announcement on when the activities under the MoU would commence. "It is still at a discussion stage", he noted.
ICAI has recently been in light for its clashes with the National Financial Reporting Authority (NFRA). NFRA was founded by the Companies Act, 2013 to enforce auditing standards and oversee the work of auditors. The regulatory powers of the body overlap with those of the institute. ICAI was established as a statutory body under the Chartered Accountants Act, 1949 to regulate the profession of Chartered Accountancy in India. The institute's discontent with the regulatory powers of NFRA on the profession of accounting has been there since its conception under the Act of Parliament. Recently, the administrative and regulatory powers of the ICAI have been under threat.