Women ruling as train operators for Namma Metro in Bengaluru
Bengaluru, Nov. 22, 2018
By Surbhi Jain
Namma Metro runs with women ruling the wheels as train operators with more than 40 percent of them working as women "loco pilots" or train operators as they are normally called. Hiring is done with a maximum number of women train operators being hired.
The applicants who wish to apply for Namma Metro as a train operator take an exam and after succeeding, they undergo training with a probation period of one year.
According to Bharat Vikas Group Executive head on a contractual basis, Saritha, "Women turning into a loco pilot is bringing a lot of good opportunities and bringing increasing employment opportunities for women".
Amodhal, the Deputy General Manager of trains operations from Bengaluru Metro Rail Corporation Limited (BMRCL) says" There are a total of 83 women loco pilots at the moment which is rapidly increasing in number day by day. They are bound to have proper training."
[media-credit id=49 align="alignnone" width="300″]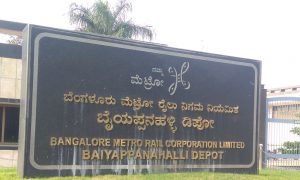 [/media-credit]
Another BMRCL official says, "Women are more efficient in their working style and that shows in their work. The number is increasing tremendously for women train operators. No differentiation is done between men and women in the recruitment process and the hiring is done absolutely on merit basis. If anyone does not perform well enough during the probation surely faces difficulty."
According to Yashvanth Chauhan, the chief electrical Engineer, "Women Loco pilots are in love with their jobs and when they drive carrying passengers they feel they are carrying them safely. They are extremely good at their job. There are not only high number of train operators but the number woman station operators is high too. Karnataka Examination Authority on merit basis"
Out of  260 station controllers, there are more than 60 women controllers. While there are more than 80 women loco pilots.