The H1N1 in-patient flow in hospitals is increasing.
Bangalore, Nov.  22, 2018
By Samanth Lanka
Doctors claim that since October, they have seen many H1N1 (swine-flu) symptom cases, allergies, and viral infections among Bangaloreans.
"For a week, I was suffering from fever and after medication, it was cured. But since yesterday, I am suffering from fever again. This time, I consulted a government hospital, and when asked for prescribed medicines in the generic store, they said that the medicine stock is not available. So again I came to a private hospital. How can a middle-class family afford medicines frequently?" said Saketh, one of the patients who came to a private hospital in Shivajinagar.
"Many patients couldn't get the medicines in the government medical stores. When they consult in private hospitals, the doctors are prescribing the tests again. A Complete Blood Profile (CBP) test costs Rs. 200 on an average, and doctors prescribe two to three tests. Along with consultancy charges it costs around Rs. 1,500 to 2,000. At least the government should provide medicines at a low cost, but there are no medicines in generic stores," said Rakesh, one of the patients' brothers.
When asked about the lack of medicines, the pharmacist of a generic medical store said, "We have stock but has been a sudden increase in patients for the past few weeks. So we are having insufficient stock of medicines."
"We generally have medicines, but for H1N1, or any seasonal fever-related medicines, we get the medicine stock. We issued H1N1 and viral fever medicines to people who came during at the end of September and the first week of October. Now, we have no stock for those medicines and are not receiving stock from pharmaceutical supply," said Akshara, a pharmacist at Bruhat Bengaluru Mahanagara Palike (BBMP) medical store.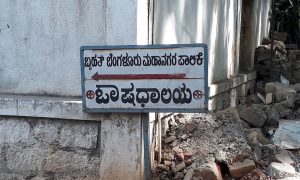 "Based on the last update, there have been 16 H1N1 cases reported in Karnataka on Saturday. In 2018, from January to November 15, the number of H1N1 cases reported were 1,215," as per the Directorate of Health and Family Welfare Services report.
"The viral infection is not restricted to a certain age group. If one individual in a family is infected with the H1N1 virus, within the next two-three days, another person from the same family is showing some symptoms. Not all are affected with H1N1, but most of the people who are not detected H1N1 positive are suffering from viral infections or allergies," said Dr. Satheesh, Bowring & Lady Curzon hospital.
"It is due to seasonal changes. It is common that people will get viral infections during the rainy season. But, this November, we are seeing patients affected with H1N1. An additional factor is the floods in Kodagu. People who volunteered during the Kodagu floods are most affected among the H1N1or viral fevers. One of the patients whom I have treated in Victoria hospital was detected with H1N1. The government is providing proper medication. But, the public should be aware of this disease. As it is a communicable disease, certain prevention measures should be taken, like using air masks, drinking safe water, and avoiding outside food. If found with any of these symptoms, proper medication should be taken under doctors advice without any delay," he added.