The number of malaria cases has drastically gone down to 25 presently from 2864 cases in 2009.
Bengaluru, Nov. 18, 2018: There has been a steep drop in the number of malaria cases in Kushtagi. The town has done some exemplary work in the field of health over the past few years, and has managed to reduce the malaria cases in the taluk.
"There are 3000 species of mosquito but only a few are carriers of diseases," said Dr. Prakash Guti, technical supervisor of vector borne diseases at the General Hospital Kushtagi. "The government hospital has been able to curb the number of malaria cases with the help of the National Vector Borne Diseases Control Program (NVBDCP) run by the Ministry of Health and Family Welfare, Government of India."
The NVBDCP covers mainly six vector borne diseases under its scheme: malaria, dengue, chikungunya, filariasis, Japanese encephalitis and kala-azar, or black fever.
"Malaria can be controlled in various ways. Insecticide-treated mosquito nets are a useful way to reduce the effect of mosquitoes and prevent malaria from spreading. There is no denying the fact that untreated mosquito nets also provide protection but mosquitoes may enter through some means," Dr Guti, explained to the Softcopy newspaper. "Mosquitoes treated with insecticide nets provide better protection by keeping the insect away from sometimes even killing them," added Dr Guti.
Move this graph to the end of your story
The table below shows the number of cases registered in the general hospital, Kushtagi.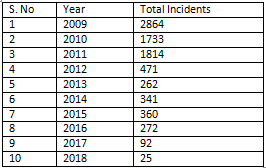 "There are other methods to prevent malaria besides using insecticide-treated mosquito nets," says Dr Venkatesh Gudagudi, senior treatment supervisor, general hospital Kushtagi. "Using chemical methods like DDT, synthetic pyrethroid, mosquito repellent coils are some of the other ways."
"It is important to keep in mind the relationship these vector borne diseases have with rainfall. The malaria cases generally go down when there is less rainfall but the health centers should be prepared when there is high rainfall," commented Dr Gudagudi.