Eateries in the city are running their business without proper fire safety measures.
Bengaluru, Sept. 18, 2018: In January 2018, a fire broke out in Kailash Bar and Restaurant in old Bengaluru, leaving five employees dead who were sleeping there. The bar had only one entrance point which was locked from the outside. Also, none of the side walls had any windows. The owner and the manager of the bar were arrested. However, there has been no change since then.
Various cafes and pubs that come under the category of low-rise buildings are running without proper fire safety measures in the city. Some have no separate fire exit and their entries are narrow. The cafes that have fire exit doors sometimes utilise the space to store various things.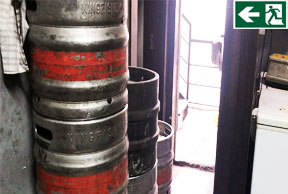 According to the Indian National Building Code 2016, assembly buildings should have fire extinguishers, first aid kits, manual alarms, and automatic alarms in some cases. The high-rise buildings are supposed to obtain NOC (No-Objection Certificate) from the Karnataka State Fire and Emergency Services.
The low-rise eateries on Church Street lack basic fire safety equipments such as fire extinguishers. When asked why, an employee at Vasudev Adigas said , "there are no such laws for eateries on the ground floor or the first floor. "
A regular customer, Aneash Bharadwaj, said "Fire hazard is a possibility today because of more electric energy consumption. So, be it a high-rise or low-rise, fire mitigation equipments is a necessity that should be made mandatory in fire hazard establishments of all sizes."
Balusamy, an employee at a pub named Chugg on the third floor on Church Street said they follow fire safety measures despite no mandatory norms as their building comes under low-rise category. However, their fire exit door was blocked by huge kitchen boxes.
Another customer, Durga Reddy, at Leon Grill, a café at Indiranagar, said, "We don't even bother to look at the fire exit doors, it is only when there's a breakout, we panic, which often leads to some injury. Thus, it should be the responsibility of the owners to install fire safety measures and should have a separate fire exit door."
[media-credit name="The Branding Company" align="aligncenter" width="288″]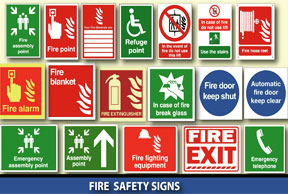 [/media-credit]
The manager of a pub, Chin Lung Resto Bar on M.G. Road, told that the BBMP came 15 days earlier for the inspection and asked them to build separate fire exit door. The construction of the emergency door will start in few days.
Shiv Kumar, an official of Karnataka State Fire and Emergency Services said that the guidelines have been made mandatory for the bars, restaurants and the malls. Regarding the low-rise buildings, it is up to them to have safety measures or not.
He stated that there are still many high-rise buildings that are running without NOC (No Objection Certificate) as well as CC that has to be obtained from fire department. They are continuing to take actions against such buildings. Their current focus is more on areas that can hold large number of people.
The manager of the Pride hotel, Amrendra Jha, says that it is the responsibility of owners to budget in extra money and make sure all safety measures are in place.
According to an architect of SD Corp, Aparna Kumarasubramanium, pubs and cafes should be constructed with integration in the landscape, lots of open space, and with a fire refuge area to escape easily. The cafes constructed on the ground floor should have separate emergency doors and the ones upstairs should have compulsory fire staircase.