The rate of dowry cases has been on a steady rise since the past three years
Bangalore, Sept 11, 2018: The City Crime Control Bureau, Commissioner's Office states in its statistics that in 2016, there were 725 cases reported on dowry, followed by 728 cases in 2017 and 398 till July of 2018. The city despite raising various platforms of awareness has been facing extreme cases of dowry system with the rates being increased further the following years.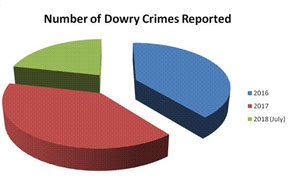 The number of cases being reported has been increasing as a positive outcome, but the rate of crimes along with those of domestic violence in relation to dowry and other marital and family harassment issues has been on a steady rise as well.
According to Psychologist and the teaching faculty at Mount Carmel College, Professor Swathi Vinod – "Dowry, again, is a very predominant, very prevalent social evil and again, as people have become more aware of the repercussions of asking for dowry, I think, at least in urban sectors, I would say that dowry has decreased among a certain sector of population. However, it is still very much prevalent, if you look at the rural and some of the other places in Karnataka and Bangalore."
The Dowry Prohibition Act, 1961, states that if anyone gives or receives, or even helps the exchange, he or she will face a jail term of five years or more and a fine of Rs. 15,000 or the sum of dowry, whichever is more. Section 498A of the IPC – any person can complain about any incident where a family member has offended him or her cruelly or with the intention of cruelty. This law is applicable for or against any member regardless of gender. It is the only section in the IPC that recognizes domestic violence against women as a crime. Subsequent amendments were also made in the Code of Criminal Procedure, 1973 (CRPC) and the Indian Evidence Act, 1972 (IEA) by the same amendment on order to effectively deal with cases of dowry deaths and cruelty to married women by the husband, in laws and relatives.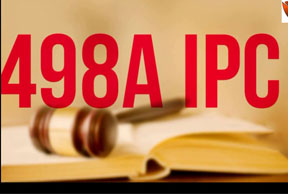 Professor Sophia Sharon, Sociologist and part of the Sociology department in Mount Carmel College says that "Maybe dowry cases are increasing in Bangalore. Of course, it is because women want to be everywhere today. They don't like to be cornered.  I feel the time constrain is always there for them, this is one side. On the other side, I mean it's just increasing today because again, I would say that it is the ignorance and innocence of women.
Ms. Nagarathnamma, an advocate specialising in dowry and other women related issues says that the dowry crime rates are on rise because married men are usually more dominant and curbing that issue as well as other kinds of family violence which are mostly fuelled by male ego and patriarchy is really difficult. She says that once the matter reaches the court, the accused and the victim, both get a good reality check and sometimes, it leads to withdrawal of cases as well.
Most of the sociologists in Bengaluru refer victims of dowry crime to Vanitha Sahaya Vani, a non-profit organization cell that runs in the commissioner's office for free counselling and help to women related crimes and issues.
The counsellor of Vanitha Sahaya Vani says that "the society is male dominated and even though women are evolving into independent individuals, they still suffer despite of monetarily supporting their families and sometimes, being the sole earning member. Women who suffer have no one to guide or counsel them usually and even the elders are not supportive in such cases. Egoism is another factor which plays a major role in such cases".
The only solution according to her is that the public needs to be more literate with the upcoming times and acquainted with the legal proceedings as well. Presently, when the number of falsely reported dowry cases is also on an escalating rate, it is difficult to point out who is the abuser and who is the victim.