Emergency exit lanes of several metro stations are blocked by wrongly-parked vehicles. Two-wheelers parked on either side of the roads below these stations block the exits.
The Bangalore Metro Rail Corporation Limited (BMRCL) has had trouble evacuating people in the past due to these vehicles. "During the Cauvery riots between Tamil Nadu and Karnataka, it was extremely difficult to evacuate the place because of the chaos," said Vasanth Rao, Public Relations Officer of BMRCL.
Not just the BMRCL, residents in the area, too have trouble with the vehicles.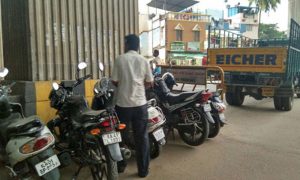 Akhila N, a resident of Rajajinagar said that it was hard to go out of her home because of the vehicles that were parked on either side of the road under the metro station near Rajajinagar. "Every day there are close to 100 vehicles on either side," she said.
Parking facilities are available for 15 out of 41 stations but the rest of the stations are waiting for land acquisition. The parking charges at metro stations for a day are Rs. 30 for two-wheelers and Rs. 60 for four wheelers.  However, people tend to park their vehicles on the roads and not in the parking space. "People wouldn't mind paying Rs. 100 in malls but not Rs. 30 rupees at metro parking. We are talking to the government about tenders to increase parking places," Mr. Vasanth Rao said.
The police have not been implementing the no-parking rule either. "People are confused about 'No Parking zones' in the city and park at wrong places, this because of the flaw from our end as we don't have enough No Parking boards," said DCP Traffic (North) Shivakumar. He said that they plan to install 'No Parking' signboards soon.
The DCP added that the police plans to introduce prepaid auto rickshaws in these areas to reduce congestion.