Cab companies and state and city transport organizations have not prioritized fitting GPS panic buttons in their vehicles.
Karnataka Transport Department has not ensured the fitting of Global Positioning System (GPS) panic buttons in public service transport raising safety concerns amongst women passengers.
Ministry of Road Transport and Highways (MORTH) had mandated the installation of vehicle location tracking device and emergency buttons in 2016. All public service vehicles had to fit the devices by 2018. But later the guidelines were relaxed, stating vehicles registered on or after Jan. 1, 2019 need to have the devices installed.
"We have not introduced the order in Karnataka as of now. We wish to start as soon as possible since it is very important for the safety of women and children," said L. Narendra Holkar, Additional Commissioner of Transport, Karnataka Transport Department.
"The central government has released its share of funds but we have not implemented the order yet due to technical issues in the ministry," said Holkar.
According to Press Information Bureau's release, MORTH included safety measures in the new taxi policy guidelines. This came after women took to social media to address harassment issues faced while travelling.
"I feel anxious every time I take a cab or an auto alone or at night. I am not at peace until I reach the destination because I constantly keep thinking about what could happen to me, like getting kidnapped or assaulted or molested or even catcalled," said Santhoshi Bhadri, a college student in Bangalore.
Avani Chaturvedi, another college student said, "My live location and map are always switched on since I share it with my parents whenever I am travelling in a cab."
Instances of assault and rapes in public transport have been reported earlier. Four hundred thirty six cases were registered under the category of insult to the modesty of women (Section 509 of Indian Penal Code) from 2014 –2015, according to PIB's release.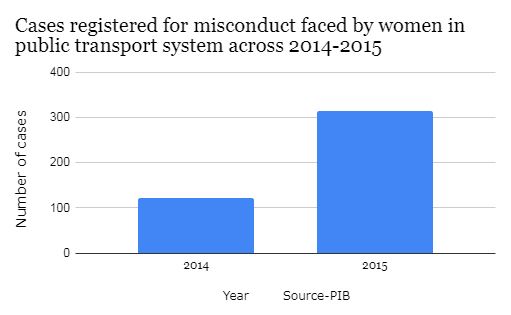 Mixed Responses
Tanveer Pasha, founder-president of the Ola-Uber Drivers and Owners' Association said that time and again orders to fit panic buttons have come out but Ola and Uber have always violated the rules. "They just care about their money, investments and drivers' performance. They do not think about proper protection of passengers. There is no one to coordinate communication between these companies and the government for implementing such rules," he said.
While the order has been favored for women's safety, some cab drivers have responded differently. Chetan, a cab driver at Ola said that Ola and Uber are safe enough to travel and their vehicles do not need such devices for safety measures.
For women with disabilities, ensuring safety while travelling becomes tougher. Madhu Singhal, founder and manager, Mithra Jyoti, a non-governmental organization (NGO) working for women with disabilities said, "For people with disabilities who cannot hear, speak or see, shouting over misbehavior is difficult. Moreover, not all women have smartphones to use maps or live location feature."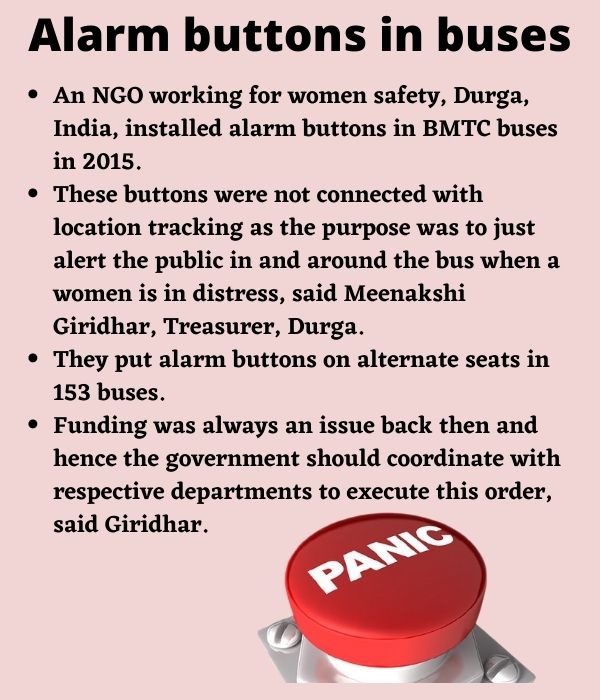 Hence, panic buttons should be fitted in transport services for their protection, said Singhal. Such buttons should be accessible and fitted in a definite place like the side of a seat and its location should be standard for all transport, she added.
Installation and placement of such devices affect their efficiency. The location of the panic button is important to realize the purpose of it, said Vibhav Kharagpuria, a road safety expert. "The visibility, accessibility and design of this button along with a plan of how it is going to be implemented and promoted, plays a very major role. Moreover, placing a safety sticker outside a cab can help making people aware of such initiatives in the first place," he added.
Awareness of such orders amongst women can help push for their implementation, said Meenu Padha, president at National Child and Woman Development Council (NCWDC), Jammu and Kashmir (J &K). "There are many beneficial laws but all exist on paper. Women should be informed about such orders in simple language through awareness campaigns. Crime can be controlled if we have panic buttons installed in public transport," she said.
Bangalore Metropolitan Transport Corporation (BMTC) buses will implement MORTH's order of fitting GPS panic buttons in the next two months, said S Rajesh, chief traffic manager, BMTC.