The state blood collection for the last year has dipped 50 percent compared to 2020, data shows.
Bengaluru: Every two weeks, Gagandeep Singh scrambles for blood donors in Bengaluru. Davangere-based Jagadish travels 250 kilometres to reach Bengaluru for his blood transfusion. Dhanya is asked for a blood replacement every time she gets a transfusion in Udupi.
After two years of the pandemic, blood donations in Karnataka are still falling short. Turned away from the blood banks in Bengaluru, thalassemia patients scramble for personal donors.
The state blood collection for the last year has dipped 50 percent compared to 2020, data provided by Karnataka State Aids Prevention Society (KSAPS) show.
The data analysis also almost 77 percent decrease in the number of donation camps organized with the help of the state government compared to the pre-pandemic year.
Jagadish needs to travel 250 kilometres for six hours before he can get a blood transfusion in Bangalore. "I spend Rs. 2500 every 20 days for the travel. There are no adequate good facilities in district hospitals here," he said. Coupled with the blood shortage, the filters and the technology are not up to the mark for blood transfusion, Jagadish noted. "Bengaluru is my only hope to stay alive," he added.
Once every two weeks, Gagandeep, also the founder of Thalassemia and Sickle Cell Society, used to visit Rotary TTK Blood Bank in Thippasandra to provide his blood sample. The next day, he had to visit the bank to receive two units of blood transfusion.
"Today, I need to look for a donor, register them with the bank and then only I can go and give my blood sample to initiate the process," he said. "Very few initiatives have come from the government to promote voluntary blood donations. We have more than 800 children under our NGO just in Bengaluru who are facing a blood crisis. And they need blood every 15 days," he added.
Rajat from Sankalp India Foundation said the demand for blood among patients has soared by 100 percent since the onset of the pandemic. "Government organizations like National Blood Transfusion Council, who have the data on state equivalents have not made the data public," he said.
The efforts made by their organization to find donors have increased threefold since 2020, he added.
Dr. Narasimha Swamy, medical officer, Rotary TTK Blood Bank blamed the pandemic for the blood shortage. "Our blood collection percentage has dropped to almost 40 percent of the number of units we were collecting before. In addition, due to Covid infection and vaccinations, several people are not able to donate blood," he added.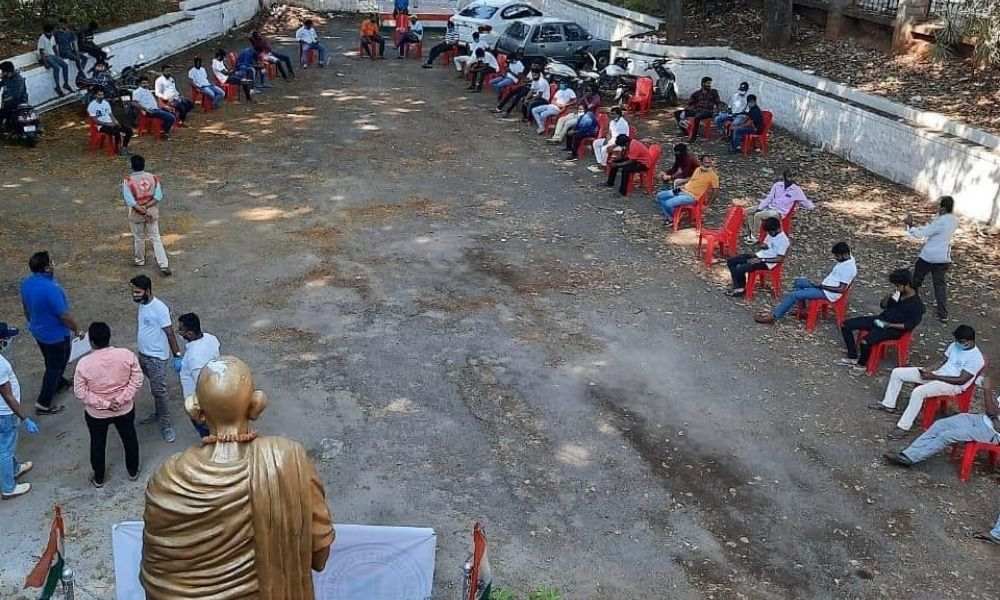 However, Dr. Jayaraju, Deputy Director, Blood Safety, (KSAPS) denies the allegations of the blood shortage in the state. He said it is a rotating process for patients with thalassemia and other diseases. "The surgeries and other accidents have reduced since the pandemic, and thus the requirement for blood have also reduced. That balances the process and makes the blood available for other patients," he added.
But data from Karnataka Police Department shows a decrease in road accidents between 2019 and 2020 and a further increase in accidents between 2019 and 2021.
The data analysis shows 2021 recorded an average of 267 accidents monthly. The number of accidents in January 2022 has increased to 281.
Dr. Namitha from Open Platform For Orphaned Diseases said the Hemoglobinopathiespolicy guidelines released by the National Health Mission in 2018 ensures free drugs that remove extra iron from the body and a registry containing the number of thalassemia and sickle cell patients in each state. However, several patients, including poor families, are paying for the medicines.
"I had approached the Karnataka state government four years back to make a registry of the number of patients in Karnataka. However, the policy remains tabled as we speak. We still do not know how many patients there are across the state," Gagandeep said.
Officials at Blood Safety said the creation of the cell is already in progress. However, officials at National Health Mission, Bengaluru denied commenting.
Dr. Mangesh Kamath, oncologist and haematologist at the Fortis Hospital believes the pandemic can never stop blood donations. "There has been a lack of awareness from the government and also the blood banks in arranging blood camps for the last one year," he said. Several guidelines mention how people, who have been infected or vaccinated can donate blood.
In addition, several other alternative medicines and injections that can increase blood cell production have not been explored, he added.
Thalassemia patients need blood transfusion once every two weeks. Cancer patients often need more blood depending on the person who can't make enough blood cells. Blood transfusions save millions of lives across the world.
Gagandeep has managed to get a donor for his next transfusion on March 12. Soon, he needs to find another donor after two weeks. "Please help us to spread awareness, otherwise it's very difficult for us," was all Jagadish could say.