As oral storytelling events in Bangalore have moved online during the pandemic, they are bringing together storytellers and audiences from all over the country.
Bengaluru: Shift to online events has helped oral storytelling events to reach more people. Events which would otherwise have been local meetups, are bringing together people from all over the country, according to Lavanya Prasad, Co-organiser, Bangalore Storytelling Society (BSS).
"BSS meetups have always been organised at a physical space, where we meet people every month and have conversations," Prasad said "It is something that people look forward to — a space where they can come and meet like-minded people, have discussions and exchange their energies. As we had a lot of people calling up and asking us 'what are you going to do this time?' During the lockdown we've decided to completely move online."
Prasad added that it wasn't like they had never organised online storytelling meetups before, but with the pandemic, it became highly essential for them to take it forward because they had more people who wanted to participate.
"Despite the fact that we could not meet each other face-to-face, online events helped us to reach out to more people," she said. "Earlier there were only people from Bangalore, or who visited Bangalore during the meetup days. This time with online sessions happening, we have people — storytellers — from different parts of the country, of the world, signing in either as audience, or as narrators. So the reach is more. I would definitely say that we have a lot of first-timers participating in our meetups this time." She continued, "For narrators, this actually opened a window to also have their voices heard in the storytelling community."
"The seats of power, the chairs of power were pulled…," Parvathy Eswaran narrated, sharing a story of a Kerala woman who shackled the power of the chair that the namboodiri men held close to them, at Bangalore Storytelling Society's online monthly meetup for adults, held on April 04, 2021.
Like her, many other storytellers from across the country shared their own interpretations of the meaning of a 'chair' — driving inspiration to curate an individual unique story.
"As a storyteller, it has been a real big boom in the sense that I could now connect with a lot of people, and also tell stories at various places which I do not think I would have been able to before," said Eswaran. "I have participated in BSS offline meetups as well, though the online events have surely led to a better scope of connectivity for storytellers. It has also helped newcomers gain confidence and have allowed them to participate in their first-ever narrating sessions."
She added, "We now have more platforms to participate in. For example, Federation of Asian Storytellers (FEAST), a storytelling society in Singapore, has now moved online in view of the pandemic. Now this gives us the opportunity to narrate our stories there. Otherwise, we couldn't have physically travelled to the country for it. Recently, I also got to participate in the National Storytelling Network in the United States of America. We're now seeing opportunities we didn't before."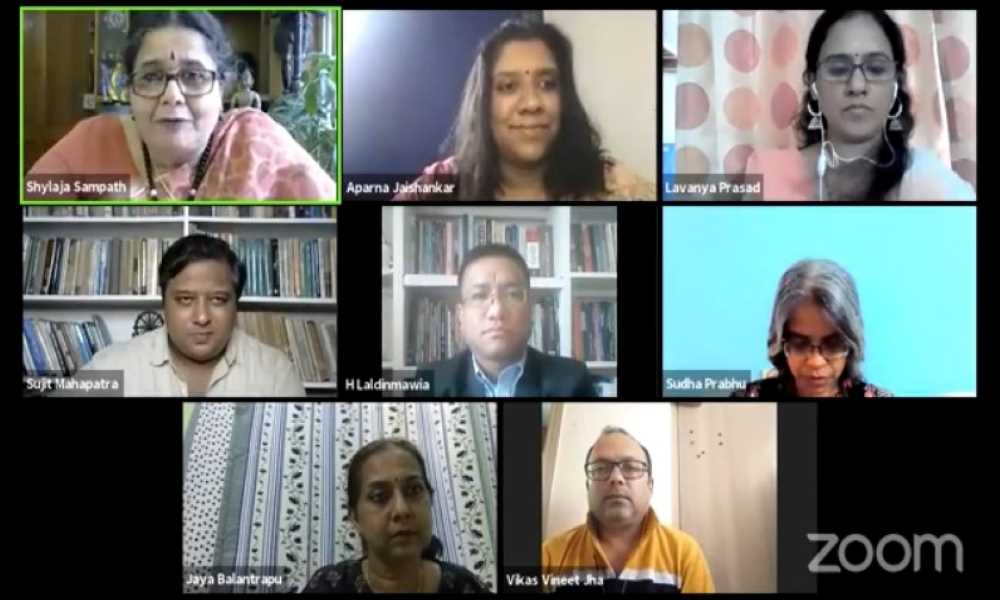 Five months ago, in their virtual Bangalore Storytelling Festival, the society invited storytellers from Sri Lanka, Nepal, Bangladesh, as a part of their 'In and Around' — Tales from the Neighborhood segment. Storytellers are able to move past the physical barriers and come together from all around the world. On April 18, the society organised a language-focused event, Stories Sans Borders, where three storytellers narrated stories in Odia, Telugu and Mizo languages. Stories Sans Borders, started last year, promotes regional storytelling, and has covered more than 20 languages and dialects, including Punjabi, Sindhi, Tamil, Bangla, Kannada, Gujarati, Khasi, Konkani, Marathi, and Urdu.
Storytelling is varied across fields. Along with Bangalore Storytelling Society, there are also storytelling training and coaching organizations in Bangalore, like Storywallahs, that have actively continued to conduct workshops ranging from business storytelling to storytelling in classrooms. Ameen Haque, the founder of Storywallahs, talked about the power of stories in his TEDx talk in Bangalore. He said, "Stories are not just entertainment, they are not just an escape from reality, they touch your heart and can change the course of your life."
Limitations remain but hope ahead
Virtual space works for storytellers, but isn't flawless.
Lavnaya said, "The enjoyment of offline meetups — to look at each others' faces/observe their reactions — have gone amiss." She added, "We're now in small rectangular boxes trying to capture the energy of the room. We also do have technical problems sometimes. But the idea of bringing stories, the passion of bringing people together has always weighed more, and that greatly helped us. Of course there were a few disadvantages, but the many other advantages just pushed us even more to conduct our sessions regularly every month."
Dr. Eric Miller, co-founder, World Storytelling Institute, talks about the scope and revival of storytelling in India in his research. "India is one of the world's great lands of storytelling," he writes. "Storytelling in India used to be considered by many people to consist only of the telling of traditional stories, such as animal stories, and epics. The realisation is now growing that the field can also include the developing and telling of other types of stories, including personal experience stories, and even one's life story."