The evacuation process is expected to start today.
Bengaluru: Disaster response teams equipped with boats, tree-cutters, and telecom equipment have been deployed in five states and union territories in view of Cyclone Yaas. Odisha is setting up cyclone shelters and temporary medical centres for relocating people who will be evacuated today.
In Jagatsinghpur district alone, 42 cyclone shelters and eight temporary medical centres for COVID-19 are coming up. Ajay Kumar Mohanty, district emergency officer of Jagatsinghpur, said, "The evacuations will start today and will be done by tomorrow. A total of 42 cyclone shelters (government schools, government offices) have been prepared for the relocation of people who will be evacuated."
A report by the Indian Meteorological Department (IMD) stated that Yaas is very likely to cross north Odisha – West Bengal between Paradip and Sagar islands by the evening of May 26 as a very severe cyclonic storm at a speed of 155-165 kilometre per hour (kmph).
According to a press release, provided by Deepak Bamoriya, Deputy Commandant, National Disaster Response Force (NDRF), a total of 85 self-contained teams of NDRF have been deployed at the coastal districts of West Bengal, Odisha, Andhra Pradesh, Tamil Nadu and Andaman and Nicobar Island.
Out of the 85 teams, 32 have been placed in Odisha. Keeping in view the severity of the situation, 10 teams are being airlifted to the state as well.
Pradeep Jena, Special Relief Commissioner (SRC) of Odisha, in a press conference, said that they have deployed more than 50 teams of Odisha Disaster Rapid Action Force (ODRAF) and 175 fire service teams and 35 specialised tree cutter teams. SRC has also requested NDRF for extra 30 units which are confirmed to arrive in Odisha by the evening of May 24, 2021.
The notification from the Prime Minister's Office said that the Indian Coast Guard and Navy have deployed ships and helicopters to mitigate the possible dangers of the cyclone and to carry out search operations. Air Force and engineer task forces units of the army are on standby with boats and rescue equipment.
Dr. K Sathi Devi from the Indian Meteorological Department (IMD) said, "We are communicating with the state boards about every possible outcome that we can predict." She said the department is constantly monitoring the direction and the intensity of the cyclone and updating it on their online bulletin every three hours.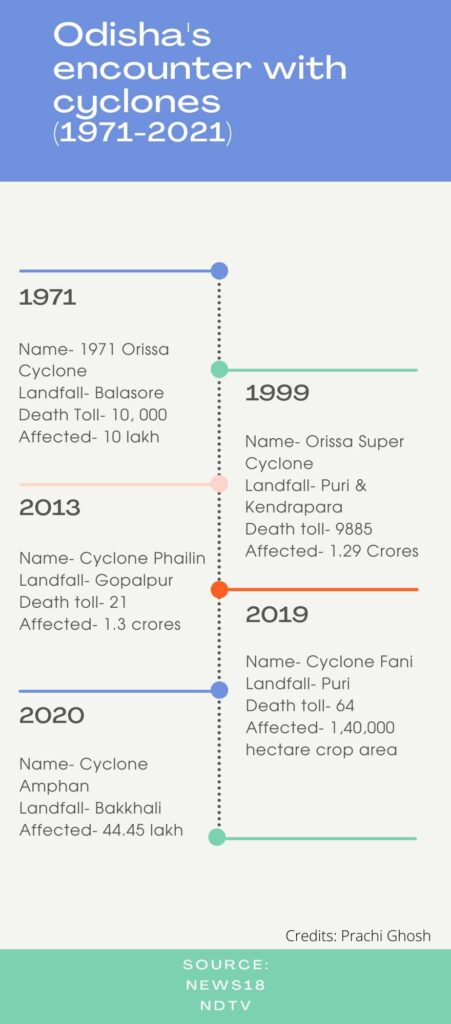 Senior officials are directed to work in close coordination with the states to safely evacuate people from high-risk areas and ensure timely evacuation of people involved in off-shore activities.
Mr. Jena said that necessary precautions have been made keeping COVID in view. "All COVID hospitals and district hospitals have been prepared with all required amounts of standby power, drinking water, food materials, drugs and oxygen. Oxygen manufacturing and refilling plants have been provided with additional power backups. An additional buffer stock of oxygen has been made available to COVID hospitals in cyclone-prone areas in order to make it available for at least 72 hours to 120 hours."
Heavy rain of more than 300 mm and a storm surge of three to four metres is expected. "Considering the probable paths of the storm, we are also anchoring the districts of Mayurbhanj and Keonjhar in the zone of alert," Jena added.
According to a press release by Odisha State Disaster Management Authority, heavy to very heavy rainfall is expected to occur over the districts of Balasore, Bhadrak, Jajpur, Kendrapara, Jagatsinghpur, Cuttack, Puri, Khurda and heavy rainfall over the districts of Mayurbhanj, Dhenkanal and Ganjam.
With Yaas making its landfall this year, Odisha is going to be hit by a cyclone for the third time in a row. Cyclone Amphan had hit the state in 2020 and cyclone Fani in 2019.
Dr. Akhilesh Gupta, a disaster management expert, and advisor in the Department of Science and Technology said, "These are pre-monsoon seasons in which cyclones are common." This cyclone is a part of the Bay of Bengal current that sheds rainfall over the eastern coast. However, such a cyclone is likely to cause coastal flooding which will submerge the lands near the coasts.
J.K Garg, former Director of the Centre of Disaster Management, Guru Govind University said, "The frequency of these cyclones has increased because of rising sea surface temperatures which form cyclonic clouds." He believes that Yaas however will be less severe than Tautake that hit the Western Coast.
With inputs from Prachi Ghosh, Rittik Biswas, and Himanshi Akhand