Plans to go abroad get foiled while plans to return get postponed as India goes through the lockdown amidst the second wave. The Indian economy stands to lose with a lower number of international migrants.
Bangalore: Preeti Pathak, a citizen of the United Kingdom, came back to India in February to visit her mother-in-law, who stays alone. She planned to take her mother-in-law back with her to the UK. However, because the lockdown began in April and Indian citizens were banned from traveling to the UK, the plan was foiled. She had to leave her mother-in-law alone again and go back home, in fear that if she stayed, she might not be able to go back for months.
"I don't know how my mother-in-law will manage alone in another series of lockdowns," she said. Like Preeti, a lot of other Indians have been stressed about the ban on travel to different countries because of the second wave. This situation isn't new to Atul, the owner of Tours and Travels India.
He said that his clients have been struggling since the start of the pandemic. A lot of his clients who had plans to go work abroad had to opt for alternate routes to make their journey. "If one of my clients had to go for work in Singapore, they would first take a flight to Thailand, or any other place where there wasn't a travel ban," he said, "and then proceed to Singapore."
Atul has seen a short fall in his clients because of the pandemic. Although there were still some who had a work visa, there were none who wanted to travel on a tourist visa. "The business will take a while to pick up because of the pandemic," he said, "at least 60 percent of the world's population needs to be vaccinated for a business like ours to bloom again."
A United Nations report states that India was the leading country of origin of legal international migrants in 2019. The World Bank said in their report of 2020 that the pandemic had affected international migrants. The migration data showed that India had facilitated the return of more than 4.5 million Indians from around the world as of February 2021.
Students and professionals across India struggle to leave the country to further their opportunities. Advith Jagirdar got his job offer letter in February. Confident that there would not be a lockdown again, he proceeded to apply for a visa. However, to his dismay, visa offices had been asked to shut down and borders to the UK had been closed due to the rising cases. "I pushed back my joining date to July," he said, "With the current situation, I feel that my plan to work in the UK might be delayed for longer."
Unlike Advith, students like Ishaan Zaveeri and Praneeth, who study computer science in the UK, wish to come back to India. They left the country to pursue their higher education when the lockdown lifted. They had been planning a visit back, however, because of the lockdown, they have postponed their plans. "I am afraid that if I do go back home, I won't be able to come back because of the pandemic and its uncertainties," said Praneeth, "I wanted to be home for summer with my family."
Students had planned for alternatives during the first wave, said Jitin Chawla, career counselor at the Center for Career Development, Delhi. His services were flexible and helped students find alternative destinations for their education, so if one country was out of bounds, they could go for the other.
"Some of the parents requested that their children find a good university in India," he said, "they feared that the pandemic would harm prospects of studying abroad." He added that one of his students who had joined a college in the UK completed her first year recently. But, because she feared that she couldn't be physically present at the university any time soon, her parents questioned the benefits of investing so much money.
"The reason students wish to go to universities abroad is because of the multinational experience and wider scope of good internships," said Chawla, "Sitting in front of the screen doesn't enable that." According to him, the number of people approaching studying abroad has increased as they are positive for next year. "They see that the vaccinations are being done," he said, "The issue was with people who had to go this year or last year."
International emigration rises when the economic development of the country flourishes, said Dr. Stuti Mona Tripathi, economist and impact analyst. "More people acquire the financial means to travel then," she said. When students or professionals lose their chances of going abroad, the Indian economy suffers too, she added. Citing RBI data, the Ministry of External Affairs said that $76.4 billion was received as remittances from Indians abroad between 2018 and 2019.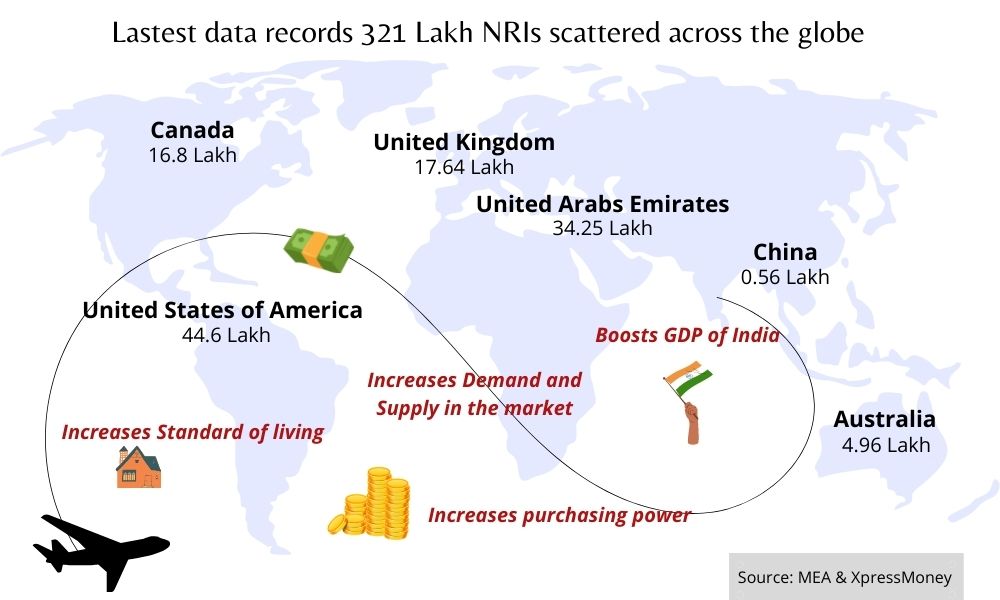 NRI contributions to the Indian growth domestic product stood at 3.4 percent in 2018, according to a report by Xpress Money, a global company for payments and foreign exchange solutions. The report states that each NRI money transfer adds to the country's foreign exchange pool, this contribution is a major part of the country's economic development.
Several other countries besides the United States of America, United Kingdom, Bangladesh, United Arab Emirates, and Canada have banned the entry of Indian citizens in light of the pandemic, according to the advisory published by the Bureau of Immigration.