Rising pollution becomes worrisome for people as COPD cases in the country increase.
Batchu Rushali
Bangalore | November 20, 2019
Over ten per cent of the total deaths that occur in India are due to Chronic Obstruction Pulmonary Disease (COPD). Three million cases are reported worldwide making it an average of 12 per cent of the global population to suffer from the chronic illness. Worldwide around 3 Million cases are reported which means that around 12 per cent of the global population are prone to the chronic illness.
Increasing pollution due to vehicular emission, construction, urbanisation, fuel generation and factory gas emissions along with smoking habits are the main causes of COPD.
Dr. Raghu, Associate Professor of Rajiv Gandhi Institute of Chest Diseases said that around 180 to 200 patients come to our hospital every day. And almost 60 per cent of those cases are of COPD.
He said, "COPD stands as the world's fourth leading cause of death. And, it is predicted that in the next few years it will stand out as the third because of the rampant growth of the pulmonary disease."
Dr Raghu also said, "It occurs due to narrow wind pipe which causes difficulty in breathing and creates respiratory problems."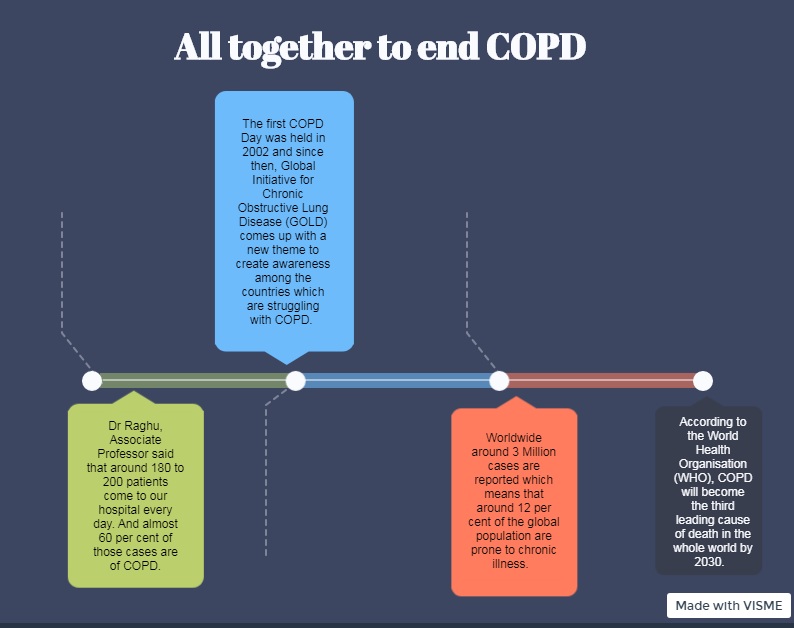 The first COPD Day was held in 2002 and since then, Global Initiative for Chronic Obstructive Lung Disease (GOLD) comes up with a new theme to create awareness among the countries which are struggling with COPD. The theme this year is 'All together to end COPD'. According to the World Health Organisation (WHO), COPD will become the third leading cause of death in the whole world by 2030. 
Malintash, one of the patients, complained that he has been coughing since eight to nine months. . She said, "I did not take it seriously but when my condition did not improve I came to the doctor. He did not clarify the stage I am in but he said I needed serious medication."
Another person who has been diagnosed with COPD for over an year now said "I never thought cough could be this serious but when my cough did not stop I came to see Dr Raghu and found out that I was in the third stage of COPD."
Dr. Nagaraj, a Pulmonologist at Victoria Hospital, said, "It does not happen overnight. It takes time as there are different levels. It can start with minor cough later developing into a chronic illness."
Dr. B.K. Vijendra, Chief Health Officer, BBMP , said, "Since pollution is one of the major cause for COPD, we try and monitor pollution levels. We also arrange health care and awareness programs at primary and secondary levels."