PM Modi's declaration of open defecation free India, proves to be fallacious as India is still not free, as per the panchayat reports of Belagavi
By Surbhi Shah
The Swachh Bharat Mission (SBM) failed to meet its deadline in Belagavi district as 81 per cent of the households do not have toilets, Rural Development and Panchayat Raj Department reports reveal.
"Swachh Bharat Mission has only reached those who have space to build the toilet in their homes. Those who do not have the space will not have toilets," said Shabana, teacherat Urdu Girls School, Sampgaon, Bailhongal.
In contradiction, the SBM dashboard for 'household toilet coverage across Karnataka' shows that 91 per cent to 100 per cent of the households in Belagavi have toilet coverage.
Around 85.43 per cent of households in Bailhongal do not have toilets as per the Panchatantra reports presented by Rural Development and Panchayat Raj Department. Of the 69,027 households, only 10,058 have toilets and 58,969 do not.
Panchayat members of the Sampgaon village in Bailhongal taluk said that the money allocated for the mission is used elsewhere as there is no need for public toilets in the village, since the villagers do not use them.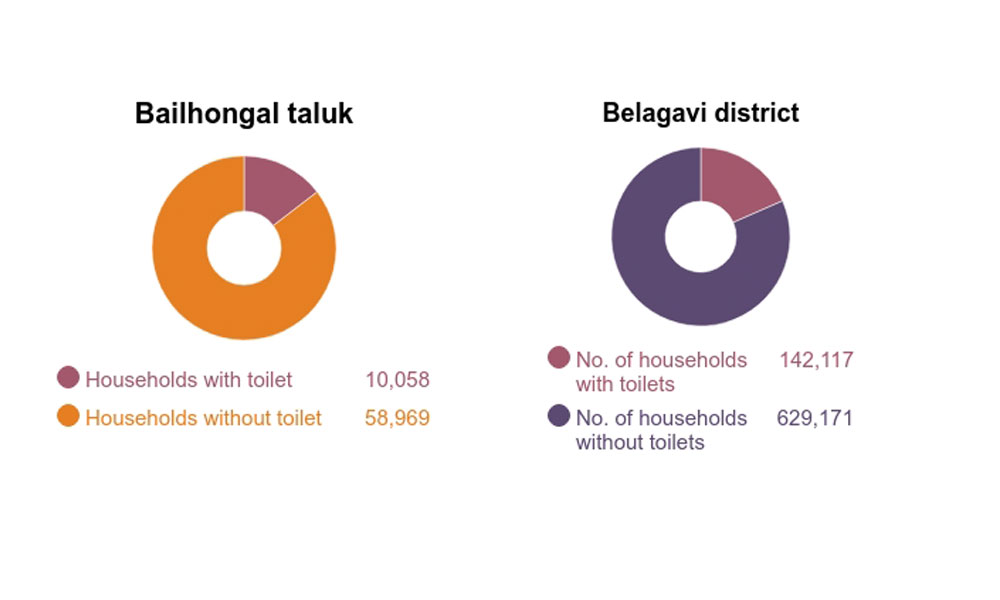 Open defecation causes several diseases like intestinal worms, Schistosomiasis, trachoma, etc., according to World Health Organisation (WHO).
"Open defecation is prevalent in India because people are used to defecating in the open. Even if there are toilets, they urinate and defecate in open," said Manjula Rao, SWM expert.
For the construction of toilets, the panchayat gives Rs 10,000 to Rs 12,000 per household. The amount given is not enough to build the toilets. Also, as most of the people are below poverty line (BPL), they do not have adequate resources to add to the allotted money and build a toilet.
Many households do not have place to make the toilets and thus they are not eligible to get benefitted from the scheme.
One of the main goals of SBM was to eradicate open defecation system in India and by 150th birth anniversary of Mahatma Gandhi.
Shabana added, "The scheme hasn't reached the poor people. Modi's scheme has failed there."