Bangalore is taking baby steps in shattering the status quo by installing diaper changing stations in public places and helping hands-on fathers take up the role of the full-fledged active parent.
By Riya Sharma
Public spaces in Bangalore are being upgraded to facilitate diaper changing stations in men's restrooms to provide a family-friendly environment and help fathers perform their duties as primary caregivers.
The Softcopy found that unisex baby care rooms accessible to all have recently been facilitated in the Orion Mall and with the refurbishment of restrooms that starts next month, diaper changing stations will be available in men's restrooms as well.
Other shopping malls like The Forum Mall have followed suit and equipped the men's restroom on one floor of the building with diaper changing stations.
Shunman, spokesperson for the mall informed that all other men's restrooms will be equipped with the changing stations soon as well.
In the interest of becoming family-friendly at all levels, five-star hotels like The Ritz-Carlton and Four Seasons have equipped the men's restrooms with changing stations as well.
A tweet from a Maldivian tourist acclaiming the Kempegowda International Airport (KIA) for installing a diaper changing station in the men's restroom has been doing the rounds on social media recently.
Ali Samhaan (@khamsyn) tweeted a picture of the station with the caption: "Saw this in Bangalore international airport men's room", that stirred the internet raising the topic of gender-specific roles in the society.
A somewhat bemused KIA spokesperson, Roshan confirmed this, pointing out that this is not a new provision.
He said, "All men's restrooms in the airport have been equipped with diaper changing stations for 3-4 years now."
Sumit Kumar, father of a 4-year-old in Bangalore, talks about how the progressive increase in the number of diaper changing stations in men's restrooms is a welcome move.
He said that public spaces equipped with changing stations in men's restroom pave way for more inclusive parenting.
"I have to travel alone with my child frequently and when she needs a diaper change, I would want to do that with a little dignity, in a private space that's sanitary where my child is not exposed to any infections", he added.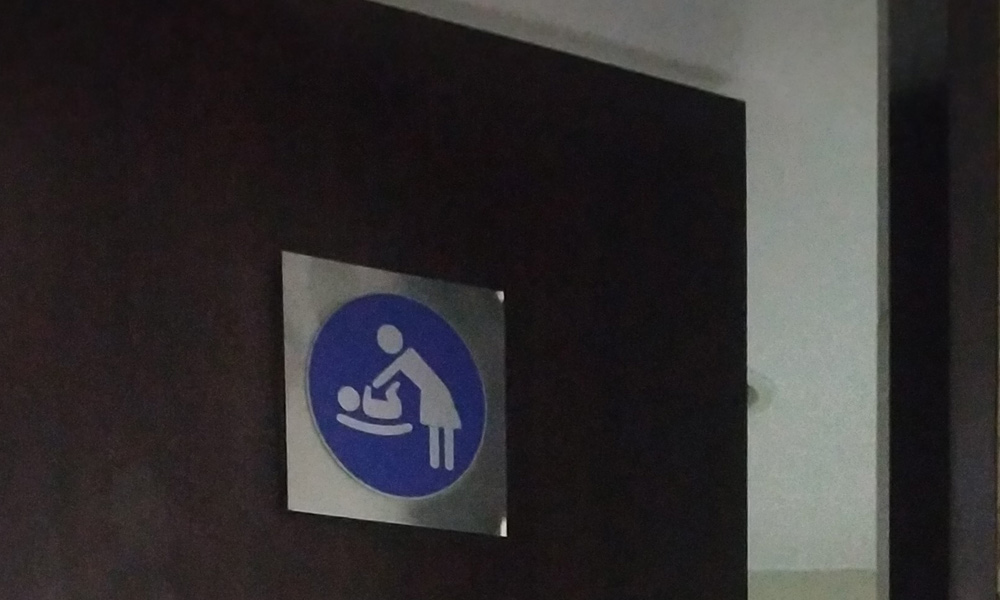 Dr. Sudeshna Mukherjee, Centre for Women's Studies at Bangalore University, discussed how providing changing stations in men's restrooms smashes the status quo and questions the gender- specified roles in the society.
She said, "Mothering is a gender-neutral term. You do not need to be a woman to be a mother. Installing these diaper changing stations in men's restrooms recognizes fathers as natural caregivers."
Gaurav, another hands-on father said, "It is unfortunate when even a common baby care room only allows women inside, making desperate fathers come up with maneuvers that are not always sanitary, to get the job done."
Dr. Mukherjee said, "The system should facilitate and not prohibit the men willing to change the status quo."
Sumit added, "I would hate a place where only a mother can enter and not a father. In my book, it is a cardinal sin to hold back a father from providing his child with proper care."
These changes in the city are baby steps towards questioning and bringing about an intervention for the gender-specified roles in the society, according to Dr. Mukherjee.
She said, "This is just the beginning and there is much more to be done. These changes need to be institutionalized and not just done as a charity."
These changes should be ingrained in the Public Works Department (PWD) specifications of restrooms and should be part of the protocol to bring about a real change and address a larger issue, she added.