Garbage around S.J.P. Road is a breeding-ground for mosquitoes, emits foul odour besides being an aesthetic nuisance.
By Apoorva G.S
The Bruhat Bengaluru Mahanagara Palike (BBMP) contractors are dumping waste on a busy street off S.J.P. road. Residents and businesspeople in the area allege it is affecting their health and their sales.
M.R.R. Lane near S.J.P. road cross is an over-crowded commercial area, cramped with heaps of garbage as tall as eight feet lying on the roadsides. Much of the municipal solid waste is dumped without segregation as dry and wet waste, and it continues to pile up for more than five days. The refuse collected from nearby areas is dumped on the roadside which causes breeding of flies, insects and rodents; posing health risk.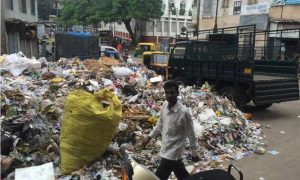 Yusuf Zaveri, who runs a business in the area, said, "Our sales have gone down by 20 per cent because of the foul smell due to the garbage. I complained to the higher officials but no action was taken against this."
P. Vishwanath, Chief Engineer, Solid Waste Management, BBMP, said, "No man's land is available as a collection point for BBMP, because there is a shortage of dumping zones in the city due to over-production of waste. Approximately 72 tonnes of waste is collected from each ward in Bengaluru per day, out of which, only 30 percent is segregated because the public does not follow the BBMP guidelines."
However, a shopkeeper at S.J.P. Road, Shafiq Nabeel Ahemed said, "Just because this is a no man's land doesn't mean BBMP can dump garbage here. We are facing health issues because of this. Every week I have to visit a doctor, as I have developed a breathing disorder because of this garbage."
Dr. Vinutha Patil, MD practitioner said, "Open garbage results in vector-borne diseases like Malaria, Dengue, Filariasis as well as parasitic diseases such as Amoebiasis, Tape worm infection, Toxoplasmosis. Typhoid, fungal infection, bacillary dysentery might also be contacted if one is directly exposed to garbage on a day-to-day basis."
Sulaimaan, another shopkeeper, said, "The condition gets worse during rainy seasons, as the water seeps through the pile of garbage, resulting in drains being choked due to the waste."
R. Veerayya, Junior Inspector, SWM, said "The waste collected from the city is been dumped in Bellahalli Stone Quarry, which is 25 kilometres away from the city. Roads to this quarry are poor because of which trucks cannot enter the quarry during rainy seasons. So we collect waste from the city, dump it at the collection points and then transport it to the quarry after three to four days."
Soumya Devaraj, an Environment Science Professor said, "We must always try to focus on reducing, reusing and recycling waste. We can also use waste to recover energy. Our last resort must be to dispose of the waste in landfills."