Even after a ban of three years on single-use plastic, street food stalls near Kempegowda bus-stand still serve food on plastic sheets.
By Arghyadeep Dutta
Single-use plastic sheets are still being used by street food stalls to serve customers near Majestic Bus Stand and City Railway Station, even after the third anniversary of the plastic ban by Bruhat Bengaluru Mahanagara Palike (BBMP).
Adil, a vendor, who sells food on a vending stall beside the Krantivira Sangolli Rayanna City Railway Junction, said that the availability of plastic has reduced since BBMP banned plastic but it is still more profitable than serving food on banana leaves.
Street foods like dosa, idli, puri, curry rice are served on a thin sheet of plastic which is put on the plate so that the vendors don't have to wash the dishes properly. BBMP banned plastic products three years ago.
Mr. Prasanna Kumar, Deputy Commissioner of West Zone BBMP, said, "It is illegal to serve food on a plastic sheet. People throw it randomly after eating, which is causing pollution."
"Banana leaves are more expensive than plastic sheets. The cost of a bundle of 200 leaves is Rs. 200 to Rs. 250, depending on the availability but contrary to that, plastic sheets cost Rs. 150 for a 250-piece pack," said Jairam Gowda, another vendor.
Studies show banana leaves are eco-friendly for packing and serving foods and the waste can be managed properly as it is organic and can be later be used to manufacture biogas or compost. Plastic does not disintegrate and decomposes into the soil quickly. It takes about 10 to 20 years for a sheet of plastic to completely disintegrate and decompose.
Mr. Suresh Heblikar, an environmentalist and the Chairman of Eco-Watch said, "People buy dosa which is wrapped in banana leaves, but the sambar is poured in a plastic packet and packed to carry [for] a long distance, which wasn't the case 20 years back. To address the plastic issue, we have to change our attitude first. BBMP should campaign more and should impose a stronger law for the violators."
Arjun Singh, a customer, said that he eats opposite to the Majestic Bus stand quite often. He said that he doesn't care whether the food is served on plastic or on a banana leaf as long as it is inexpensive and doesn't affect his health.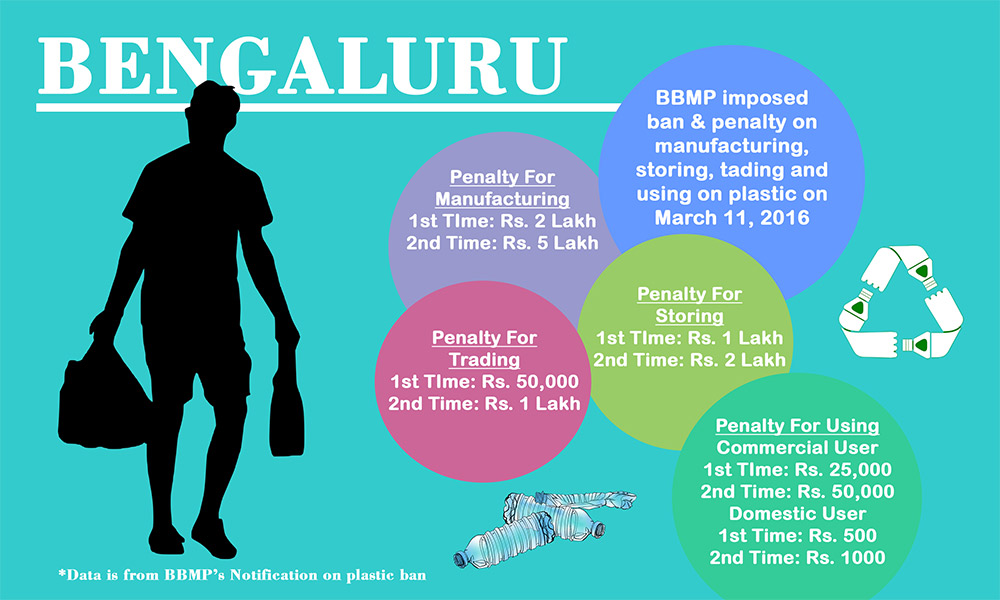 BBMP had issued a circular, on March 11, 2016, which banned plastic products. The plastic products that were banned include plastic carry bags, plastic flex, plastic flags, plastic spoons and forks, plastic sheets, and products made with thermocol or plastic microbeads. A penalty was also imposed on the manufacturing, storing, trading, and using plastic products.
BBMP data shows that of the 2730 tonnes of daily waste Bengaluru city produces plastic waste makes for roughly 328 tonnes.
Mr. Kumar said that though it's not possible to eradicate plastic within a short term like three years, BBMP is targeting the manufacturers so that small vendors cannot get the plastic. He said that BBMP is planning to impose stronger rules against such offenses.