Classical dancers performed barefoot on a damaged footpath in order to trigger some response towards fixing the path.
By Aiswarya Sriram
Bengaluru, March 19, 2019.
Malleshwaram Social Group, a resident welfare organization in Malleshwaram recently conducted a movement called #footpathbeku (Need Footpath). They performed Bharatanatyam (an Indian dance form that requires dancing without wearing any shoes or slippers) on the damaged footpath. They did this in order to depict that walking on a damaged, poorly maintained footpath is inconvenient – and performing Bharatanatyam barefoot there is even more painful.
Soon after this episode, the Bruhat Bengaluru Mahanagara Palike (BBMP) started reconstruction work for the footpaths. Preethi Sunderajan, one of the dancers in the video says, "I was able to use my art in a very creative manner. I thought people would get the humour and connect to the cause, as it is a routine problem they are facing. Hopefully, we were able to make an impact and make our footpaths a better place to walk on."
Sriram, who is the scriptwriter of the video, says, "Malleshwaram is considered to be the cultural capital of Bangalore. This is where most of the western dance schools, most of the classical music and classical dance schools are located. So, we used this idea. We wanted to keep it light-hearted. It was sort of a gentle satire of the situation in Malleshwaram."
The Ugly Indian is another Bengaluru-based non-profit organization which clears garbage and paints the cities' flyovers and metro pillars. It is collaborating with the BBMP and other private companies and has conducted a lot of drives where it painted many parts of the city.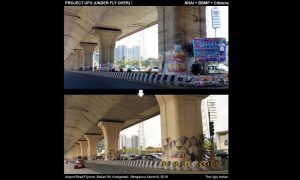 Recently, it has taken the Underpass Challenge. It has painted numerous underpasses in Malleshwaram, Marathahalli, JP Nagar, and Hennur. The Ugly Indian doesn't like to reveal their identity through the media.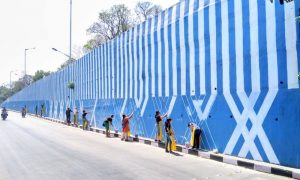 Art in Transit is another move by the students of Srishti College. They have taken this initiative by collaborating with different artists. They are painting metro stations. Their aim is to tell stories in places of transit. They have so far painted the metro stations of Peenya Industry, Cubbon Park, and Chickpete. Yash Bhandari, who is working with the initiative says, "Metro is an important segment in Bangalore and our aim is to tell stories using this place of transit. Art helps to connect with people and it also makes the place of transit beautiful."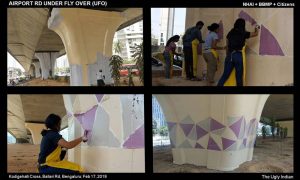 Dileep Samanth, a painter says, "Art is the easiest way to connect with people as it can be understood by everyone, so art definitely brings change and creates an impact in the society."