The AQI of the city is rising rapidly, which in turn is increasing respiratory diseases. 
The increasing Air Quality Index (AQI) in the city of Bangalore has given rise to a number of health problems like asthma, tuberculosis and cardiovascular diseases. From March to May 2018, the AQI increased from 101 to 128 in Yelahanka, 68 to 105 in Yeshwanthpura, 105 to 135 at the City Railway station, showing more concentration of pollutants like units of particulate matter 10 (PM10) and 2.5 (PM 2.5) in the environment.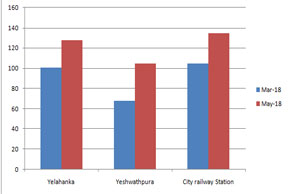 The particulate matter PM 10 and PM 2.5 consists of dirt and very fine articles which goes deeper into our lungs and affect us badly. The concentration of both these matters has gone up in the city. The AQI when ranges from 51 to100 can cause a breathing discomfort and 101-200 AQI can causes a breathing discomfort in sick people. When the AQI goes above 300, it can cause severe health problems to the public.
Kanika Batra, a resident of Silk Board, said "The pollution around the area has been increasing lately." She blamed the increased number of vehicles around the place for the rise in air pollution.
Nitin, an asthmatic patient said that his breathing problem becomes more severe during the festive season. He added that there are a few areas in Bangalore where the pollution levels are much higher as compared to other areas. The rise in pollution has mostly affected the children.
According to the reports provided by the Rajiv Gandhi Institute of Chest Diseases, the number of bronchoscopies performed went up from 358 to 403. In the city alone, 81,187 cases of tuberculosis were reported in the year 2017 alone.
Dr. Puja Rathi, a pulmonologist, said" The number of patients coming in for problems like tuberculosis, lung diseases and asthma is increasing day by day. Whooping cough and problems in breathing are the most common problems that people come in for." The doctor blamed the elevated levels of air pollution for the problem and added that people should start wearing masks.
[media-credit id=43 align="alignleft" width="288″]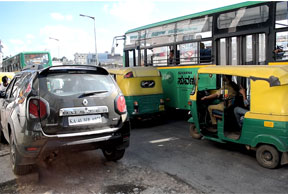 [/media-credit]
Environmentalist Remeen Firoz said," Polluted air can have long term health implications like affecting children's IQ, lung diseases and it is carcinogenic. It can also take a toll on economy – as health costs go up. One of the things that can be done is switching to unleaded fuel, using cleaner fuel like natural gas. But most importantly people's attitude towards transportation needs to change. Using mass transport, limiting use of individual vehicles and targeted policies that help people switch to cleaner fuel."