In the run-up to the October 2 re-imposing of a nation-wide ban on plastics by the government, people complain of greener options burning a hole in their pockets.
By Savyata Mishra
Bengalureans complain of high prices of eco-friendly options to plastic available in the market and a scarcity of shops that sell them, as the city is set to re-impose the 2016 ban on all kinds of plastic from October 2.
Prakash, a wholesaler of various eco-friendly items in K R Market, said, "As demand for these products is low, they are pricier as compared to plastic which was abundantly produced and available." He said while 100 pieces of brown paper bags costs Rs. 60, one can get about 300 pieces of plastic bags for the same price. Due to this, people are reluctant to give up on plastics entirely.
Plastic manufacturers at Chickpete and K.R. Market were on strike for a month because of the ban on plastic last year.
Dr Vijendra BK, Chief Health Officer (CHO), BBMP, said, "Cloth bag is a one-time investment for people as opposed to plastic which is discarded after one use and people end up paying for its disposal. Although the shift from plastic to paper or cloth has been slow, people are now carrying their own bags instead of paying the shops extra money."
A report from the BBMP showed that between September 1 and 21 this year, about 2,732 kgs of plastic was seized from shops in Bengaluru and Rs 8.2 lakh was collected as fine.
Prakash said people still enquire about plastic bags at his shop even after the ban but he has stopped selling them and has replaced them with brown paper bags. Shatrupa, who frequently shops at K R Market, said, "Polythene is much easier to carry and use. One does not have to worry about it tearing or the things spilling from it. I don't like to carry additional baggage every time I go out, so I find plastic better."
It is not as if consumers do not care for the environment. Shatrupa added, "Of course I support a greener future but the options for it in the market are few and the prices high. I'll make do with a plastic bag as long as the prices of environment-friendly products remain high."
Sunil, owner of Sunil and Co., a company producing and selling paper bags to popular branded clothes manufacturers said that the consumption of paper bags in small retail shops is very low which makes it an expensive affair for everyone. He said that the ratio of paper to plastic bag usage is 20:80 since a lot of people still sell and use plastic bags.
Sunil added, "Another reason for these alternatives to be pricier is that they are heavier and more delicate. We spend money to deliver it to locations over long distances which the consumer bears."
Although there are many self-help groups and private companies that manufacture paper and cloth bags, plates, spoons and forks made out of areca leaf, plates, cups and tumblers made out of banana leaves and sugarcane fiber, these are not affordable. Some of these are exclusively available online and are very highly-priced.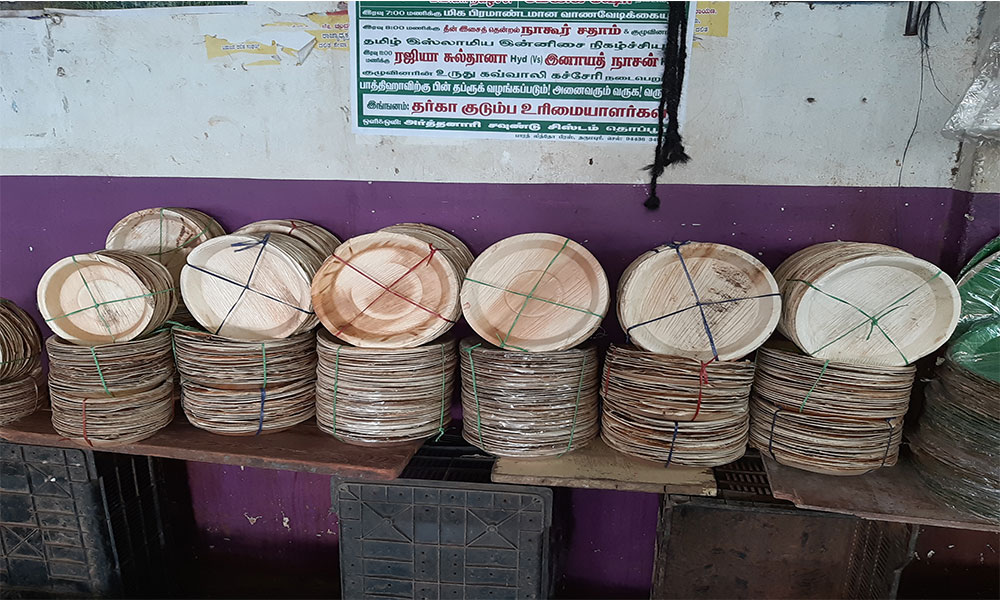 The price of some of these items has also gone up with the demand. Before the ban in 2016, Prakash used to sell 50 paper cups for Rs 55 whereas now he sells the same number of paper cups for Rs 65. "With the increase in demands for these items, many people will start selling them which will lead to competition and result in price reduction. But this may also bring down the quality of the product," he said.
While starting out in 2012, Sunil's business was a costly venture. "The machinery used for making paper bags cost a lot and when there is less demand, we don't get much profit." However, with the ban and increased awareness, Sunil's business has improved over the years. "Now, our company has witnessed a growth in demand. People owning small establishments are taking an interest in selling paper bags to their customers instead of plastic ones."
The CHO said that to increase awareness about environment-friendly products, almost every city is conducting exhibitions to encourage merchants as well as the public. "When people start using these items like they used plastic, the prices will come down," he said.
Environmental activist, Suresh Heblikar said, "Plastic has become an inseparable part of our lives and it cannot be entirely done away with. In a country like India, price is a very important factor that drives people to accept or reject a product. People will not think about the environment as long as something more convenient, cheap and easily accessible is available for them. To persuade a middle-class person to use eco-friendly products, government has to make it cheaper in the market,as well as increase its availability." Prakash's business has seen a moderate spike since the plastic ban and he is hopeful that it will increase in the coming days.