The Police collect Rs. 70,000 fine per day from the truck drivers even after the 'no lorries' rule, during peak hours
Bangalore, September. 4, 2018 : There are minimal or no changes found in the traffic in the IT capital of India, even after the police tried to curb the traffic in the city by implementing the 'no lorries' rule during peak hours. Sushma Anand, one of the residents of Hebbal, who's been living in Bangalore for the past 15 years, said, "I can still see heavy vehicles in the city when I go to work. Huge lorries and trucks are the main problem for the traffic in my area."
According to the law implemented by the Bangalore Traffic Police in 2015, states that there is a ban on heavy vehicles of over three tons. The trucks and Lorries are not allowed in the city between 6 a.m and 10 p.m. This excludes the Tempos and Mini Trucks and only includes heavy transport vehicles. "The amount of the fine is Rs 500-Rs 1000, is collected if trucks are seeing plying in the city" said Mr. Venkatesh, Police Constable of Hebbal Traffic Police Department.
Mr. Nagraj, head constable of the Traffic Police station in Hebbal, told the Softcopy that, "the Traffic Police collects around Rs 70,000 fine per day from the truck drivers for entering the city and other offenses, such as driving without seat belt, ID or without a number plate."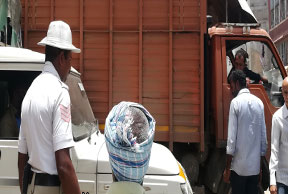 The truck drivers have been facing a problem due to this new rule.
Mohanraj, One of the truckers said that, "I carry sand and other construction material in the trucks and I have to enter the city If there is a construction going on." He added, "We pay the fine and we go. There is no other option."
There are more than 50 lakh vehicles that enter the city everyday and the most trafficked areas in the city are Hosur Road, Chickpete, Hebbal and other places with connectivity to the highways, according to Anil Kumar Grampurohit. He added, "The congesting on the road is related to more of infrastructure rather than loaded trucks ."
According to M N Shri Hari, a traffic expert in Bangalore, the maintanence of loaded trucks and Lorries is a lot and there must be more connectivity to the areas in the city for heavy loaded vehicles.