The BBMP Initiated Drive for Removal of Illegal Overhead Cables in the City
Bangalore, Sept. 11, 2018: After implementing ban on banners, illegal overhead of OFC (optical fibre cable) is being cut by the BBMP (Bruhat Bengaluru Mahanagar Palike). The drive has already started, as the order has recently been given to Internet providers in the city according to BBMP. Removal of the cables hanging on the poles and trees has started across the city.
Azad Singh, a resident of the Majestic area said, "sometimes vehicles with heavy load face the problem of getting stuck which breaks the cable lines. During rainy season it creates more problem as branches sometimes break". The areas near Trinity metro station, Cubbon Park, Halasuru police station, and others are loaded with hanging cables.
Prithvi Raj, Proprietor of Hastech Internet Lab said, "Putting down the optical fibre could possibly create a digital blackout in the city. In some areas nearby Seshadripuram police station, workers of BBMP are rolling out the cables. Internet connectivity has been disrupted of customers who took connections from the distributors whose cables have been cut by BBMP".
"BBMP has not given any kind of proper guideline regarding the issue of cutting down the cables hanging on trees, electric poles, and posters, or in any property of BBMP'' he added.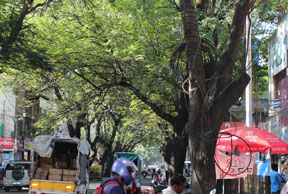 For the underground cabling, permission is required from the BBMP. Most of the times while digging the roads and doing other maintenance works the optical fibre get cut, which leads to disturbance for our customers. Another operator said that 30 kilometres of his overhead cable has been cut.
As per the alternative provided by the BBMP, service providers can do cabling in buildings separately after getting permission from the owners. This drive could be a problem for us as we have 1,500 customers in JP Nagar, Jayanagar and also to many more customers from other areas who will be deprived of our service, said Prithvi Raj.
Companies like Bharti Airtel, Reliance and Tata did underground cabling and minor Internet service provider companies' should have to lease cables from them. Everyone cannot get the permission to do so, he further added.
Jagdish, a former employee of You Broadband service provider said the BBMP asked about the length of cable from providers who are registered with the Telecom Regulatory Authority of India and BBMP.
An employee of BBMP said, for the past few years, they had meetings with service providers to remove overhead OFC by sub-divisional office, but now the drive to cut these cables is done by the Zonal office. Removal is done for 504 Kilometres yet because of other pending work like potholes, banners.
The public relations officer of the BBMP claims that "around 8,000 kilometres of overhead cable has been removed from the entire city already. Some major companies like Vodafone, Airtel, BSNL had both overhead and underground cables. Time limit for completing underground cabling has not been given but they were just disconnected."