The Program struggles in covering peritoneal dialysis for its patients.
Bengaluru, Sept. 11, 2018: The National Health Mission rolled out a dialysis program for the poor in 2016 known as the 'The Pradhan Mantri National Dialysis Program' which covers only one kind of dialysis that is Haemodialysis (HD) and not Peritoneal dialysis (PD) because it is home-based whereas haemodialysis needs a clinical set-up and  is more costly in comparison. No health insurance company covers PD in India. This makes it difficult for patients who have almost reached the end stage of their chronic kidney disease and whose health depends only on Peritoneal dialysis.
A clinical specialist from Baxter Healthcare, a U.S based medical company said" Peritoneal Dialysis does not cause blood loss and the case is not the same for Haemodialysis. Also, when a person goes through a haemodialysis, he or she has to come to the hospital thrice a week or sometimes more and get admitted to the hospital which automatically makes it difficult for a person to lead a normal life. Whereas, the case is absolutely different for peritoneal dialysis which has two types:
Continuous ambulatory peritoneal dialysis
Automated peritoneal dialysis.

[/media-credit] US based Health Care Company named BAXTER which provides tools and machines for PD.
Peritoneal dialysis includes the process of the cleaning of blood without being extracted from the body and it also does not require close medical supervision and can be done in a home setting which makes it quite comfortable for the people who wish to complete the dialysis from their home only. The government does not offer any plan for such a dialysis. The clinical specialist gave examples of a few patients who are financially very poor to afford dialysis but as they are suffering from a disease which falls under 'End Stage Renal Disease' and have no other option rather than Peritoneal dialysis to survive, such patients get help from their religious communities.
The specialist spoke about a patient who was getting peritoneal dialysis done from the age of 8 and still continues to get the dialysis done as she can afford it she is able to lead a life where she can walk around freely and move from places to places easily which is not possible for a person who opts for Haemodialysis and can never lead a very normal life.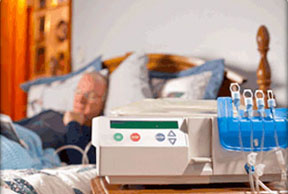 Mahavir Prasad Barjatya, a seventy-five year old man from Kolkata says " I am getting  the haemodialysis  dialysis done since 8 years and have never led a normal life since then as I have to visit the hospital thrice in a week and that leaves me so weak that it leaves me with no energy to do anything any further."
A Nephrologist from Houston, Texas stated "The number of kidney failure will increase inappropriately in developing countries such as China, India where the number of elderly people are increasing. Peritoneal dialysis provides more flexibility and independence and causes more improvements. Peritoneal dialysis shows better patient satisfaction compared to haemodialysis. PD costs are lower compared to HD in the United States."
The professor and the head of the department of nephrology from St. John's Medical College says" According to the 2013 data from India there are 4,80,000 patients suffering from end stage renal diseases out of which 51,000 patients are on dialysis. 46,000 patients opt for HD and 7,800 for PD as none of the health insurances in the whole country cover PD as it can be done in a home-setting with the help of a automatic machine which leads to only 25% of the patients opting CAPD. Government has to support PD in the future."
"In the whole of Karnataka, Victoria Hospital is the only hospital which provides PD for free to people below poverty line and charge only 30% for HD"said Dr. Sreedhar, the senior PD in-charge in Victoria Hospital.
Transformation of the National Health Policy is the basic need of the hour and the government  should increase the budget for health from the GDP of 1.15% .