People still prefer hand maggam embroidery despite computerized embroidery blouse works.
BENGALURU: The computerized embroidery machine is not as flexible as handwork. Tailors said that computer work provides only limited designs and the work cannot be applied to all the varieties of designs, unlike handwork.
A hand maggam blouse cost Anuradha Prasad a fortune. To wear a blouse with work that can be felt when touched she had to pay Rs. 3500, a bit more than usual.
"There is nothing elegant about wearing a blouse with computerized work, those designs are just the impressions and do not have any 3D effect to it," said Anuradha.
Despite machine embroidery attracting tailors in the market, traditional hand work continues to thrive.
Kranthi Rekha, a designer and owner of Shradda's Boutique at Balagere road in Bengaluru said,"A very small number of customers prefer computerized embroidery now." She added that even though she provides both computerized and hand embroidery, most of her customers prefer hand work.
Krishnaveni, who runs a boutique in Hyderabad, said that these inbuilt computer stitching machines were in trend initially when they were introduced. "People were just excited to know how these machines work and to know the number of options these machines provide. This led to the tailors purchasing these machines."
Dr. Reena Bhatia, assistant professor in fashion design at The Maharaja Sayajirao University of Baroda said, "To earn more profits, tailors also adapted computerized embroidery that fulfills the needs of both the user and maker, making it a win-win situation. This helps in providing quick deliveries on demand."
She further added that Hand maggam embroidery is more popular with consumers, probably because it includes the use of metallic thread and its varieties.
"In case of few designs that consist of mirrors and beads, the computerized embroidery machine cannot be used. It is easier to do handwork for such designs than using a machine. We can also use the machine for designs that contain both beads and thread, but the beads or the mirrors should be placed by hand," said Krishnaveni.
"Preference for hand embroidery over computerized machine embroidery by consumers will remain immaterial of whether it is a trend of the times or not," said Dr. Reena Bhatia. Hand embroidery brings in the essence of exclusiveness that appeals to the customers, she added.
Pricing strategy:
At times customers do prefer computerized work due to price constraints. "If we compare the price of computerized work and handwork, the prior is cheaper. Customers ask for computerized work when it comes to normal sarees," said Kranthi Rekha.
The difference in price is because of the time consumed for a single blouse. A single blouse can be completed in one hour using the machine but it takes at least a day for handwork and heavy work. For instance, a bridal blouse requires at least five days and at times, 10 days, to complete.
Tailors from Hyderabad and Bengaluru said that a simple basic computerized work costs around Rs. 1,000, whereas a simple handwork maggam work cost Rs. 2,000. The prices can also extend to Rs. 10,000, depending upon the design chosen.
Kranthi Rekha pays Rs. 6500 as weekly wages for her workers who do the hand maggam work. In general, a maggam worker earns a minimum of Rs. 1000 to Rs. 2000 per blouse.
Krishanveni said the tailors with a computerized embroidery machine have no use for the machine if the customers prefer hand embroidery.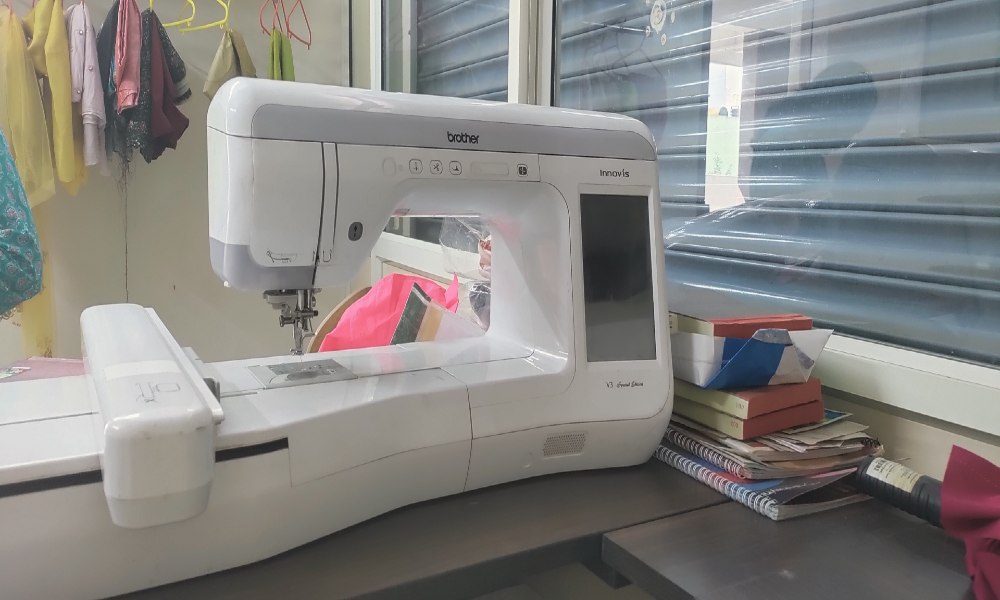 "It is always a good option to cater to consumer demands. When technology becomes affordable and helps in bridging the supply–demand gap, the tailors can invest in it and enjoy the benefits of mass customization, simultaneously catering to the demands of the diverse market segments," said Dr. Reena Bhatia.
However, she added that it is difficult to always satisfy all needs of the consumer, but working with both newer and older methods of embroidery will call for better consumer engagement with the business."This is a one-stop solution for all their embroidery demands," she added.
The price of the work also depends on different design preferences of the customers. Anuradha said, "The price difference between computer work and hand work is just 20 percent. Customers will prefer computerized work if there is at least 50 percent gap. I will be getting an elegant design on my blouse in hand maggam if I pay 20 percent more than computerized work. So, I would prefer hand work to computer work."
Developments over time:
Maggam work is done using an eponymous (tilted) hooked needle. This work was once the preferred embroidery style of the mighty rulers of the Mughal line; it has widely spread across India and goes by the name 'Maggam work' in Telangana and Andhra Pradesh..
Many parts of central and western India are known for this work even today. People from Kutch, Andhra Pradesh, Rajasthan, and Uttar Pradesh still practice this tradition for their, livelihood.
"Practicing hand Embroidery is therapeutic and meditative. It embodies the emotions of the embroiderer and probably translates the same tranquility to the wearer making it more appealing, not just superficially but intrinsically to the soul," said Dr. Reena.
Computer embroidery, also known as machine embroidery, involves the machine stitching a design onto fabric. The pattern is predetermined by uploading a design to the machinery's software. One can also upload new designs with the help of the USB option. Tailors rather prefer working manually than on machines.
"Designers and Fashion producers follow predictions to create and sell their ware making it relevant to the times. Embroidery as a detail too has been brought into the realm of fashion trends." However, traditional hand embroidery remains untouched by the fickleness of fashion since it has been practiced as a craft, a livelihood which will remain till the embroiderer keeps adapting to the needs of the wearer, bringing newness in the design, material, and texture either by hand or with the use of technology , added Dr. Reena.