ASHA workers who are supposed to work only for a couple of hours in the day, work far longer because they are given extra work. However, they are not paid for that extra work.
Accredited Social Health Activists (ASHA) workers complain about not getting any incentive for the extra work they are made to do apart from their 38 assigned tasks by the National Health Mission.
Rama T C state leader of the ASHA union said that the working hours allotted to ASHA workers are two-three, but their work extends to seven to eight hours depending on the patients they attend to. "They are also called at the middle of the night if there is an emergency and they are not paid for it nor are they provided any security or health benefits," she added.
She further said that they are made to do door-to-door checks if diseases like Chikungunya or malaria break out and look for mosquito breeding places. In addition, they are also required to attend e-Sanjeevani, a telemedicine system, in which they facilitate consultations between patients and doctors.
. "This is not the work of the ASHA workers. Yet, they are made to meet targets that would otherwise be met by two to three people per day and they are not paid or trained for this work," she said.
She added that they are made to survey at night for a disease called Lymphatic filariasis, also known as the elephant leg as it can be detected at night and they are not provided any security..
Farhana, an ASHA worker said, "Weare made to work for extra hours and given very lowfixed salary of Rs 5000. This includes testing five people a day for Tuberculosis and we only get paid for if the test turns out to be positive." She said that her meager salary is not enough to cover her rent or children's school fees, which makes it more challenging for her as a single parent.
Taj, another ASHA worker, says they are made to do other work which other health workers ought to be doing such as making child health cards, for no money.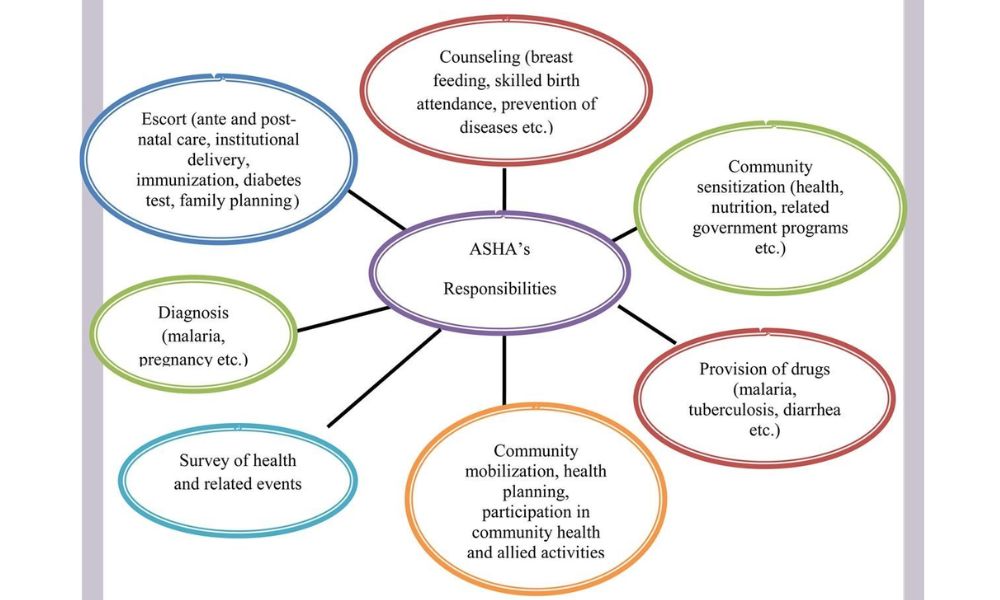 Girish, a team leader of ASHA from the Directorate ofHealth and Family welfare, Arogya Soudha said that the ASHA program is a Mission More project set by the government of India for attaining a certain goal, and the basic principlesof ASHA are voluntary service and performance-based pay. "Sometimes when there are more patients or beneficiaries the work hours might extend but there is no pay for the extra hours they work," he added.
"It is an incentive-based work and there are different incentives for each of the 38 tasks that are allocated to them. But to receive the incentives they should fulfill the given target for the task. For each task there is a specific target based on the population of the area," Girish added.
He said that they are given a fixed salary of Rs. 5000 under the state budget and Rs. 2000 by the National Health Mission and also a performance-based incentive of Rs. 1000. They must fulfil a list of 12 criteria to receive the Rs. 5000 fixed incentive.
If they fail to do so they will be given two to three months' time to fulfill the criteria. If they still can't, disciplinary action will be taken against the worker and they will be not paid. .
Gopal Dabade, a public health activist said that they have too much work assigned along with additional work, but the money they get is less as they are not government employees. Further, they are paid on a performance basis, so their fixed pay under the state budget should be increased.
He added that they should be provided with health benefits as they do not have any social security benefits and have to work for COVID services and other health surveys.
RCH portal
Rama said that theReproductiveChild Health (RCH) portal which is a data entry portal to create a data base for the work the ASHAs do, is a big problem for the workers. ASHA workers are made enter data in the portal, which in reality is a job assigned to different health workers like the Auxiliary Nurse Midwife (ANM), The problem gets compounded when data is not entered by the ANMs. Then, most of the incentive-based works are not recorded and the ASHA workers don't get paid.
She said that even if the data entry is done it does not show up on the system due to technical glitches and they do not get their hard earned money and a lot of their money is stuck because of this. "Which is why we want this portal to be removed," she added.
Girish said that the RCH portal is completely fine but because of lack of data entry by the assigned health personals the work done by the ASHA are sometimes not uploaded. "In any such portal technical glitch is common but the data entry is the problem," he added.