Hand-painted movie posters are a rarity; both the art and artists are disappearing.
An old man sitting outside an art studio in Rajajinagar would hardly attract anyone's attention. Wearing a yellow sweater over a white shirt and pants, he sits quietly on a blue chair, watching the artists and helpers at work.
Kakaiah Chinnappa is an award-winning poster artist who has worked in the industry for almost 80 years. He is well-known for his movie posters and paintings. His paintings of the Konark Sun Temple, and The Stone Chariot at Hampi among others eventually came to be known as 'Sculptures on Canvas'. For the last three years, he has been unable to continue painting due to health issues, but even at 93 years — he makes it a point to turn up at his studio — Rajkamal Art Studio.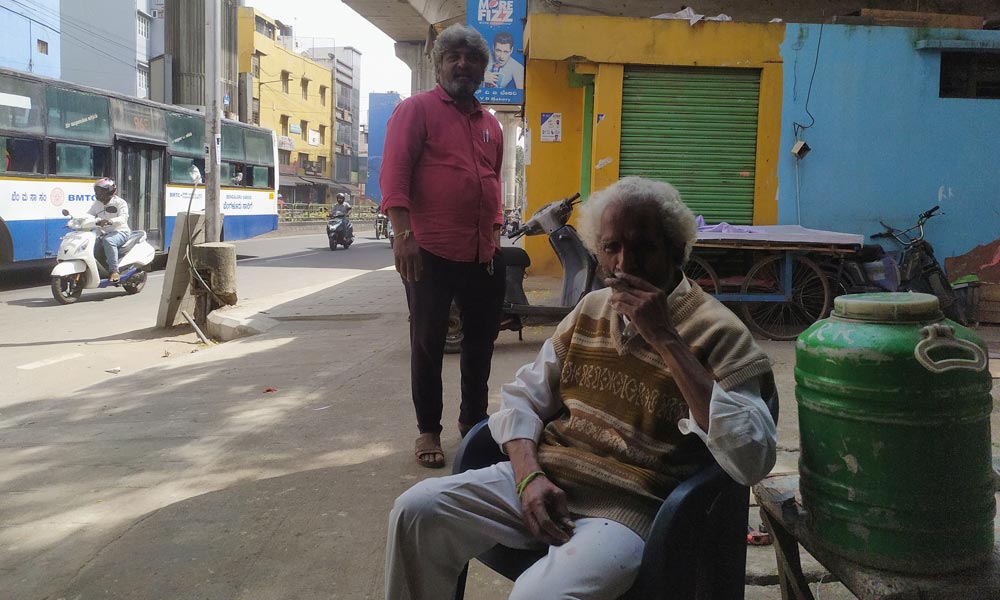 Chinnappa is a legend in the industry. Reporters from the US, China and Australia have published stories on him. He started working on posters when he was just nine and has produced posters for several well-known Kannada and other language movies.
Gopalakrishna, his son who currently takes care of the studio and the gallery said, "Business has considerably reduced because hand-painted posters are no longer in demand." He said that around 2009, a movie order meant that they would get paid for 50 – 60 copies of posters. Now, that situation has changed. One movie order means that they get paid for around 25 copies of the posters.
Gangaraja M of Jayanna Combines said that art for movie promotions has mainly become digital. Digital prints are cheaper and take less time to produce than hand-painted ones. "Movies with big heroes that are shown in more than 300 theatres usually use hand-painted posters. That too, only for the main theatres like Santosh Theatre or Triveni Theatre," he said.
Furthermore, big budget movies tend to use digital posters because they are more appealing to the public. Established around eight years ago, KRG Connects specializes in digital posters. Social Media Manager Shreya Unchalla said, "Our designers create the digital posters for movies such as KGF 2 and Kantara and then send them off to a third party for printing."
Ranjan M, proprietor at Jayanna Combines has now completed 40 years in the printing business. He remembers the time when a single movie design took one month to complete. Previously, it used to take 100 days to complete all the movie designs.
But, now with the transition to a digital format, the process is way quicker. Earlier, posters for big films used to be printed for around 50 theatres all across Karnataka. That number has risen to almost 400 screens across the state. Ranjan continued, "Shiva Rajkumar's movies used to be shown on 50 screens in 1993 – 94 and his movie in 2022 was shown on 300 – 400 screens."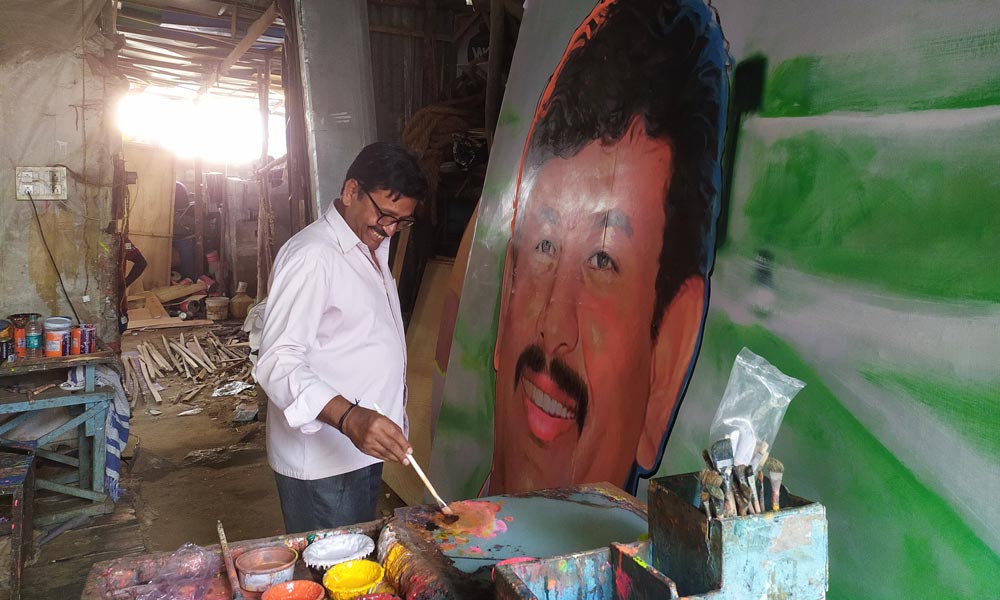 This means that the demand for promotional material is much greater. As explained by Ranjan, previously 50 posters were painted to be distributed in the district headquarters but today the minimum order is for about 100 posters. Orders can go up to 400 copies. The orders for these posters arrive around two weeks before the film's release and there is no time to hand paint them.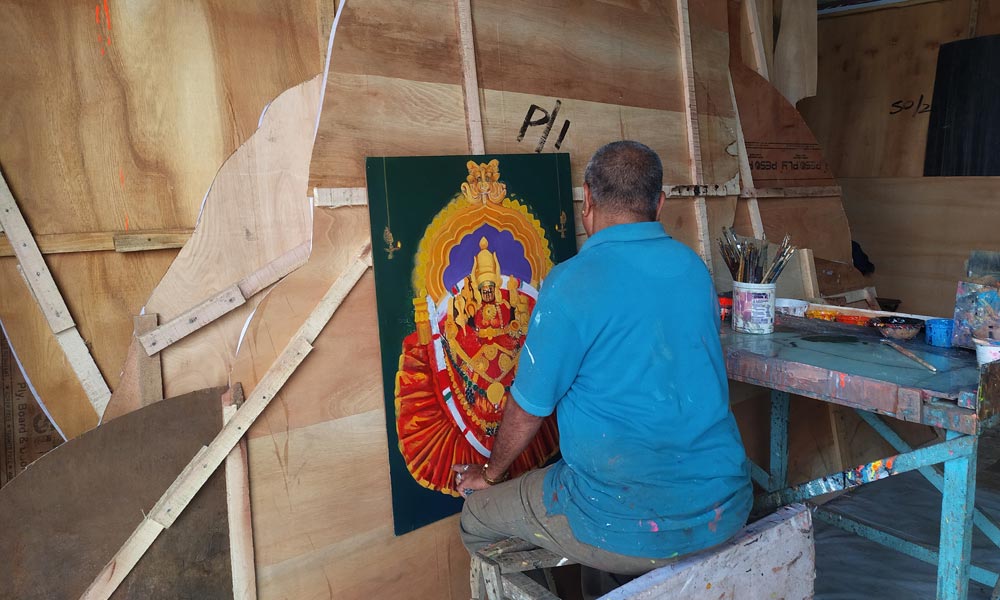 Gopalakrishna said, "Hand-painted posters have become a dying art." To keep up with the trends, he had to change his style of work. The studio currently paints over digital prints to reduce production time. One hand-painted poster usually took two days to complete whereas using digital prints has reduced that time considerably. So much so that 10 posters can be worked on simultaneously in one day.
Further, digital prints have other advantages, too. They can be used for both digital promotions as well as printed for physical displays. Shreeya Sawant, a data analyst for Group M Media said that a lot of movie advertising has shifted to the digital platform because the audience is there. She said, "Promoters concentrate on social media promotion where Instagram takes more than 50 percent of the attention." "The art of hand-painting is gone along with the artists," said Gopalakrishna. Of Chinnappa's 22 disciples, only two remain. Pandu, 47, father of three children is skilled in cinematic painting cut-outs and Mohan Kumar B L has been working at Rajkamal Art Studio for just as long.
The future does not hold uncertainty for Gopalakrishna. "I am going to be the last one in my family in this business," he said. "There are only three artists left here and all of them are old." To which Mohan said, "You (Gopalakrishna) are growing old. I am still young and can continue working for 10 more years."
Gopalakrishna has three children, all of whom are uninterested in this art form.