People continue to park on footpaths even if paid parking spaces are available in the vicinity.
Times have changed. The footpath is no longer a space for people to walk safely. They now have to give way to more precious things—cars and bikes. These vehicles need to be protected from the ongoing traffic and thus need to be safely parked on the footpath.
People, though, can walk on the road if they need to. A Twitter user illustrates the situation in Jayanagar with a video of footpaths filled with vehicles with no room for people to walk.
The instances of illegal footpath parking have increased significantly in 2022. In 2021, the number of cases registered was 74,851. The number has increased by 105.7 percent to 1,53,983 cases in 2022.  Anilkumar P Grampurohit, Police Inspector, Traffic Planning said that the police plant wheel clamps whenever a vehicle is obstructing a public pathway. A fine is levied for the removal of the clamp. Traffic Constable Mahantesh M said, "We issue a fine of Rs. 500 for the first offence and Rs. 1000 for a repeated violation.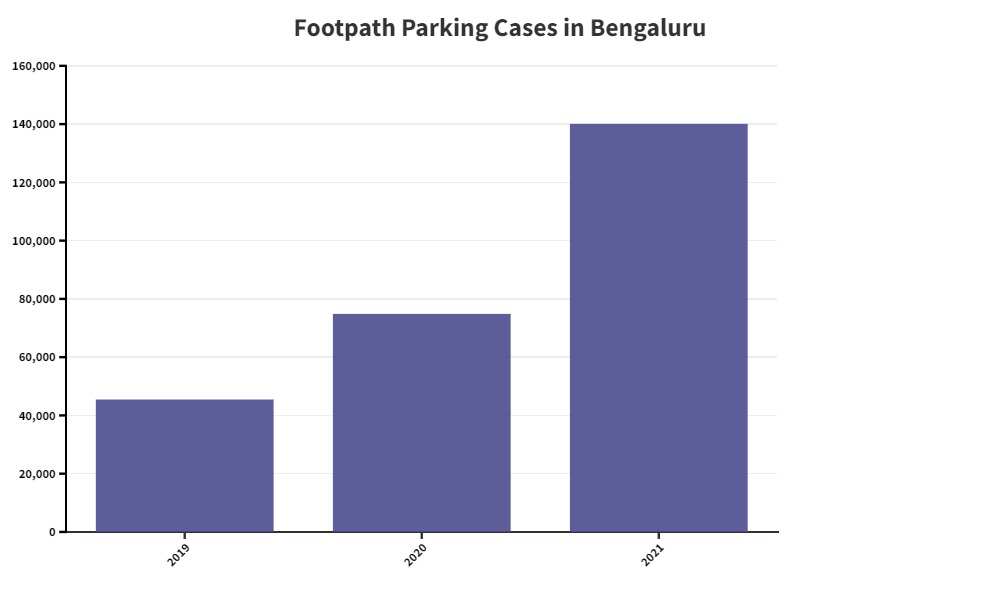 Assistant Sub-Inspector of V V Puram Police Station, Basavaiah said they act leniently while fining people for footpath parking. There are a lot of people that stop for 10–15 minutes to have a bite at the restaurants. Since they leave after eating, the police do not fine them because they are just filling their stomachs. Basavaiah continued, "We only put clamps on those vehicles that have been sitting there for more than a few hours."
However, Traffic Advisor M N Sreehari is strictly against such practices. "Footpaths are meant for pedestrians and no exceptions should be made under any circumstances," Sreehari said.
Police Inspector Grampurohit said that most offences are committed in commercial areas where there are fewer parking spaces. He stated, "Lack of parking spaces is the biggest problem. It is the reason we have so many cases of footpath parking." Residents of Bengaluru are also fed up with the current parking situation in the city. Chethan Thimmappa is looking forward to solutions such as smaller cars to combat the parking space shortage.
But even creating parking spaces does not seem to be an effective solution to the problem of footpath obstruction. Despite a BBMP parking complex with a capacity of 200 vehicles on J C Road, the police team regularly catches people parking their vehicles on the footpath and the road. Shuaib, the supervisor of the parking lot said, "We have never had to turn away cars or bikes because we did not have space."
The facility charges Rs. 30 for cars and Rs. 10 for two-wheelers on an hourly basis. With a smile Assistant Sub-Inspector Basavaiah, in charge of the area said, "They do not want to pay Rs. 100 for parking, so we charge them Rs. 500 to release their automobiles."
On the other hand, there are a few places where the police have been effective in minimising the occurrences of footpath traffic. Najim Khan, owner of a private car park on Residency Road has been managing that space for the last five to six years. On average, 10–15 cars and 10 two-wheelers park there daily. He was confident, "Nobody parks on the road here, maybe for a few minutes at the most." Najim said that the police surveillance in the area was really strict and the large fine discouraged people from parking at unauthorised places.
But Vijay Shankar Singh does not agree with Najim. He runs a small shop on the other end of Residency Road. For years now, he has seen people parking in the space beside his shop. That is not a designated spot but people still park there. "As long as people can still walk through the path and I do not lose customers, I do not have a problem with it," Singh said.