Street vendors are left out of welfare loan schemes because the BBMP has not done a survey to issue business licenses.
Street vendors in Bengaluru are facing difficulty in receiving licenses to run businesses from Bruhat Bengaluru Mahanagara Palike (BBMP). BBMP has not conducted a survey to identify the street vendors, and give them licenses to operate their businesses for the past five years.
Jaggeer Singh, a vendor selling artificial bracelets and artificial stones on Avenue Road said, "I came to Bengaluru in 2013 from Alwar, Rajasthan for better work opportunities. But I cannot run my business smoothly because every month BBMP sends notice to evacuate the vendors who are operating businesses without having a license. And I have to wrap all my things and go back home for two to three days. Since, I am a daily wage earner, I earn on an average Rs. 100 per day. However, there are days when I earn nothing, and when BBMP puts locks on my shop, I become so helpless that I cannot even buy ration for my family."
Singh added that during COVID-19, when Prime Minister Narendra Modi announced the PM Savnidhi Yojana for street vendors, he wanted to apply under the scheme. However, he could not apply because till date BBMP has not given him the license to run the business.
As per Welfare Department of BBMP, there are two lakh street vendors in the city. In its previous survey, it could only identify 17,000 street vendors and out of which only 1,900 got their licenses, leaving 15,100 applications under process.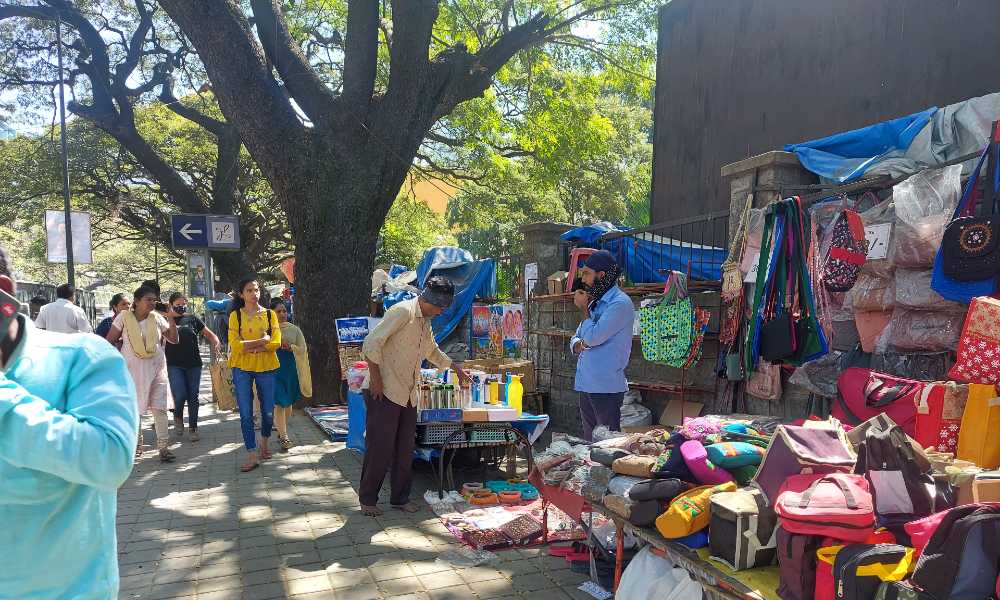 Shailja, Special Commissioner, Welfare Department, BBMP said, "The exercise of carrying out the survey has come to a halt because there is a staff shortage in our department. This is an extensive exercise and we need more logistics to conduct such a large-scale survey. Therefore, we have asked other departments to provide staff for the same. Once the department completes the survey only then we can ramp up the disbursements under the PM Savnidhi Yojana."
She further said that another reason for the slow pace is because the department has to provide the street vendors with a permanent place to run their businesses. To that end, the authorities are struggling to find areas which can be used by the street vendors to run their businesses.
PM Savnidhi Yojana was launched to empower street vendors by providing collateral free loans for working capital for up to Rs 10,000 of one year tenure. It was launched during COVID-19, so that street vendors can resume their businesses in urban and semi urban areas.. In the recent notification from the Ministry of Housing and Urban Affairs, the scheme was extended to 2024.
For the first term loan, 46,32,839 applications were submitted under the scheme, out of which 12,24,353 were declared ineligible and another 7,86,941 were returned by banks. In Karnataka, there are 1,26,724 PM Savnidhi beneficiaries and only 32,808 profiles have been completed. In Bengaluru, there are 28,966 PM Savnidhi eligible beneficiaries. However, due to delayed survey, only 475 applications were submitted out of 1900 licensed street vendors in 2020, out of which 230 applications were declared ineligible.
The Street Vendors Act, 2014, which operates along with the PM Savnidhi Yojana, mandates that local bodies have to update the number of street vendors and according to space availability, they have to provide street vendors with designated spaces under the vending zone to run their businesses smoothly.
Kundan Singh, an earphone vendor, said that he got his license in 2014. He submitted his application under the yojana in 2021. But the bank declared his application ineligible. He said that he had to close down his shop for around six months in 2021 and wanted a loan to open his shop again. "During the time when my shop was closed, my whole family was dependent on my wife's income, which she earns by doing household chores. I was feeling shameful and embarrassed," he added.
Assistant General Manager of Bank of Baroda (BoB), Race Course Road, Bengaluru said that banks are reluctant to provide loans to street vendors because of the risk of not paying back the loan. He said that around five percent of non- performing assets in all BoB's branches is the loan given to street vendors. Therefore, they hesitate to give loans to the street vendors.
Kumar, a sugarcane juice seller outside the Government Museum, Bengaluru, said that in 2011, BBMP promised to make this temporary shop a permanent shop. But nothing happened till 2014. Then he submitted the application to BBMP and in response, the authority said that he cannot run his business outside the museum. So, when the government announced the scheme, he wanted to apply as he wanted a permanent place to run his business. However, he could not enroll himself under the scheme as he does not have a license to run the business. Having a license is a prerequisite to apply under the PM Savnidhi Yojana.
Mani, another vendor on Avenue Road said, "I sell bhajiya and I earn Rs. 3000 on average per month. But my cost of production comes to around Rs. 2000 because I have to buy a gas cylinder of Rs. 1100, along with oil and all utensils. So, to cover my cost of production, I applied under the scheme last year because it promised Rs. 10,000 as working capital loan. But my application was rejected by BBMP, without stating any reason."
He added that to cover his losses he started another business of selling calendars for which he does not have a license. So, whenever BBMP evacuates street vendors who are operating without licenses, he shuts down his calendar shop and resumes back to the calendar business after two-three days.
Divya Mishra, Professor of Developmental Economics, Sophia Girls' college, Ajmer said that the failure rate of applications is so high because street vendors come under the unorganized sector and it is difficult for local bodies to identify vendors and give them the licenses. Government departments have to spend a huge amount of their budget for carrying out such a large scale survey. Therefore, government departments usually delay the exercise of carrying out surveys. However, the yojana could become actually useful, if local bodies implement it properly with appropriate planning and budgeting.