Traffic police say they are handling these cases with special drives.
Drunken driving cases in Bengaluru increased to 26,017 in 2022 from 4,144 in 2021. The cases stood at 5,343 in 2020 and 12,277 in 2018. There were 10 fatal cases involving driving after drinking last year which claimed the lives of 14 people. In 2021, there were six fatal cases. There were comparatively fewer fatalities in 2020 due to COVID-19 where five cases claimed the lives of five.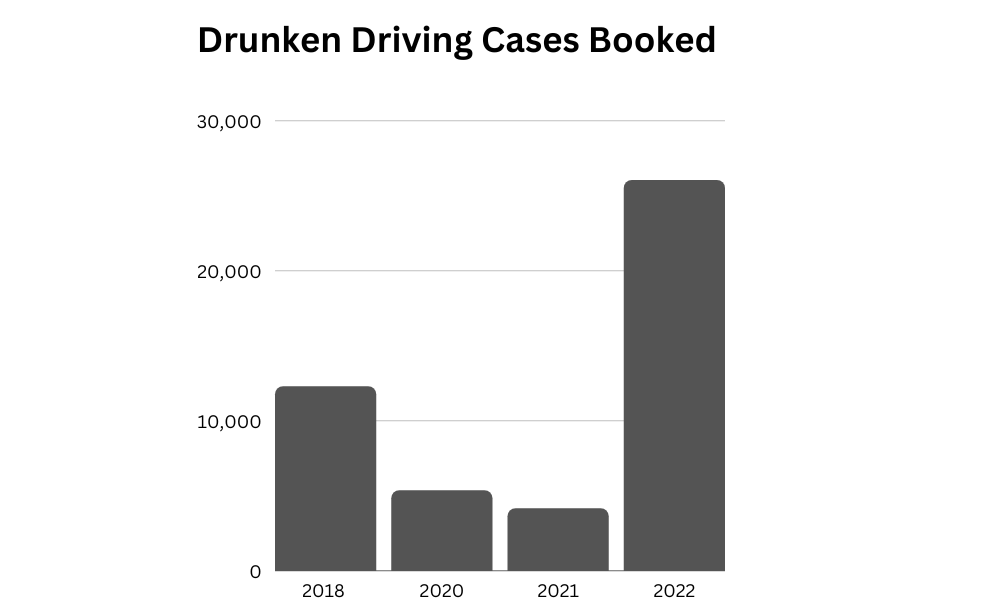 Prof. M.N. Sreehari, a traffic advisor and expert said, "The police cannot book 100 percent of the cases and the ones booked represent about 10-15 percent of the actual cases. The problem is in people's mentality as they get pleasure in violating these rules. Rules are made to be followed and should be followed by everyone."
While drunk driving cases in Mumbai were up nearly nine times this New Year's eve from last year when the city traffic police booked 156 motorists, up from 18 in 2021, Bengaluru Traffic Police booked only 78 for drunken driving violations.
Panish's car was hit by a speeding bike whose rider reeked of alcohol. He was driving at the Poornapragna Housing Society Layout with his seven-year-old daughter in the car. He said, "The guy was drunk and was riding rashly. After hitting my car, he only created a nuisance along with his gang. I had to suffer the damage because of this and could not do much, especially because my daughter was with me. Why are these people still on the road?"
The Motor Vehicles Act says those driving under the influence of drinks and drugs shall be imprisoned for up to six months, along with a fine of up to Rs. 2,000, or both. However, new provisions were implemented in September 2019, wherein the drunken driving penalty was increased to Rs. 10,000 and/or up to six months imprisonment for the first time offence, and Rs. 15,000 and/or imprisonment of up to two years for the second time offence.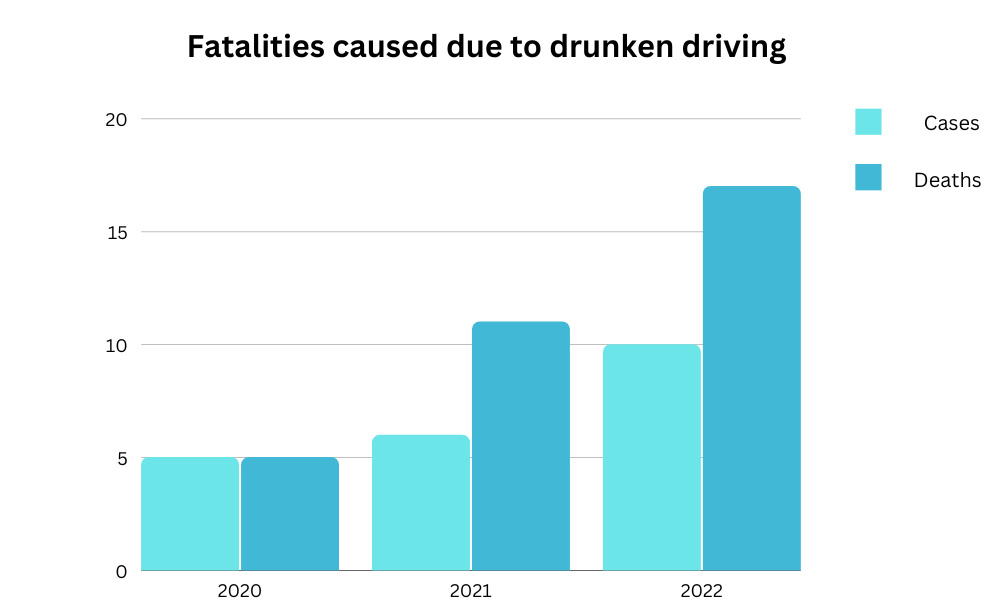 The usage of breathalyzers has helped detect cases more efficiently, said Police Inspector, Traffic Planning, Anilkumar. Special drives are conducted to crack drunken driving cases which include passive and active modes. In passive mode, the breathalyzers are held against people's mouths and they are asked to tell their names. If the breathalyzer's indicator light turns red, the person has to take an active test where they are asked to uninterruptedly blow into the device for 5-6 seconds. If the results are positive, they are then charged under the offence.
Police Inspector Anilkumar said, "Youngsters are increasingly using apps that offer vehicles for rent and take them out to pubs and bars. It has contributed to more cases of drunk driving. Younger people, especially those between the age group of 25 – 35 are more likely to drive under the influence of alcohol."
He added, "We have also asked people who own and manage bars and pubs to keep a track of drunken driving. They offer facilities like stock drivers where they drive back people who are unable to drive themselves or have had too much to drink. They drive them home and come back in cabs or autos."
Traffic expert Sreehari said, "This becomes an additional responsibility of the bars and restaurant owners wherein the stock drivers have to find their way back in autos. They should start adding the charges of these services to the bills of the customers." Most small bars and restaurants do not offer these services.
A traffic police constable in Cubbon Park said, "These special drives which use breathalyzers are not happening now. The last drive that was conducted was around December 15. Since Cubbon Park is a commercial area and there is a lot of traffic, these drives are not being conducted to maintain the traffic. We will restart them once we get orders from the higher authorities."
However, Inspector Anilkumar said, "These drives are conducted regularly. All 44 traffic police stations in the city have at least five-six breathalyzers. They are handled and operated by sub-inspectors." Official data shows Bengaluru Traffic Police has 500 breathalyzers.
Another traffic police official in MG Road said, "The special drives to crack drunken driving cases are not happening now and it has been over 20 days. They used to be conducted weekly, mostly on Saturday and Sunday."
Sreehari said, "It is dangerous to drive under the influence of alcohol not only for the one driving but also for those on the road. Licenses of those who drink and drive should be immediately canceled."
Dr. Raunak from Uttar Pradesh University of Medical Sciences said, "It is a public health problem and increases the risk of accidents, injuries and death. People should be more responsible and follow the laid out laws to be safe and maintain a safe public environment for others."
WHO finds drunk driving is a key risk factor for 27 percent of all road injuries. It is therefore "a significant public health problem that affects not only the alcohol user but also, in many cases, innocent parties such as passengers and pedestrians."