As authorities continue to repair roads across the city, tree trunks get choked.
The concretisation of tree trunks in Bengaluru is posing a death trap for hundreds of trees. While repairing roads, workers cover trees' bases with bitumen or cement. As roads get repaired across Bengaluru, the latest victims are trees along the streets of Jayanagar.
Residents say that higher authorities should implement stricter measures to prevent the trees from dying.
Kishore Jain, who owns a clothing shop in Jayanagar said that almost all the bases of the trees near his shop are still asphalted, even if authorities clear the concrete bases around the trees, they do not do it properly.
Alpana, a resident of Jayanagar said, "A few months back the road near my house was repaired, and all of the tree's roots on this road were covered with pitch." She added, "After residents from my neighbourhood complained about it to the workers, asphalt was removed from a few trees only."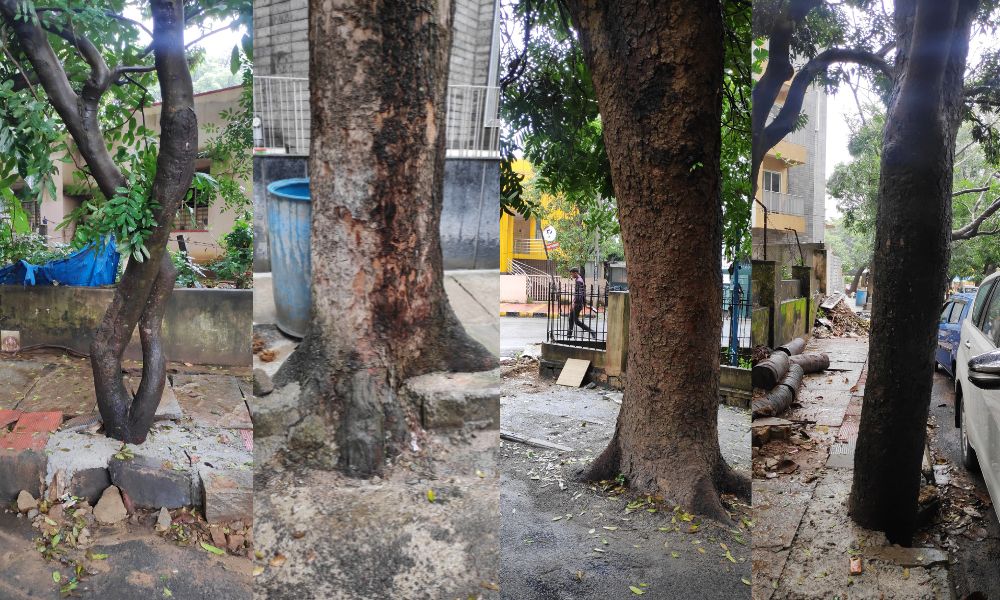 Despite the National Green Tribunal (NGT) guidelines and rules banning the concretisation of tree trunks, several avenue trees on roads have been damaged by civil works undertaken by contractors.
An official from the Forest Department of Bruhat Bengaluru Mahanagara Palike (BBMP) said, "Clear instructions have been given to engineers on how to deal with avenue trees. The detailed plan given to the engineers includes all the instructions and guidelines that need to be followed while repairing the roads. It seems like none of the rules are being followed." He further added that they have already cleared some bases of trees which were concretised while repairing the roads.
The Ministry of Housing and Urban Affairs, in 2014 issued the Urban Green Guidelines that stated that one to six inches of the concrete-free area must be left around tree trunks. It was subsequently increased by the NGT in 2013, mandating one meter of the concrete-free area around trees.
Dr A N Yellappa Reddy said, "It is the responsibility of the engineers and workers to leave a few inches gap before they start repairing the roads. It gives them breathing space and it also helps them to take and conserve nutrients from the soil." He pointed out that if the bases of the trees are covered with concrete, the roots of these trees will start decaying. In the end, the roots will be weaker and will not be able to withstand strong winds, resulting in trees falling.
He added that, as a result, younger trees in the avenue are adversely affected. The roots start to swell and it makes the roads or footpaths uneven, making it difficult for pedestrians to walk.