Women fear for safety as they often encounter inappropriate touching in buses.
Of the 3000 CCTV cameras installed by Bengaluru Metropolitan Transport Corporation (BMTC) in its fleet of 6500 buses, only 1000 of them are operating. A senior official of the BMTC office said that the remaining 2000 were yet to receive proper connections.
The cameras have been installed under the Central government's Nirbhaya Scheme which was launched in 2015. For 2020-21, the Karnataka government was issued a grant of approximately Rs. 7.3 crores, out of which it has only used 23 percent.
"We installed these cameras under the Nirbhaya scheme and we are aiming to install them in all 6500 buses. The ones that aren't working will be activated in the next two to threemonths."
Fida, an 18-year-old student hesitates to travel in BMTC buses. "While I was going to Mahatama Gandhi (MG) road in one of these buses, an old man who seemed to be drunk sat next to me. For a moment it felt like he was about to touch my breasts and I got scared. I got up and moved to a different seat." Her friend Farah who witnessed the incident said that if these cameras were working, such cases would happen less often.
Kumar K. who has been a bus conductor for four years now, said that the camera in his bus was installed a month ago and he himself wasn't sure if it was working.
Prof. R. Indira, a sociologist, feminist thinker and activist said that it was important to install CCTV cameras in buses. "There are quite a number of instances of male passengers misbehaving with women in neighbouring seats, but most of these incidents go unnoticed due to want of evidence."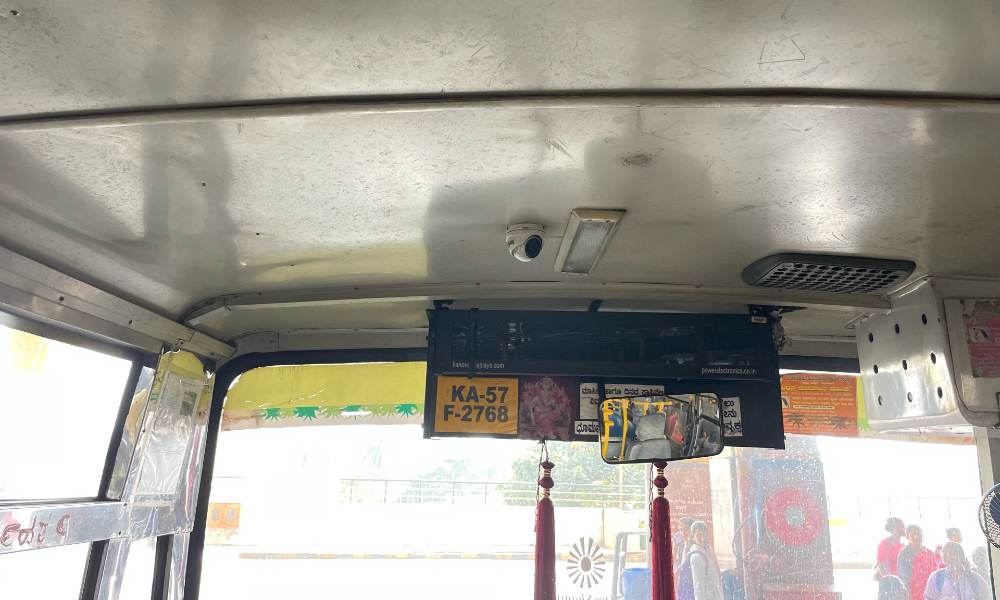 According to the recent National Crimes Record Bureau (NCRB) data of 2020, Karnataka ranked 13th amongst all states and UTs in the highest number of crimes against women with a crime rate of 38 percent. Sub Inspector Bhagya B.H who is serving at Shivaji Nagar women's police station emphasised the importance of activation of the cameras in buses. "If any unfortunate incident occurs, it is easier to find the culprit. Cases of inappropriate touching are very common these days and often women don't complain due to lack of evidence. This measure is the solution."
Dr.Sudeshna Mukherjee, assistant professor of Women Studies at Bangalore University also agreed that the installation of CCTV cameras in public transport can help monitor and prevent any abominable practices in such spaces.
Indira G.M, a 23-year-old student who was about to board a BMTC bus to Kengeri said that inappropriate touching and misbehaviour were pretty common in buses. "Sometimes drunk men come and sit next to women and create nonsense.
Prof. Indira added, "We have heard enough about CCTV cameras becoming defunct at a time when they could serve as key evidence. This is either sheer callousness or done on purpose. Wherever CCTV cameras are installed it must be ensured that they are functional."