Devadasis whose names are not on the 15-year-old survey list are not able to avail government schemes.
Devadasis that were inducted into the devadasi system in the past 15 years are missing out on the benefits of government schemes. Only devadasis whose names are on the survey list are able to avail these schemes. The last survey conducted was 15 years ago and needs to be updated, say sources.
The 2007-08 survey by Karnataka State Women Development Corporation (KSWDC) states that Karnataka has 46,660 devadasis who they choose to call 'ex-devadasis'. Non-government organisations (NGOs) say these women still continue to live their lives as devadasis.
As their names are not in the 2007-08 survey, schemes—pension scheme for devadasis over 45 years of age, housing scheme, subsidies and the devadasi children marriage scheme—that are provided by the Directorate of Women and Child Development cannot be availed by them.
The Devadasi system was abolished in Karnataka under the Karnataka Devadasi Act of 1982. Yet the officials and devadasis say that this practice of marrying off a girl to the local deity is still practiced in some parts of Karnataka.
Channavva, a devadasi from Kokatanur, Athani Taluk said, "I am not able to get my pension under the government scheme for devadasis. I went to so many offices but because my name was not in the 2007 survey, they said I will not get pension." She added that she is unable to work anymore due to old age but she has worked as a devadasi all her life. She says she is starting to go blind and needs outside help. She wants the government to help her. "They need to introduce schemes which people who are not in the survey can avail, as this is not fair."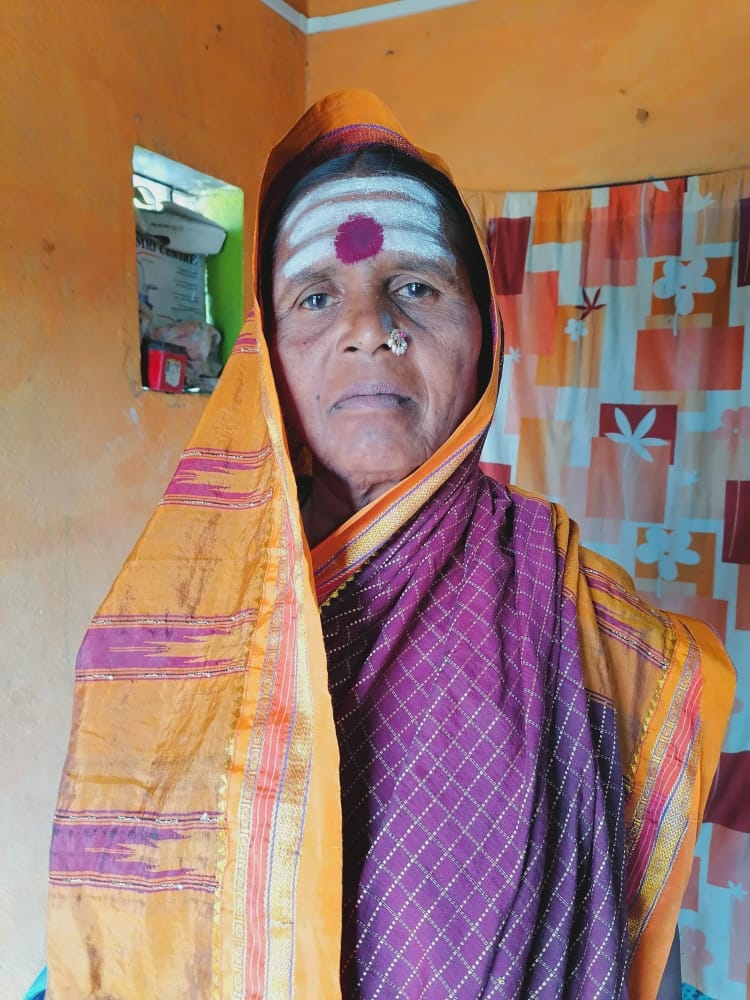 Sitavva Jodatti, an ex-devadasi, and a social activist said that many devadasis are waiting for the survey to be done again so they can benefit from the schemes. They hope that it will make their condition better as they are already dealing with many issues. "For decades those who received the pension got Rs.1500, now that everything is expensive the amount also should increase to at least Rs. 3000. If the survey is redone then the schemes will also be updated."
M.G Paly, General Manager at KSWDC said that in the last 15 years around 11,000 devadasis have died of old age and other natural causes and new devadasis might have taken their place.
"The survey did not add the names of actual devadasis and added names of people who are not devadasis, we get devadasis who can not avail these schemes and that is why we are asking for the survey to be conducted again," said a staff member at an NGO, Mahila Abhivrudhi Mattu Samrakshana Samsthe (MASS)
M.G Paly explained that they have three main schemes for the prevention and protection of devadasis. "First one was for rehabilitation, they were given Rs 50,000 out of which Rs 25,000 was a loan, and had to be repaid and the remaining Rs. 25,000 was a subsidy. This scheme was changed as the amount could not be recovered." Beneficiaries were supposed to repay the loan to the bank in three years' time.
The second scheme implemented two years ago was giving a devadasi Rs. 30,000 where no repayment clause is mentioned. She was given this sum once in her lifetime to be used to set up a business or for the education of her children.
A report 'Evaluation of Rehabilitation of Devadasi Programmme' showed that prominent income-generating activities taken by the devadasi beneficiaries include dairying,34.4%; goat/ sheep raring, 12.8%; fruit business, 11.6%; vegetable business, 13.6%; petty business / kirana shop,10%; paan shop, 5.2%; timber/wood,3.2%; clothes/tailoring, 2.8%; hotel,1.2%; ration shop, 1.6%.
The third scheme included giving pension as a means to provide social security, a devadasi above 45 years is given Rs. 1,500 once in three months. Around 26,230 devadasis avail the pension scheme currently.
An additional housing scheme was launched where a land-owning devadasi would have a house made for her on her land. A devadasi said that these houses are not that strong as they do not last more than 10 years.
Only the devadasis whose names are on the survey list are able to avail these schemes."Our aim is to prevent the children of devadasis from being added into the system, we have all these schemes and rehabilitation centers and offices in places in the 14 districts to cater to this."
Suvarna Madar, daughter of a devadasi is an economics professor at K.L.E. Society's Basavaprabhu Kore Arts, Science and Commerce College, Chikodi. She said, "Till we were in school my two sisters and I feared we would have to join the system even though all we wanted to do was study. Now all three of us are out of the system but others from my village are still stuck in the system."
She said that the schemes helped her friend's family in her village as the devadasi pension was used to pay for her friend's education. She wants more families to come out of the system and hopes that the survey is done soon so they can get help.
She added that many are unable to get out of the system as they do not have access to education and new opportunities. She explained that most of them are unaware of the pension and housing schemes and require more awareness campaigns from the government.
"Women that are part of the devadasi system and their daughters find it hard to get married. They have no choice but to go back to back to what they know. This is why the system still continues as it is the only way they know how to survive. So the government needs to implement a marriage scheme if they want the devadasi system to be completely gone," she added.
The personnel from MASS said that the marriage scheme applies when a devadasi's child marries someone from outside the community, not when both the married parties come from the devadasi lineage. "The subsidy amount should be given in both cases as devadasis and their children are objected to common stereotypes all their lives, it is hard to break out of the system."
Chandrasekhar, a sociology professor said, "The schemes are helpful but they were mostly introduced in the last decade or two," He added that the devadasis who recently entered the system do not get this financial assistance from the government. They now have a reason to go back into the devadasi system."The schemes can act as an incentive to get out of the system as they can use the money to get educated and avail other opportunities. The older devadasis whose names are probably on the survey used the benefits from the schemes to push their children out of the system."
The first survey to calculate the number of devadasi was done by the KSWDC in 1993-94 where less than 10 districts in Karnataka were taken into account. Then the second survey was done in 2007-08 with 14 districts put the Devadasi count at 46,660. Now that another district has been added i.e, Vijaynagara they might do another survey said Mrs Paly.
Expert says that the survey needs to be done again to cover all the devadasis and the names in the survey cannot be the only factors for availing schemes. Something has to change at the planning level to bring about a positive change in the life of a devadasi.