Namma Metro loses out on visually challenged passengers due to a lack of sufficient amenities.
Namma Metro lacks amenities and help for visually challenged passengers. They have no provisions for braille in the Namma Metro, leading them to depend on the staff. Experts say that introducing an app that can guide the blind throughout their journey will be helpful. The only available amenity to the visually impaired is audio announcements and a few patterns on the platform floor.
Vikas (name changed) a visually challenged passenger at Mahatma Gandhi Road Metro Station said, "I do not travel in the metro frequently, but the Bengaluru Metro Rail Corporation Limited (BMRCL) staff only help us if they notice us. We do not always get help. The audio announcements are helpful, but having braille maps at stations and braille inside the metro trains will be an added advantage. It will give us the confidence to travel regularly.
According to Britannica, Braille is an accepted method of reading by and for blind people. They are a pattern of dots that are embossed on the paper and are read by passing their fingers lightly over the script.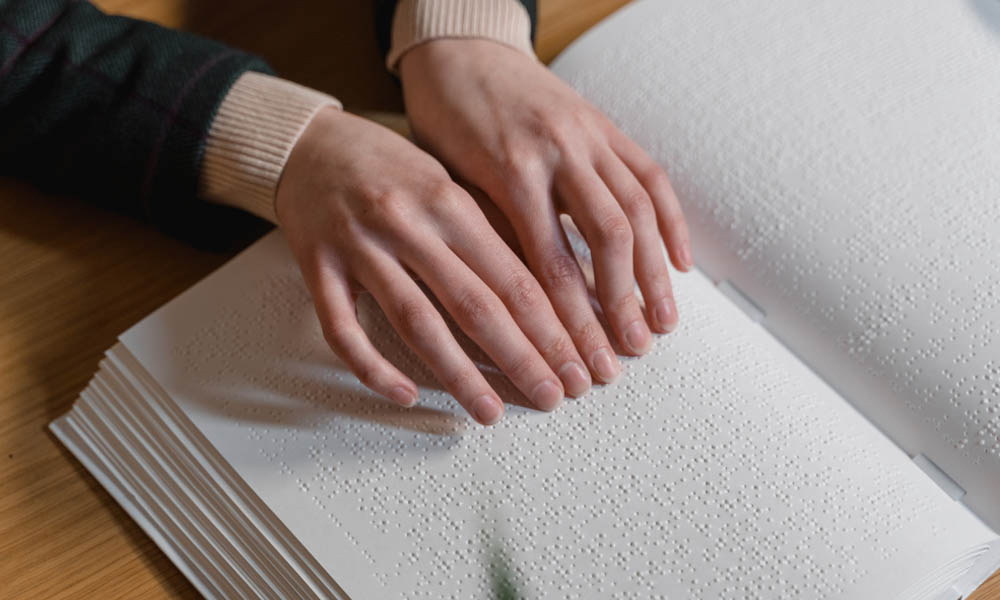 Jeeva, the mother of Murugan, a student studying at the Welfare Association of Rehabilitation of Disabled and Society (WARDS) said, "Parents with special kids fear sending their kids in public transport. If I am not around, I will not prefer to send him to travel by metro. For me, buses feel more approachable, even though they are not accommodating either. But I would prefer sending my child alone in a bus than in the metro."
Ravi Prakash, Senior Manager, Bengaluru Metro Rail Corporation Limited (BMRCL) said, "Not many visually challenged people travel in the metro. We currently do not have any plans to include braille inside the metro or braille maps in the metro premises."
"The audio announcements at every station make it easier for them to travel and our staff helps them at every step," he added.
Vikas, though, said that the BMRCL staffs are not always helpful. "Metro staff are sometimes helpful and sometimes not. It is difficult to depend on the staff all the time. We also prefer to stay independent, we do not always know who to approach for help, so I just ask around and anybody helps, even fellow passengers," he said.
Advocate Swathi, a human rights lawyer said that the legal aspect does not have to be looked into for the welfare of the people. She added that having braille in the Metro does not come under any legal provisions, but if available, will be very helpful for visually challenged travellers.
Not just adults, but several visually impaired children also use the Namma Metro, sometimes without an adult to look after them.
Suresh, the general manager of Sri Rakum School for the Blind said, "It is difficult for the BMRCL to accommodate these requests. Our children travel in metros for their classes and the Namma Metros staff help them get in and out of stations, whenever they require assistance."
Ramya from Mathru Educational Trust for the Blind and other Disabled said, "Our students do not use the metro much, as adapting to such an environment will be difficult for them. The entry into the station, the platform, the coach, and the exit are complicated, especially for special children. It will definitely help to have more infrastructure and provisions to accommodate the blind because special children without the luxury of cars require public transport."
Ravi Prakash added, "Mostly visually challenged people travel with a guide or a person to help them; in such cases, they do not even require external assistance."
M.N Sreehari, a transportation expert said, "It is very important to include special facilities for the blind in the metro even if just one passenger travels in the train."
He also mentioned that having braille maps inside the premises will help them easily navigate through the station, but having braille inside the train, isn't a good idea as it is a moving vehicle.
Pramila, a mobility expert from the National Association of Blind said, "The metro has many apps for a variety of uses, similarly they could introduce an app for the blind to use inside the train, guiding them throughout their travel and ensuring they have entered the right platform and the right line (green and purple line).