Lack of personal interaction and tailor-made learning has made school students to fall back on private tutors.
School students who were forced to switch to Edtech education, due to the COVID-19, are now going back to the traditional private-tutor model, mainly due to a lack of personal bonding.
Mahesh Rao Director of Rao's Tutorial Institute, Bengaluru said that most of his former students had returned to physical coaching due to a need for better basics and personal attention. "Students who have attended Edtech classes have not been taught any basics, and end up strictly following their module," he said.
Sanjana, a private tutor from the HAL area said, without such basics, students will not be able to cope, and parents want to establish accountability which cannot be done properly with the Edtech companies. Mahesh Rao also said that, for the past two years, students and parents have experienced online learning and have got to know its ill effects. "For two years they have seen problems like lack of interest, poor connectivity and lack of physical interaction. For these reasons, students have decided against these Edtech companies," he said.
In India, Indian Edtech platform Byju's holds the highest market share, followed by Unacademy, Vedantu, and others.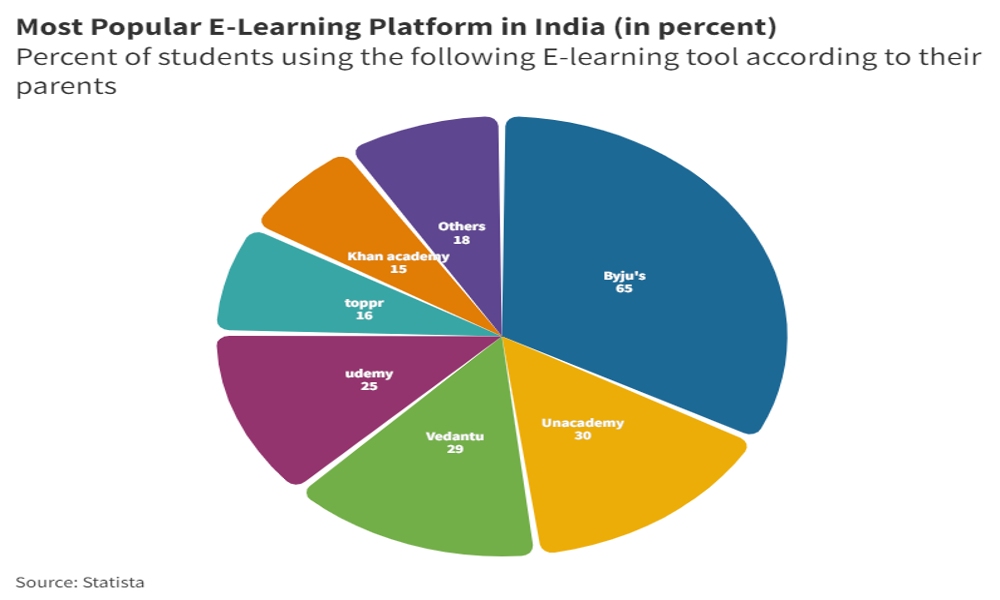 Sanjana said that some of her students who opted for a paid course in one of the platforms ended up not using it.
Kanishkar R C, who studies Electronic and Communication Engineering at Vellore Institute of Technology (VIT) said that he had enrolled for a course in an Edtech platform but completed only 20 percent of the module. "In the beginning, I had the curiosity to learn online but due to the monotonous nature of the course, I lost interest," he said. He added that this was the case for most of his friends.
Anitha Shivakumar, parent of a ninth-grade student said that, she got to know about online Edtech platforms when schools shut down during COVID-19. "Schools used these platforms to provide the students with homework, but were stoped later." She added that her son was interested to sign up for courses in the beginning but soon did not pay attention to any of the classes.
With the closure of private tuitions due to COVID-19, school students who needed additional help in their studies relied on Edtech companies like Byju's, Vedantu, Unacademy, and other such platforms. These Edtech companies showed a significant increase in their traffic during the lockdown.
Dr. Kalyani, guest faculty for the Department of Education, Bangalore University said that the data showing higher usage may not necessarily translate to active participation among students. In the beginning, the students might be interested, but in due course, due to monotonous teaching, students will lose interest, she said. "Blended system of online and offline tuition is the way forward," Dr. Kalyani added.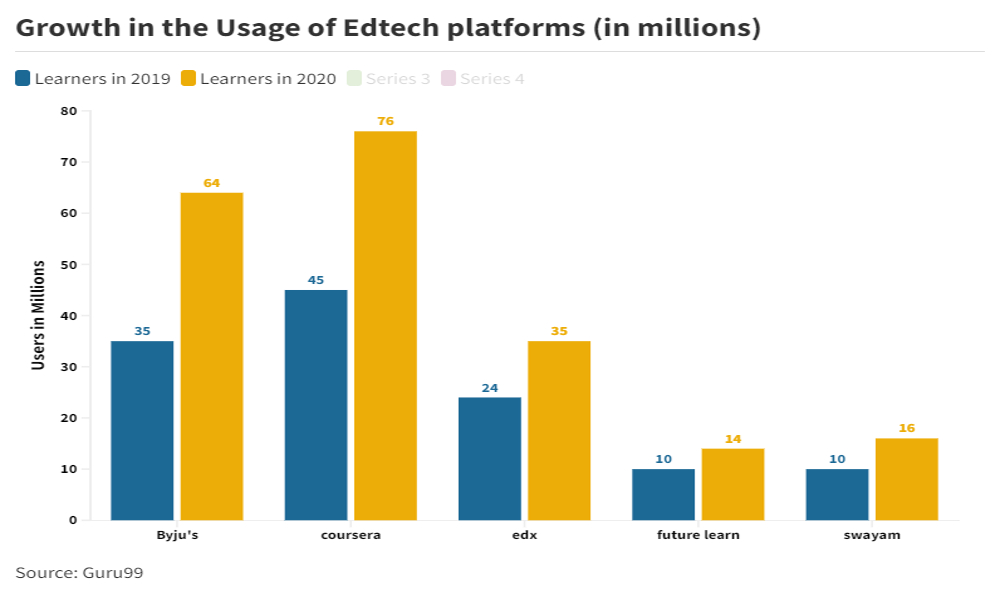 Edtech companies in India are facing a hard time earning profits despite a jump in user base. Byju's, Vedantu, and Unacademy reported a net loss of Rs. 4,588 crore, Rs. 601.2 crore, and Rs. 1,537.4 crore respectively in the financial year ending March 2021. This predicament is due to higher marketing and employee expenses compared to their revenue from the course fee. Byju's and Unacademy have started offline coaching centers which will further drive up their expenses.
However, private tutors also point out the positive future for Edtech companies. Sanjana says, although the students fall back on private tutors, the Edtech companies will not lose their share.
Abishek Thirumurthy, a private tutor in Bengaluru said "Edtech companies are not going anywhere, as they cater to different kinds of people." But when it comes to school-going students, he says that the personal bond with tutors will make a subject likable, and no Edtech company with its animated videos will be a substitute for it. "The past two years of online education has been a sheer blunder, especially for school students," Abishek added.