BBMP fines only five to ten percent people for not segregating garbage
Bruhat Bengaluru Mahanagara Palike (BBMP) segregates only 40 percent of total garbage produced in the city even after six years of spreading awareness for segregation of garbage; Experts say that non-segregating waste can have adverse effects such as clogging drainage system and damaging the eco-system.
Uday Chouguleaee, assistant executive engineer of Solid Waste Management said, "Non- segregated waste goes to the landfills. In markets only certain amount of waste is segregated. We can't impose penalties directly but we are spreading awareness and so far we have imposed penalties on five to ten percent of people which mainly includes commercial sectors like shopping malls and markets."
Sixty percent of garbage in total is not being segregated. Mr. Chouguleaee also said, "BBMP looks after the solid waste produced by the municipality. Forty five hundred metric ton (MT) of garbage is generated daily out of which only 2000 MT is segregated." He also said that BBMP is spreading awareness to ensure that the source producer segregates the garbage before dumping it. Moreover for markets like Krishnarajendar (KR) Market and Russell Market, BBMP itself tries to segregate the major garbage.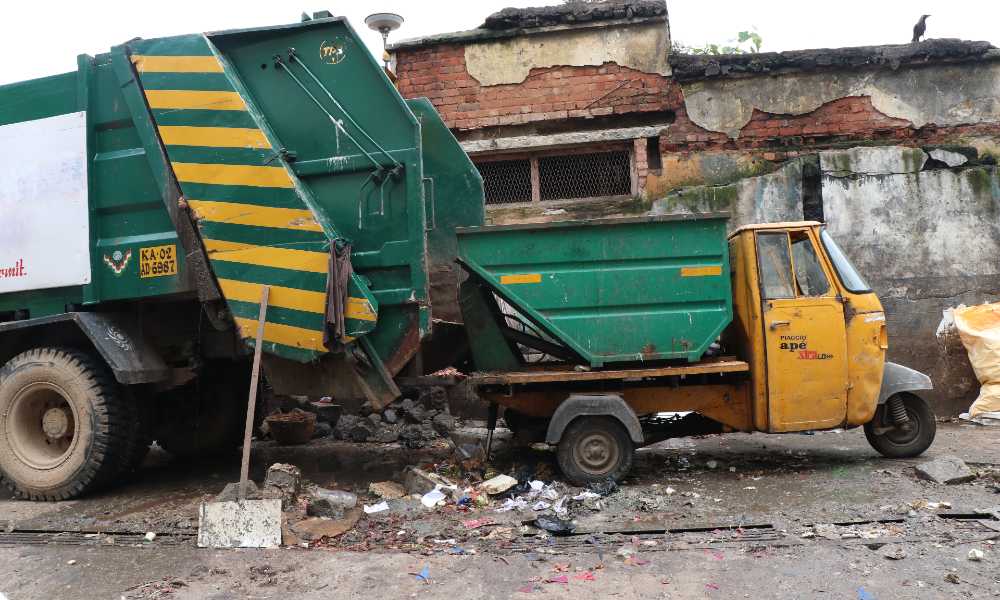 Manjunath, in charge of Russell Market said, "The garbage is not being segregated. BBMP has allotted just one lorry to carry out all the garbage." The Russell Market lorry driver said that the garbage is segregated partially. He added, "We carry the garbage in one lorry but only the big pieces are segregated once it reaches the processing plants."
Dr. Shwetmala Kashyap, senior researcher at Ramaiah Public Policy Centre (RPPC) said, "It is important to segregate waste as it can harm the environment. The wet waste and the dry waste should be segregated. If not, they can emit harmful gases and if the landfill is near the water bodies, then the water can also be affected." Wet waste like cooked or uncooked food, fruits, flower waste and vegetable peels are biodegradable and can be decomposed. However, dry waste like plastic, wood, metals, glass and cloth are the non-biodegradable waste which can't be decomposed.
Dr. Kashyap also said, "The biodegradable waste that is thrown near the drainage system degrades but the non-biodegradable waste needs to be segregated properly because the dry waste that is thrown in drainage system could clog the drains and lead to flooding in the area."
Government of India renewed the Solid Waste Management Rules 2016, which states that waste should be segregated into different bins. The bins are identified using different colours for different kinds of waste; for example, blue is for paper, green for organic waste, and red stands for metal waste.
Balaji Borlepwar, in-charge and sub-committee member of Housekeeping and Waste Management in Sobha Clovelly Apartments said that they segregate waste into three separate bins, according to the government mandate. However he mentioned that initially some people were not following the mandate, so the apartment authorities imposed penalties on them by asking the housekeepers to not pick up their non-segregated waste. He concluded that the penalties had the desired effect and now all the households segregate their waste according to the government rules.