Birders say that they are not totally sure of the bird census since the birds keep moving continuously.
Rajesh gets up early in the morning. He gets ready with his shoes, jackets and binoculars. "When I wake up early in the morning, around five, the chirping and the various sounds I hear  make me more curious to know who they are," Rajesh says. Excitedly, he reaches the hotspots and looks at the sky through his binoculars to look at a bird taking its first flight for the day.                    
Indian birders are happy to find more bird species in Bangalore, however, ornithologists attribute the reason to be increased sampling.
The country had seen 974 species during the Great Backyard Bird Count (GBBC). Bangalore watchers have identified around 275 species in this year's count. From 76 species in 2015, it has increased to 275. There are 502 bird watching hotspots in Bangalore with 3357 registered bird-watchers who observe birds over a year.
Increasing bird watchers in the city is another notable feature that has increased the identification of birds. Rajesh Jakhar, a bird watcher and wildlife rescuer said, "Once a person starts bird watching, he or she shares the experiences with the fellows and that curiosity in other people takes them into bird watching."
A total of 263 species were observed from 2014 to 2019 in 44 Bengaluru lakes. The number of sample species for the years were 170 species in 2014, 184 species in 2015, 217 species in 2016, 199 species in 2017, 218 species in 2018 and 204 species in 2019.
MB Krishna, an ornithologist said, "You need to ask the question if these numbers are artifacts of sampling or is the number really going high. When more people look around for birds, when they are spending more time and when they are covering more area, we get more birds. There are a lot of birds that are moving and there is always a population influx."
Despite increasing identification of species, the actual bird population is declining. For instance, nine out of ten types of ducks' population is falling in the city.
"More studies will help you conserve things better. Once you are able to compensate for this increased effort and look into things, you will have more data to look into. For example, you can make an atlas," Krishna added.
Rahul. J, wildlife rehabilitator, People for Animals (PFA) Wildlife Hospital affirmed that extensive study and awareness will help birds' conservation. He said, "Everything that comes in green, people think that it is a parrot. But, no. The green birds can be a barbet or parakeet or green bee-eater. Their habitat, ecosystem and nesting changes. Definitely, identifying the species will help in conservation."
Research reports say, "Overall, in the city of Bangalore, migratory birds have declined while many lake-dependent resident birds seem to be increasing over the past five years." The report also found that there is an increase in the number of birds adapting to the changing nestling sites.
Nitin Jain, co-founder, Bengaluru Brigade for Animal Liberation said, "Animals can adapt to gradual ecological change. We will probably have 10 to 20 years to think and work on it before the temperature shoots up so much that we cannot even think about bird conservation."
Rahul said, "It's the season time now. All kinds of migratory birds are coming to Bangalore for breeding. In July, they will all leave again. We have rescued a couple of migratory birds in the recent months. Now a days, we cannot find a bird nest in the trees. There is no space for the nest. They try to adapt to a nearby place. Or they may get out of the city completely."
Bangalore GBBC happened for three days in February. GBBC is an annual bird census with the ornithologists taking bird count in the region. Indian bird count started in 2013. Bird lovers and ornithologists assess the birds of the regions and compare the sightings during the census.
Increasing bird injury
Increasing bird injury is also stated as one of the main reasons for reduced birds in the city.
Rahul listed the main causes of bird injury in Bangalore. He said, "Black Kite is the bird found abundantly in Karnataka and the most rescue cases we get are also of Black Kites. We have rescued around 3200 birds this year. Almost 1000 to 2000 birds were injured by manja threads." Manja is the kite-line that is made of cotton threads with glass powder coating.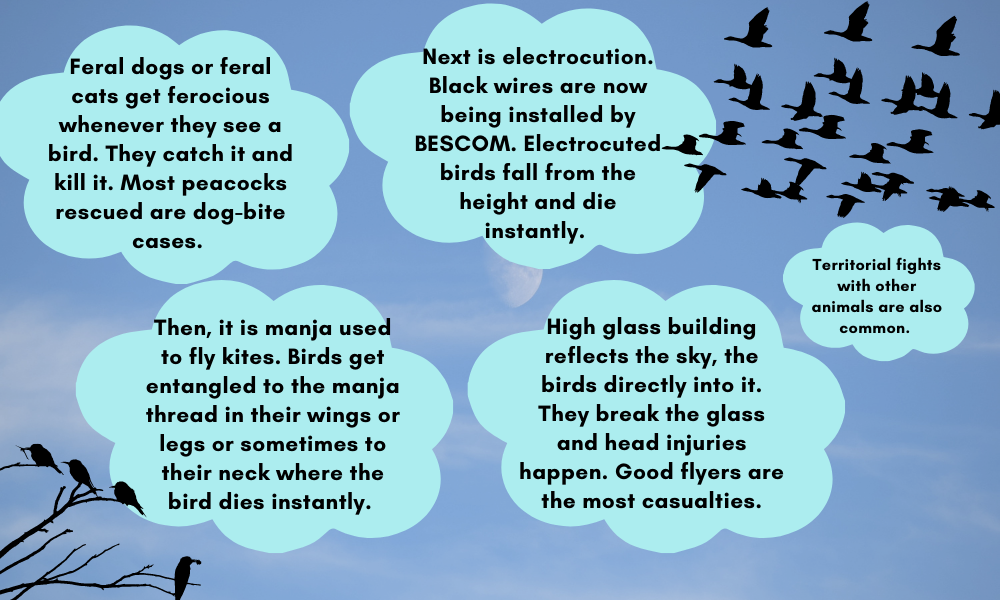 Similarly, Nitin talked about the bird flu which the migratory birds bring into the country killing a lot of native and migratory birds in affected regions. He added that domesticating birds as pets at homes is another problem. He said that the migratory birds are captured to be sold in shops. "If you like tigers, you should not catch a tiger, put it in a cage and watch the sad tiger happily."
Ecological disturbances
The city is growing bigger and the birds are losing their habitat. Krishna explained how increased agricultural consumption can disturb the bird s' population. "In what the counts are projecting, it does no t really talk about the inherent bird population which could be really poor. I used to see more crows in Bangalore. More Mynas in Bangalore."
Nitin explained how deforestation for animal farming along with global warming becomes the main cause of birds suffering. "Worldwide, we breed over 150 billion animals every year so that we feed a seven billion population. For that, so much deforestation makes animal farming the primary reason which will then lead to destruction of birds' habitats."
Research suggests conservation measures, including habitat management strategies such as restoration of wetlands, and increasing plant and tree diversity to protect the environment and to conserve its bird diversity. Rahul advised that people should call the rescuers when they find a bird injured because human intervention is the only reason behind the sufferings of the birds.