Over seven lakh workers in the media and publishing industry either lost jobs or quit between September 2016 and August 2021, said a Centre for Monitoring Indian Economy (CMIE) report.
Preparing for the civil services exam, Ritu Chaurasiya, a freelance journalist based out of Bihar remembers writing articles for various publications. It was not so long ago that she used to write about issues concerning women and the scheduled castes. But things didn't work out the way she hoped.
"During my Master of Philosophy (M.Phil.) days, I used to write for the Live Wire, Aapna Bihar, Round Table India, and many other platforms. I was doing it passionately," she said. But with her busy schedule, she dropped writing.
After completing her M.Phil., she pursued writing again. "I wanted to bring out the issues faced by the oppressed communities in my locality, " she said. It was only then she realized that due to the nature of her articles, the platforms she used to write for are either delaying in publishing the articles or not paying her.
"The issue with delayed pay used to happen often and I was fine with it. My only problem was that the news portals were not publishing my articles. They gave reasons like 'we do not like this piece', etc. They never had the same problems before," she added.
News media portals that accept freelance and contributing writers' articles often face financial issues. Depending on payment received through subscription and donations, these news portals often delay the payment of journalists, and sometimes do not pay them.
But Kranti Sanyal, a print media journalist, echoes similar concerns with traditional media.
"My last job as a journalist was with the Daily News & Analysis (DNA) newspaper. I worked for five years in DNA and never thought that one day the paper would shut its Mumbai edition (the most popular edition). The company was looking to cut costs and hence, they shut the newspaper in 2019," she said.
Currently working as a public relations (PR) professional, Sanyal explained that why she quit journalism. "I learned about the work and the pay scale of the PR industry. It was then I started exploring the industry," she said.
Job loss and publications closing shop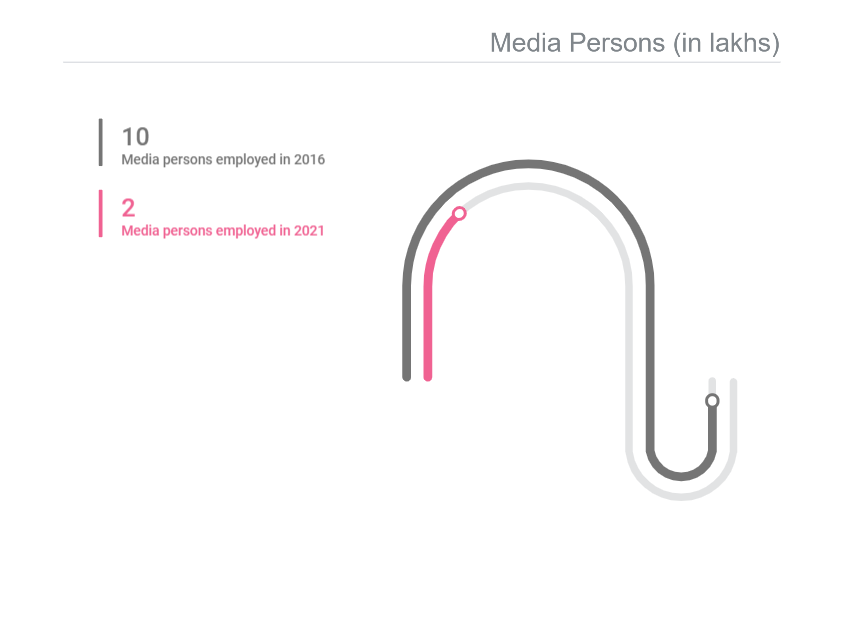 A report by the Centre for Monitoring Indian Economy Pvt. Ltd noted that the media and publishing industry employed over 10.3 lakh people across India in September 2016 and in August 2021, it employed only 2.3 lakh.
Explaining the concerns and the outcome of this, Paranjoy Guha Thakurta, an Indian journalist, writer, and documentary maker said that several media houses have resorted to heavy downsizing. "Many journalists were and are working on short-term contracts without any guarantee of its renewal. Also, media houses spend very less resources on reporting and investigation. Journalism is changing drastically," said Thakurta.
Vivek Bhavsar, editor-in-chief, of News 21, highlighted how several newspapers and their city editions had to shut-down their operations.
"Lokmat in Delhi, various newspapers in Kolhapur, Mumbai Mirror, and Asian Age's Mumbai edition were shut down. Not only that but the ones that were operating, resorted to cutting their employees' salary," he explained.
A former editor of the Asian Age Mumbai, on anonymity, said that the newspaper is not completely shut but it is not being printed. "This happened because of the financial crunch due to the pandemic," they said.
A human resource manager from an online news media portal in Bengaluru on anonymity told the story of one journalist resigning from the company. "A couple of years back, one journalist resigned because his and the editor's views were not in line with a certain story. He cited reasons like restricting him from doing certain story and lack of newsroom ethics before resigning," said the manager.
Bhavsar added that the media industry and journalists are financially facing the toughest time. "Journalists are changing professions. Some have either started their business and some are looking for alternative jobs. In newsrooms, editors have had to remove journalists who do not work to the mark," said Bhavsar.
Changing newsroom
Indian media's finances include a diverse set of revenue models—advertising, subscription, government-funded, etc. Highlighting this in today's newsrooms, Thakurta explains how the times and newsrooms are changing.
"Media houses have an important role to play. They question people in power and ask for accountability. But now, they are not allowed to do their role. He, who pays the piper, calls the tune. Traditional media are becoming subservient to the government," Thakurta said.
On National Press Day, Union Information and Broadcasting Minister Anurag Thakur said the Media is a watchdog and has a key role to play in the vibrant democracy of India.
"National Press Day is a day to reflect upon the role of media and the press in raising the issues that matter to the citizens of India. The media is a watchdog and has a key role to play in the vibrant democracy of India. On this day, I call upon my friends from the media to make all efforts to curb the menace of fake news and fake narratives. The government on its part has taken measures like establishment of a fact check unit at the Press Information Bureau which has gained popularity," Thakur said.
"In this country, over the last eight years, because of revenue crunch, and the increasing dependency of media houses on government advertisement, journalists are not allowed to put out an opinion that is opposite of that of the government's," Thakurta said.
Mateen Ahmad, Assistant Professor at the A.J.K. Mass Communication Research Centre said things that are inevitable will obviously change. "News media organizations which have vested interests will never change. It is only the ones that do not have any such interests suffer," he said.
"From an individual perspective, people will shift jobs which satisfy them wholly. If PR has good money, they will go there. On the other hand, from an organizational level, this does not matter," he explained.