India was ranked first in 2021 for randonneuring a distance of 4,414.6 thousand km
About six years ago, in 2016, Tushar Jivani was an obese pre-diabetic patient. He weighed more than 120 kilograms and wanted to reduce his weight.That is when he decided to get into long-distancecycling.
"I wanted to reduce my weight, so I started cycling in September 2016. I couldn't opt for running as I had metal rods in my right leg after an accident." Jivani recalled.
Over the years, he has completed more than 25,200 km rides, three 300 km rides, and two 400 km rides. Jivani, now 33, has reduced significant weight and is no longer obese. "I will continue cycling. But I have decided to not do the 600 km ride as there were always hurdles whenever I planned for it."
Similar to Jivani, the number of Indians who have joined randonneuring has increased tremendously in the last few years. Randonneuring is long-distance non-competitive cycling, wherein randonneurs attempt more than 200 km rides.
Audax Club Parisien istheinternational parent organization for randonneuring, situated in Paris. India was ranked first in the ACP 2021 report with a distance of 4,414.6 thousand km covered during the year in 15,133 rides. The next best country was Japan, with 2,248 thousand kmin 7,504 rides.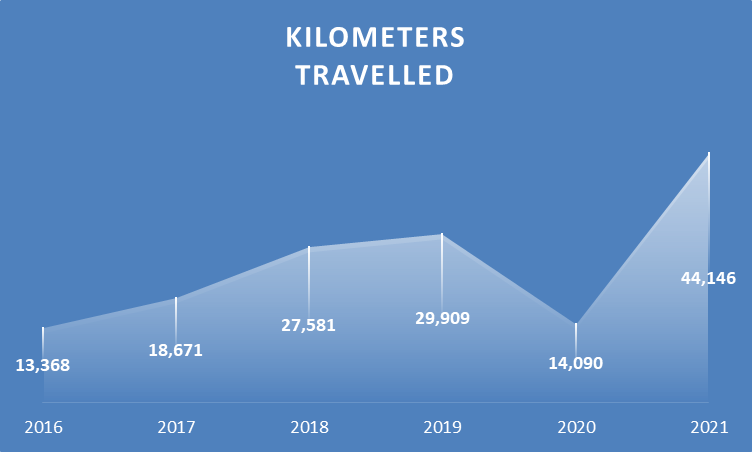 "People get into randonneuring mainly for fitness and endurance. And it also helps them to make good connections and network with more people," Jivani explained.
There has been a significant increase in randonneuring during the pandemic as well. The distance traveled decreased from 2,990.9 thousand km in 2019 to 1,409 thousand km in 2020. But it sharply increased by 3,005.6 thousand km in 2021.
Raghu Vishal, Director of the Audax India Randonneurs (AIR) said, "2020 was lukewarm because of the early pandemic and lockdown. However, we saw a huge spurt in membership in 2021
South Asian Triathlon Champion,Pragnya Mohan, said that people took up cycling and running during the lockdown as people had more time to spare.. "There were two reasons: people had free time, so they wanted to do something and more than that, people wanted to increase their fitness levels."
Long-distance riding is beneficial, as per Dr. Mukesh Chavda, a fitness specialist. He said, "Long distance cycling improves your mood and makes you feel good. It gives Dopamine rush which is a great stress buster and breaks the chain of stress."
Healso said that long-distance cycling strengthens the muscles, particularly those in the lower body. It also boosts cardiovascular capacity.People have started to take their fitness seriously. Because the gyms and swimming pools were closed during the pandemic, cycling became the most preferred activity.
Dr. Amit Samarth was the first Asian to complete the 9,100 km Trans-Siberian extreme race, which is thrice the length of the Tour de France. He said, "Gyms were closed during the pandemic. And running is a high-impact activity. This has resulted in an increase in cycling across the country."
He also said that most people between the age group of 30-40have opted for cycling. "People, in general, have started to see cyclists or randonneurs with respect. And since people are focusing more on fitness, cycling has increased."
Randonneuring clubs, dedicated to a city, have also increased. BYCS, an Amsterdam-based global NGO has also promoted a two-year honorary position of cycle mayor to promote cycling in the country. Jivani said that Audax clubs have been opening in multiple cities and they are inter-connected as well, which helps the riders to build their network.
No financial rewards
Though randonneuring provides health and other benefits, it does not have any financial benefits. The riders have to pay an additional charge of ₹ 750 if they want a medal for completion of the ride.
"These people are not looking for financial rewards. They are looking for a sense of achievement," Samarth said.
Vishal had similar views. "The appealing factor is that it is non-competitive. In competitive cycling, you will find people in their teens or mid-twenties. While the average age in randonneuring is late 40s. So, people who want financial rewards can get into competitive cycling."
The riders do not get sponsorships from cycle manufacturers or other organizations either. "Only a few prominent cyclists or someone having too many followers on Instagram are sponsored with cycles," Jivani said.
Hurdles
While the randonneurs do it out of interest, Indian roads and traffic sense have been serious concerns for them. Jivani had lost three of his co-riders to accidents on different occasions.
"The rides are generally long distance, which start from urban areas and move into rural areas. The riders might struggle due to lack of washrooms or emergency services," Samarth said.
"Safety is a very big challenge. There is no traffic discipline in India. And the respect for cyclists is also very poor," Vishal explained, "Awareness campaigns by the government can only help the issue."
Despite the challenges, the riders continue randonneuring throughout India. Jivani, in the last six years has covered more than 51 thousand km The AIR expects an increase in the number of randonneurs in future. "Except for situations like the pandemic, I see a steady growth," Vishal said.