These hamper our right to information, say activists.
If you have applied for benefits under a government scheme, and want to check the status of your application, chances are you'll see 'error code 404: this page doesn't not exist' on the screen. If you are researching the details of a ministry's fund disbursement, you may get data as old as 2013. And if you are trying to get in touch with a government officer, their contact details may not have been updated—all you would hear is 'this number does not exist.'
The websites of Karnataka state government departments are outdated and have several information gaps. Barring a few exceptions—like the social welfare department and the Karnataka state pollution control board—most sites show data from before 2019.
Government websites are designed and maintained by the Department of e-Governance. "We provide a template to every government department. There is a nodal officer in each of them—it is their responsibility to upload data," said Manjunath, deputy director of the web portal project. The web portal project is an initiative by the Karnataka government that puts out the details of investments made in various government programs.
"We publish the data as soon as we receive it. Unfortunately, due to the pandemic, the details of many of our programs have not reached us yet from our zonal offices," said R. R. Kalpana, the nodal officer in the Department of Women and Child Welfare. The website of their department does not show any schemes under the 'schemes and programs' tab. The latest information from the department's mid-day meal scheme is from 2013.
Impact:
These information gaps hamper several people like advocate Manjunath, a consumer rights activist. "Many portals are still under construction. When I was researching a case, I could not find the current Vijayanagar Member of Legislative Assembly's email id or contact number. This is unfair—people should have access to the leaders they have elected," he said.
Outdated information is also a problem, he added. The Bangalore Electricity Supply Company (BESCOM) website displays 1912 as the toll-free number. It does not work. "A year ago, some websites still had Siddaramaiah's picture as the Chief Minister. They only changed it after I pointed it out," he said.
While the billing portals on the websites do work, the data is an issue for people who need it in their profession, like Pranay Saroj, a journalist. "When I am writing a story, I need to know the current information about, say, how many people have applied for a scheme, or how the money has been disbursed. Departmental websites offer no clarity on this," he said.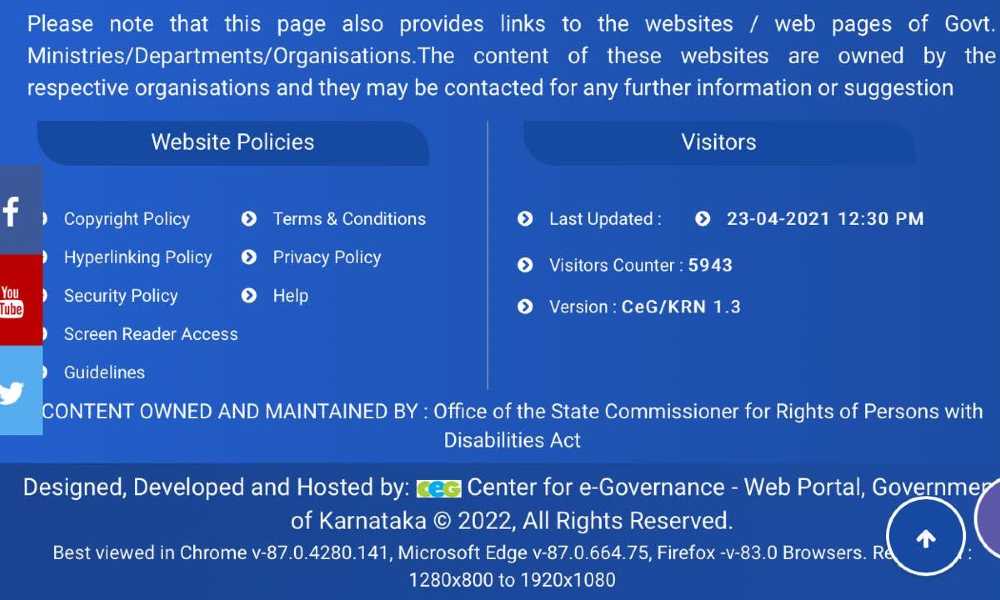 The law and its interpretation:
According to section 4(1)A and 4(1)B of the Right to Information (RTI) Act, 2005, government departments should suo moto update information about their functioning, programmes, members, budget and statement of procedures on their websites.
All the government websites have an RTI portal, but waiting for an RTI request takes too long in time-sensitive cases, said Umapathi S., an RTI activist. "The government launched a portal called Mahiti Kanaja for publishing datasets. Most of the information there is from 2018-19. Some of it is even older," he said.
Even if citizens technically have access to information now, ease of that access is an intangible part of it, he added. "When officers get transferred, websites should reflect changed phone numbers and email-ids. Beneficiaries of government schemes should be able to see the status of their application. Only then would we have true transparency," he said.
The information gaps on the government websites are part of a larger issue, said Umapathi. "They are gradually choking back the information people can access, because they do not want to be questioned," he said.